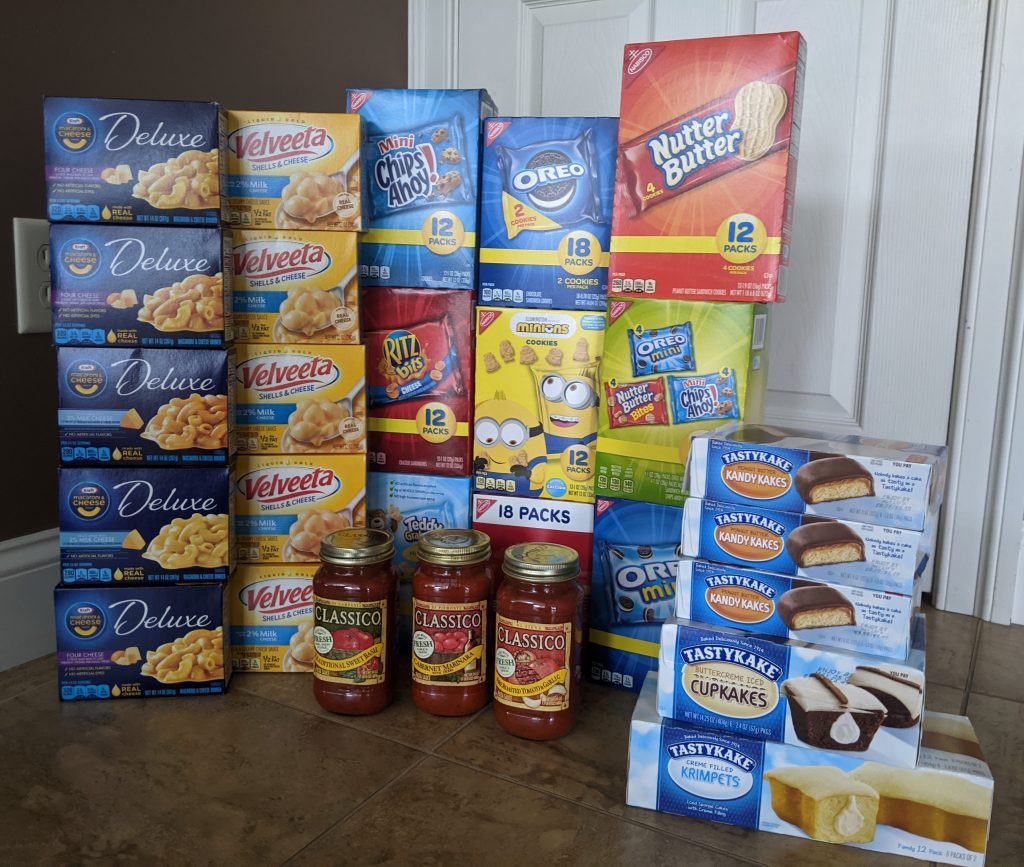 Giant Food Store: $111 Worth of Nabisco Snacks, Tastykake, Velveeta and More ONLY $9.41
It is another fantastic shopping week at Giant Food Stores. The groceries pictured above have a shelf price of $111.13, but after sales, coupons, instant savings, Catalinas, Ibotta rebates, and Reward Points, I paid only $9.41!
Please note the Nabisco snacks I have pictured are part of the Spend $15, Save $8. When I made my purchases, these items were working off the shelf price, but I've since been told that it seems that the shelf price is no longer working as of around lunchtime today. Just so you know doing the Nabisco snack deals the way I have posted may or may not work for you. There are many fantastic buys in this Instant Savings category, including the Tastykakes, Goldfish crackers, CapriSun, and much more, and all should work perfectly fine as long as you use sale prices to reach the $16.00. And for those of you concerned about the amount of snacks in this picture, I just want to say we do a fair amount of lunch packing around here, so these snacks won't last long here.
The Reward Points I got with both the Classico pasta sauce and the mac and cheese items are both unadvertised.
Here is a breakdown of my Giant purchases: (prices good through 4/15)
Buy 5 Velveeta Box Dinners $3.00 each
Buy 5 Kraft Deluxe & Cheese Box Dinners $3.00 each
– $16.00 Instant Savings due to spending $15.00 twice
Pay $14.00
Receive $5.00 (200 points) in gas rewards on 25-gallon fill up
Receive $4.00 Kraft Catalina
Receive $3.00 Kraft Catalina
Submit for $1.00 Kraft Ibotta rebate (limit 5)
Submit for $1.00 Velvetta Ibotta offer (limit 5)
Earn $1.50 Ibotta Bonus for buying 5 Kraft items
Final price FREE + 9.50 moneymaker!
Buy 5 Tastykake Family Packs $3.00 each
– $8.00 Instant Savings
Pay $1.40 each!
Buy 3 Classico Pasta Sauce $2.50 each
Pay $7.50
Receive $7.50 in gas rewards on 25-gallon fill up
Final price FREE!
Buy 3 Nabisco Snack Items $3.99 each
– $8.00 Instant Savings (As I stated above, I'm not sure it is working anymore to only buy three. Rather, you may need to buy 4 so that you hit the $15 on sale price rather than shelf price)
Pay $3.97 or $1.32 each!