I was provided with complimentary products to facilitate this post. No other compensation was given. The opinions and experiences in my posts are 100% mine.

I love toys that get my kids outside and getting some good exercise. What is better than spending time unplugged and out of doors getting lots of fresh air? It seems with all the gadgets, electronics, screens and other things we fill our lives with nowadays it is harder than ever to get kids to play outside. But thanks to
Rockboard
my children are
having so much fun playing outdoors right now that I need to beg them to come in for dinner, chores and homework
.
The new toys that are making my kids want to play out of doors more are the Rockboard RBX Scooter and the Rockboard Descender. Be sure to scroll to the bottom of this post as a lucky reader is going to be winning a very cool Descender.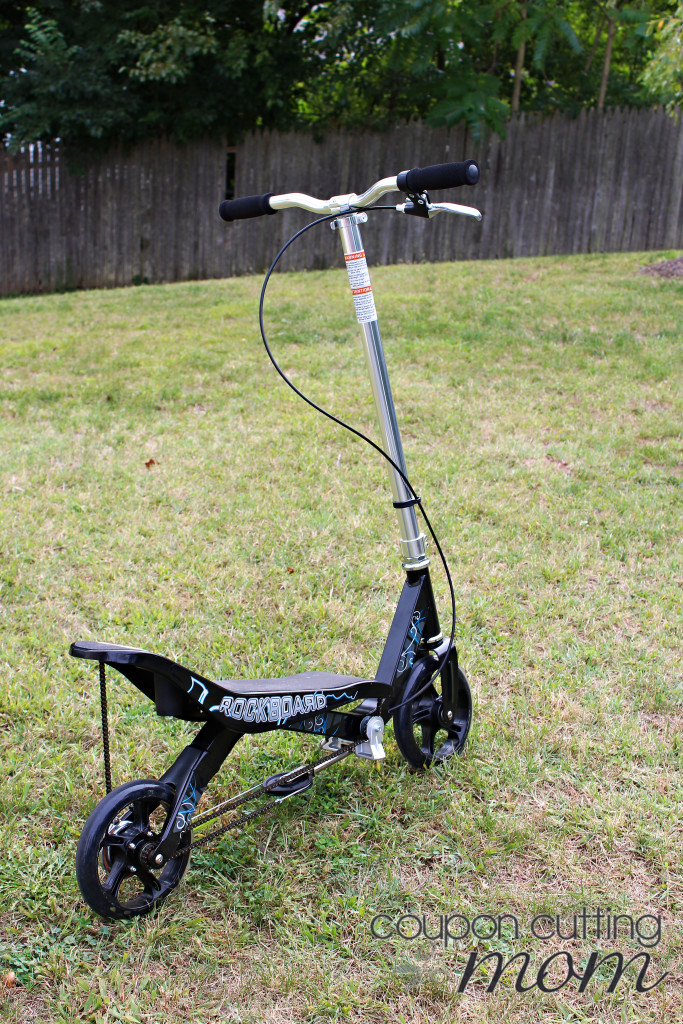 I'll start out with telling you more about the
Rockboard RBX Scooter
. Unlike other scooters that have a small age range and weight limit, the RBX is for ages eight years all the way up to adults who are still kids at heart and weigh under 200 pounds.
What makes this scooter different from others out there is that it uses rocking propulsion. To get this scooter moving forward all the rider needs to do is rock back and forth on the scooter deck (this deck area is lined with a grippy material that prevents your feet from slipping while in motion). With this rocking movement, the scooter can reach speeds of up to 10 miles per hour! Not only is this a fun way to ride but it is a great workout.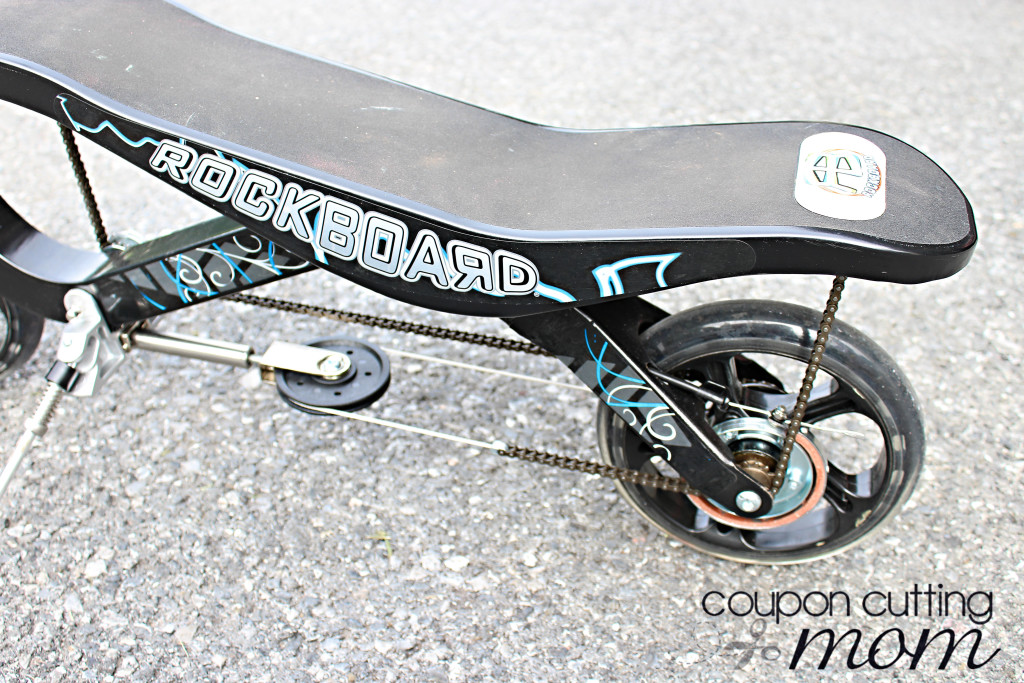 I love that the RBX comes with a hand brake. This brake comes in very handy when you have this baby moving at a good speed. Another great feature that the RBX boasts is the kickstand that is the perfect way to keep this scooter standing up and not being thrown around in the yard or on the garage floor. This scooter also is sturdy and has a well-constructed aluminum frame.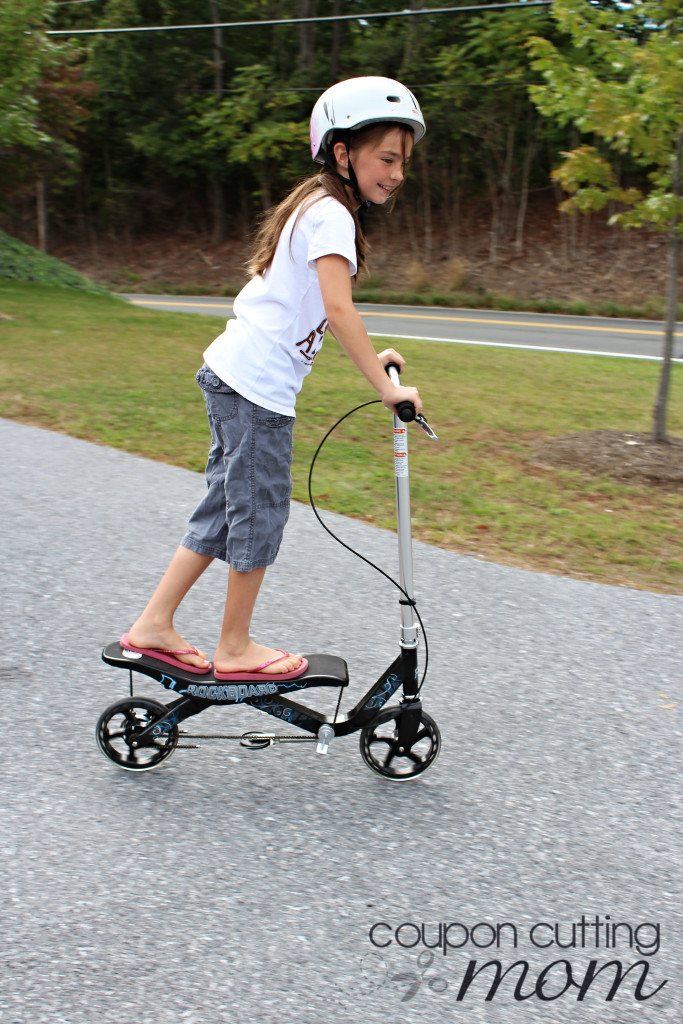 My 10-year old has been having great fun riding her
RBX
around on our driveway. I can't wait to take her and her scooter to a local paved walking/biking trail where she will have even more space to use it. Won't this would be the perfect way for me to get in a long walk aka exercise while she scooters alongside me.
Check out this video to see the Rockboard RBX in action:
Let's talk about the Descender. Most of our backyard is a downhill slope, and it isn't the kids favorite place to play unless there is snow on the ground.  Now that we have a Rockboard Descender though my daughter has a way to have year-round fun in the backyard.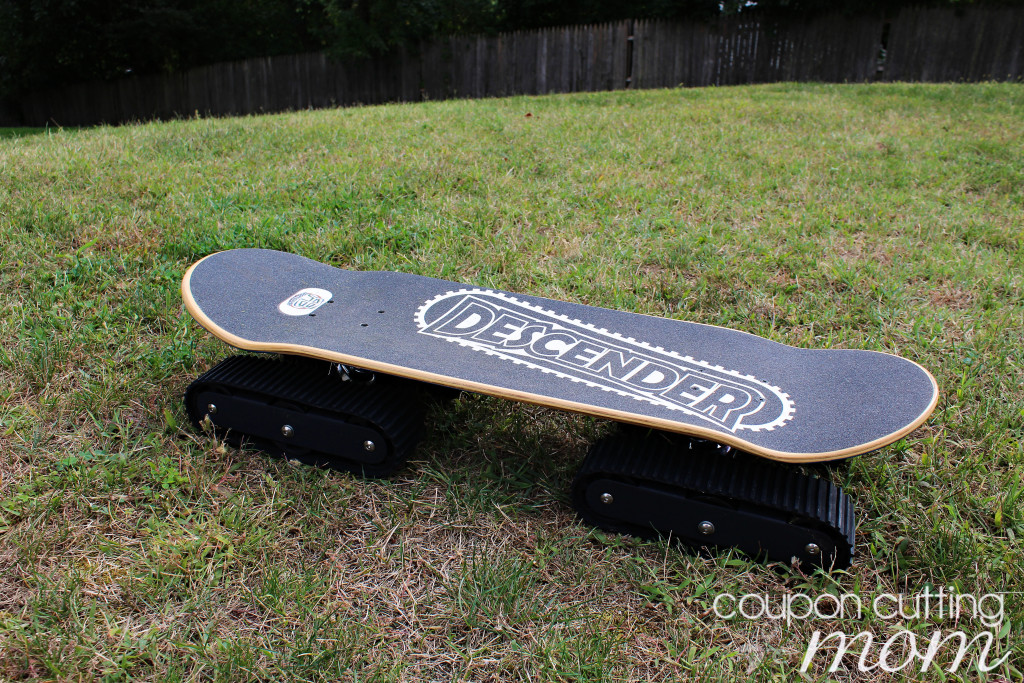 Unlike a traditional skateboard that needs a smooth sidewalk or paved area,
the Descender works on most any surface and is a skateboard for the dirt
. This board uses treads instead of wheels, and this allows it to move over any surface with ease. When we got our Descender out of the box, the kids mentioned that the tracks on it reminded them of a dozer, and that is exactly what it look likes! This all-terrain skateboard works like a charm on grass, wooded paths, pavement and even snow!
What other outdoor "toy" can you think of that works on any surface at any time of the year
?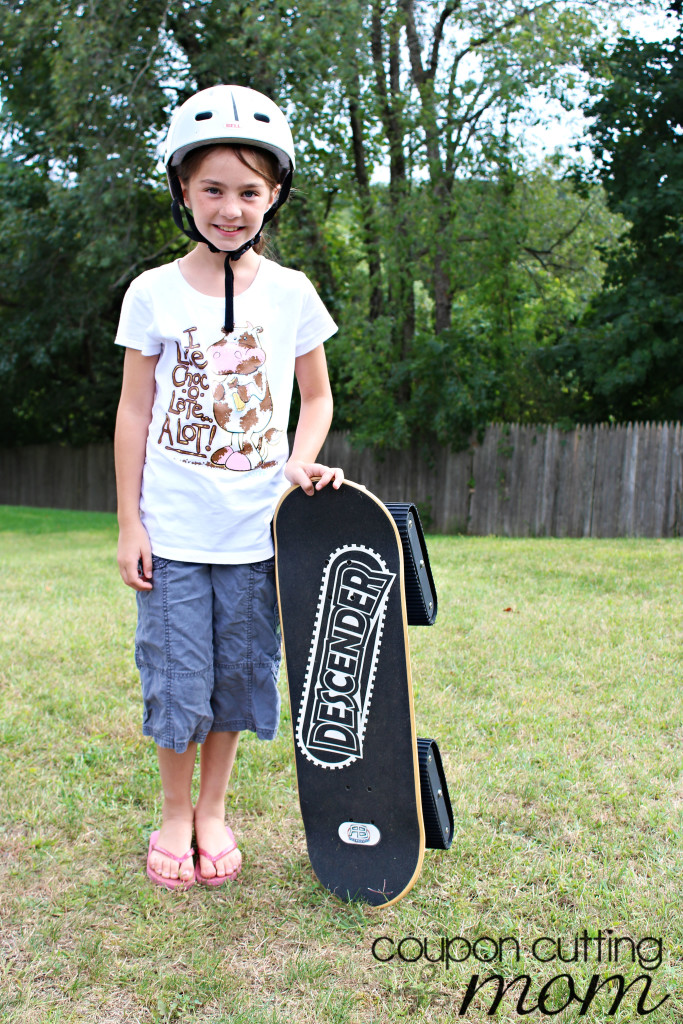 The
Descender
comes fully assembled right out of the box. This board weighs about 15 pounds and is made for ages 8+ with a weight limit of 200 pounds. There are two parts to the Descender – the board part and the treads/rollers. There is a grippy surface on the top of the board, and this gives the rider grip and keeps their foot from slipping when they are heading downhill.
The heavy rollers on tough-as-nails treads are what makes this board one of a kind. It really can do so much more than a board with tradition type wheels. These treads all pivot independently from each other, and this makes for a ride that is harder to tip over. Dips, bumps or humps on the ground are not a cause for concern as the each individual tread can dip if needed and the others all remain flat and level.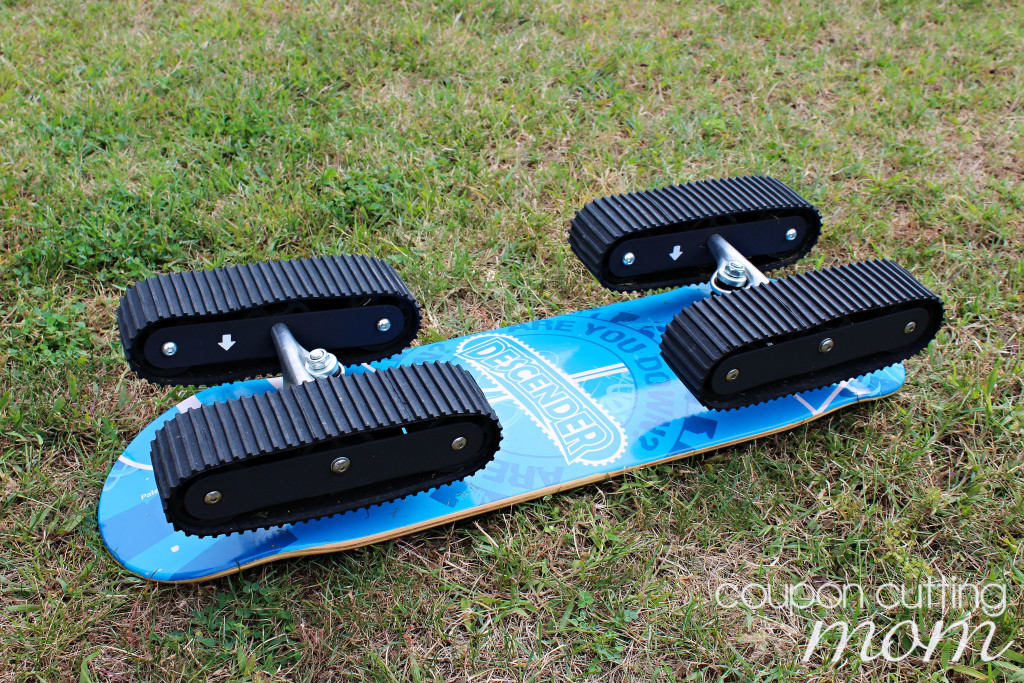 The rollers also have an excellent width to them as well, and this adds balance to the board. There is also
built-in resistance in the
treads
/rollers that will help the rider to maintain a controlled speed even on the steepest of hills
.
My 10-year old daughter had no previous experience using a board of any kind, and she found the Descender very easy to use and balance even on her first try. She has taken her Descender down our backyard hill many, many times since her first ride.
I love the hours of outdoor fun she has been with it and I like knowing that the fun won't stop in any season
. She is already dreaming about winter and snow so she can try her new toy out on a snowy hill.
See the Descender in action here:
If you are looking for a way to get your kids out of doors and having a great time while getting some good exercise and burning calories, you will want to head over to the Rockboard site. Here you can find an excellent selection of outdoor toys that any kid will enjoy. Which will you pick the Descender or the RBX Scooter or something else? Be sure to follow Rockboard on Facebook and Twitter to stay up to date on all the latest promotions and newest offers.
How would you like to win a Rockboard Descender?
Thanks to Rockboard one lucky Coupon Cutting Mom is going to win the Rockboard Descender ($129.99 value)! Enter below for your chance to win this giveaway. This giveaway is open to US residents ages 18+ and ends at 12 midnight ET on October 9, 2015.
Good Luck