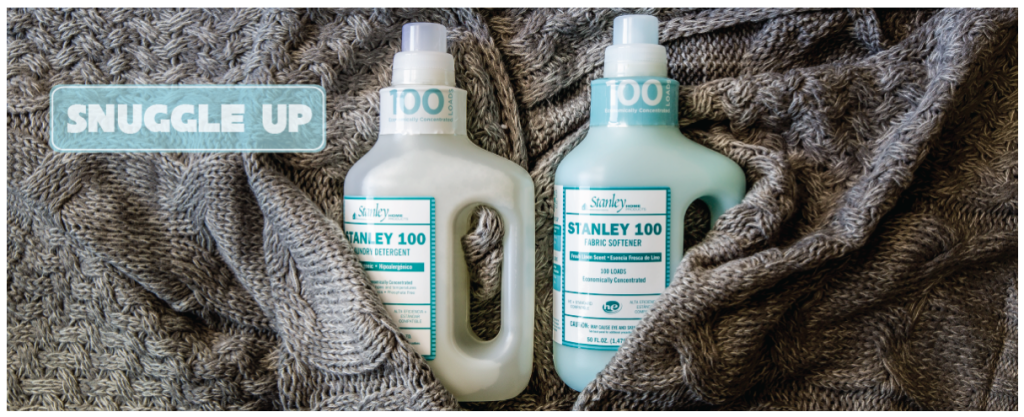 Fuller Brush Company – Save 55% Off Your Next Purchase
My husband's job includes a lot of outdoor manual labor, and this means his work jeans are often showing up in the dirty laundry with caked in mud, grease spots, stains and more. I feel like I have been on a very long search for a laundry detergent that results in clean looking and fresh smelling clothes when I pull them out of the washer. This search included trying lots of different brands of soap and finally, the other week my search ended when I started using detergent from Fuller Brush.
Seriously this Fuller 86 Liquid Laundry Detergent is the best ever as my laundry is coming out of the washer looking and smelling totally clean. Even the whites have been looking brighter since I have been using Fuller. I love that this detergent is an enzyme-powered formula that eliminates ground-in dirt and stains. This detergent has excellent performance in all water types and temperatures and is safe to use on all types of fabrics.
The Fuller detergent was by far not the cheapest laundry detergent I ever purchased, but I was at my wits end to find a soap that would work, and I felt that if it was going to be getting the clothes clean that it would be well worth the money I spent. After using this detergent only once, I was in love with it and was already thinking I better start watching for a sale on this soap so that when it would be time to buy more soap I could possibly avoid paying full price. Imagine my surprise today when I found this awesome deal that will save up to 55% off my favorite laundry soap or any of the other cleaning, kitchen or beauty products that Fuller Brush offers.
Check out all the functional yet stylish cleaning and cooking essentials offered at Fuller Brush that are perfect for any home. There's something for every job — from cooking needs and entertaining to cleaning and grooming offered. And don't miss your chance to score these savings of 55% on your next Fuller Brush Company purchase. Free shipping is included with this offer.