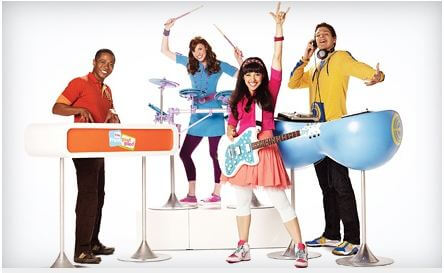 If you live local to the Sovereign Center in Reading, PA or the Giant Center in Hershey, PA and have any Fresh Beat Band fans in your household, here is a deal you don't want to miss.
With this Groupon deal, you will pay only $20 for 100-level reserved seating ticket (reg. $38.95) to the Fresh Beat Band concert on December 8 at 5:30 PM at the Reading Eagle Theater At the Sovereign Center. Or purchase Fresh Beat Band tickets for the Giant Center in Hershey, PA. This concert will be on December 4 at 6:30 PM. You can purchase up to 8 tickets at this price.
Drums. Pumpkins. Swimming pools. Pizza. These are just some of the things that can send the four overgrown kids of Nick Jr.'s Fresh Beat Band—and with them, their preschool audience—into transports of wild enthusiasm. Naturally enough, their excitement about the stuff that 4-year-olds' dreams are made of spills over into ultra-energetic song-and-dance numbers. On a national tour, the band takes their dayglo spectacle from screen to stage, backed by colorful, pulsating productions.
Get your Fresh Beat Band Sovereign Center tickets here or the Giant Center tickets here.