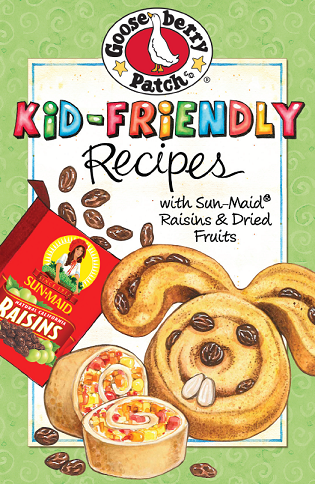 Get a FREE copy of the brand new Gooseberry Patch Kid Friendly Recipes cookbook. This book is packed with 30 great wholesome recipes that moms love. This book is available in PDF form or you can order a free printed copy.
Here is just one of the many yummy recipes included in the book.
Cinnabunnies
2 c. biscuit baking mix
1/2 c. Sun-Maid Natural Raisins
1/2 c. sour cream
3 T. milk
2 T. butter, softened
1/2 c. brown sugar, packed
1/4 c. nuts, finely chopped
1/2 t. cinnamon
Garnish: raisins, sliced almonds
In a bowl, stir together baking mix, raisins, sour cream and milk until just combined. Gently gather dough into a ball on a floured tea towel.
Knead 10 times. Roll out dough into a 12" x 10" rectangle. Spread dough with butter. Mix together brown sugar, nuts and cinnamon; sprinkle over dough.
Starting at a long end, roll up dough tightly. Cut roll into 12 slices. Place 6 slices, cut-side down, on a greased baking sheet about 3 inches apart.
Unroll remaining 6 rolls and place on cookie sheet touching one of the rolled cinnamon rolls; fold ends under and shape into bunny ears.
Pinch dough to secure. Arrange raisins and almonds to look like eyes, noses and teeth. Bake at 400 degrees for 15 minutes, or until golden. Makes 6.