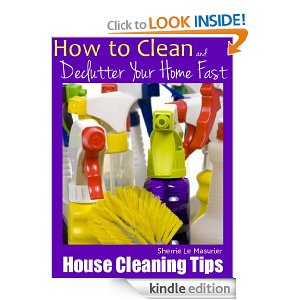 Download a FREE copy of How to Clean and Declutter Your Home Fast.
This looks like an interesting book to read and has a 4.8 out of 5 stars.
Do you enjoy house cleaning? The truth is most of us don't. This book shows you not only how to clean and declutter your home fast but also how to make the process feel less like a chore.
In addition to learning how to declutter, you'll find spring cleaning tips and techniques for your annual spring clean as well as some general tips and ideas for maintaining a clean house. There's even a comprehensive section on baking soda and vinegar where you'll find baking soda uses and vinegar uses for each room in your home.
This is a Kindle book downloads, if you don't own a Kindle here is a free app so you can read the book on your computer, Blackberry, iPhone, iPad and more.
Remember prices can change quickly, so please double-check the price before downloading.