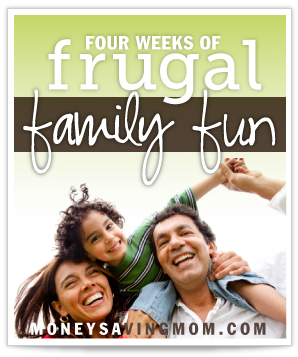 I'm excited to be part joining Money Saving Mom in Four Weeks of Frugal Family Fun.
Being a stay at home mom I spend all day with my kids but find myself getting busy and then sometimes arriving at the end of the day and realize we spent very little fun play time together. So by joining in this series I'm guaranteeing that my kids and I will get some fun time together everyday. Monday through Friday for the next 4 weeks I'll will sharing with you family activities that cost little to no money out of pocket.
The bad new is that I was without internet yesterday and thought this series started on Monday. I'm back online now and realized I missed the first day. Check back Monday when I will be posting a picture post of our next activity.