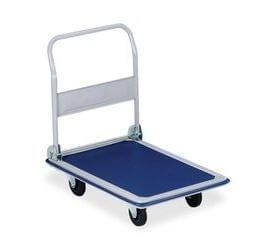 Wow! Who won't have need for one of these handy hand trucks? Right now you will pay only $26.10 for this Sparco Products Folding Platform Truck which can hold up to 330 pounds. The regular list price is $133, making this a savings of $106.90!
Think of all the uses for a cart like this. The next time you are headed to a scrap booking night you could just put all your supplies on this cart and wheel you way in. Or if you use the laundromat imagine how easy using this cart would be for getting your wash in and out of the laundromat. Or if you are school teacher that hauls lot of books etc. home from school, this cart would make it easy to get everything back in your classroom. What are you planning to use your folding hand truck for?
Thanks, Debt Free Through Spending!