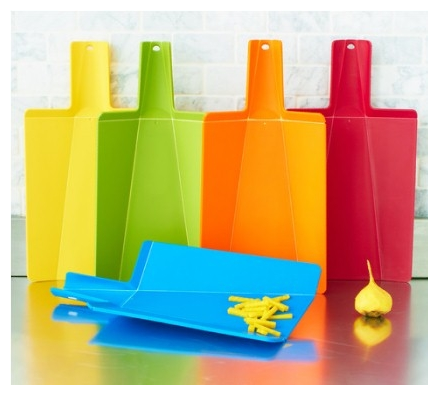 Leave no diced onion or julienned carrot behind, these foldable cutting boards will take the stress and mess out of your dinner prep.
Pay only $12 for a 13 x 16-inch foldable cutting board in yellow, red, orange, green or blue, free shipping included. Foldable sides and an ergonomic handle let you transfer ingredients effortlessly with one hand (like a shovel), while a locking feature and rubber pads along the bottom prevent spills and sliding. Since they're eco-friendly and dishwasher-safe, it's easy to keep your cutting board and your clean.
List price is $39.99, so today would be a good day to buy one of these, you will be saving $27.99!
I love the fun colors and it sounds like it would make getting chopped food to the kettle or bowl a neat, simple task.. This would be the perfect gift, I'm thinking about getting one for my sis to give her at her bridal shower. Who are you buying one for?