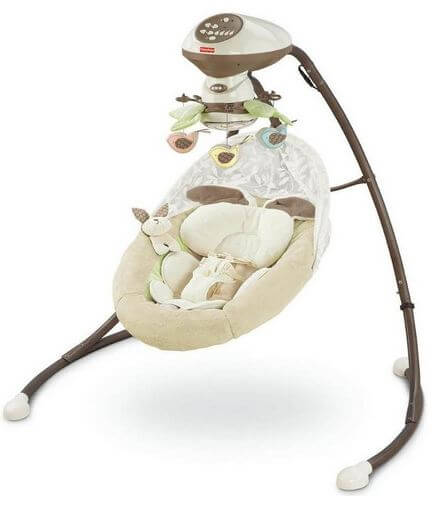 This Fisher-Price Cradle 'N Swing is on sale for only $99.97. The regular price is $169.99, making this a savings of $70.02!! Shipping is FREE. I had a swing very similar to this when my daughters were babies and if you are in the market for a baby swing I would highly recommend this one. My very most favorite feature on this swing is the AC adapter, just plug it into an outlet and now more wasting tons of batteries.
The Fisher-Price My Little Snugabunny Cradle 'n Swing offers a comfortable, relaxing environment that will soothe your little one. Featuring a soft head rest and airy canopy, the swing stimulates the senses with a mirror globe, a bird mobile that plays gentle tunes, and six speeds. Parents and caregivers will appreciate that the sturdy swing folds down for storage and travel and the option of using an AC adapter instead of batteries.
Features Include
Engages and Soothes with Movement and Sound
Soft, Plush Fabrics for a Snug, Secure Environment
Sturdy Base and Seat with Safety Harness
Sweet Mobile with Music and Globe Mirror
Folds Away for Storage
Get your Fisher-Price Cradle 'N Swing while it is at this super low price of $99.97.