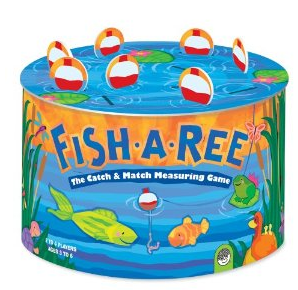 Right now on Amazon you can score this Fish-A-Ree the catch and meauring game for only $5.95, regularly priced at $19.99.
Product Description: Hidden beneath each bobber is a different colorful fish. On their turn players draw a number card, then try to land two fish whose lengths total that number. Use a ruler to measure your catch. But be careful-fish out a boot and you lose your turn! It takes both memory and measurement to reel in a win.
This would be perfect to buy and save for the next time you need a birthday gift. It is also never to soon to start buying Christmas gifts.