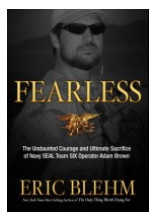 FEARLESS takes you deep into SEAL Team SIX, straight to the heart of one of its most legendary operators.
When Navy SEAL Adam Brown woke up on March 17, 2010, he didn't know he would die that night in the Hindu Kush Mountains of Afghanistan, but he was ready: In a letter to his children, not meant to be seen unless the worst happened, he wrote "I'm not afraid of anything that might happen to me on this Earth, because I know no matter what, nothing can take my spirit from me."
But long before Adam Brown became a member of the elite SEAL Team SIX—the counterterrorism unit that took down Osama bin Laden—there was a fun-loving country boy from Arkansas whose greatest goal had been to wear his high school's football jersey. An undersized daredevil, prone to jumping off roofs into trees and off bridges into lakes, Adam was a kid who broke his own bones but would never break a promise to his parents.
But after high school, Adam fell in with the wrong crowd, and his family watched as his appetite for risk dragged him into a downward spiral that eventually landed him in jail. Battling his inner demons on a last-chance road to redemption, Adam had one goal: to become the best of the best – a U.S. Navy SEAL.
FEARLESS is the story of a man of extremes, whose determination was fueled by faith, family, and the love of a woman. It's about a man who waged a war against his own worst impulses and persevered to reach the top tier of the U.S. military. Always the first to volunteer for the most dangerous assignments, Adam's final act of bravery led to the ultimate sacrifice.
Even though this is not the type of book I typically read, when I had the chance to read Fearless, I jumped for it. And let me tell you I'm very glad I read this book.
This was a very gripping, true story by author Eric Blehm. A book filled with detail and emotion. A book not easily put down and one hard to read without shedding tears.
The story of Adam Brown – from his childhood to his tragic death. This book tells of his dark teenage years to his wonderful wife's courage and persistent love. This book also tells of what goes into the making of SEAL. Most importantly, though it shows how the love of Jesus can change a sinners heart.
This was a great book to read on Memorial Day weekend as it helped me to appreciate what all those in the military go through while I live my life in freedom and unaware of all they go through. I also gained a new appreciation for the spouses of those in the military, they sacrifice so much as well.
This book also helped me realize when I think I'm having a bad day it is nothing compared to things Adam went through while in training or after he was in the Army. It also made me hug my loved ones closer, we never know how much time we have with them.
I received this book for free from WaterBrook Multnomah Publishing Group for this review.
You can head over here to watch a short video on the book and the life of Adam Brown.