We love Fat Brain Toys and I want to share with you just a few of these toys that are favorites at our house. What any parent will really love about Fat Brain products is that they entertain and educate but there are no batteries involved only creative, open-ended toys that are American-made. If you are looking for some great toys that will excite your child's sense of play then be sure to visit Fat Brain Toys.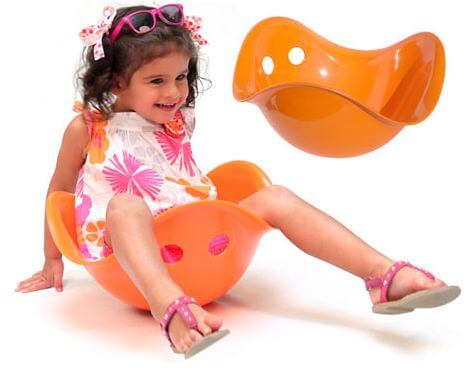 Ages: 2 – 7
If you have given a present and found that the kids play more with the box or, like me, have despaired at spending Christmas Day watching the children use the tubes from the tinfoil and the wrapping paper as swords, whilst ignoring all their carefully selected, non-violent toys, the perfect present has arrived. Say hello to Bilibo.
Tortoise shell and sand toy, swing and spinner, cradle for dolls and a shell to build with in the snow – Bilibo is all this and much more. So what exactly is a Bilibo? Well one clue is the fact that it does not come with an instruction manual. Kids can do what they like with it!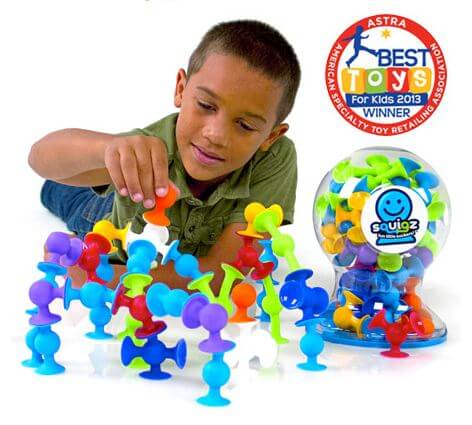 Squigz are fun little suckers! Apply pressure to two Squigz. Air rushes out and the fun rushes in! Connecting to each other and to any solid, non-porous surface – Squigz are a species all their own. They flex. They stick. They suck people into creativity.
Squigz are scientific sorts – always up for playful experimentation and defying gravity – sticking to bathtubs, windows, school lockers, tabletops, and office desktops. (And they are mannerly guests too – never leaving a trace of their presence.)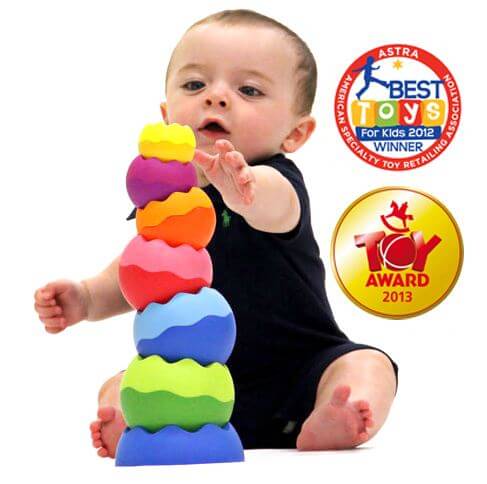 Ages: 6 months and up
Tobbles Neo – bright and cheerful colors, the physics of motion – and the addition of more tactile clout! The unique grippable texture of Tobbles Neo awakens touch. See those gentle, playful curves? They truly enliven tactile experiences.
Young minds revel in stacking, toppling, and the discovery of endless ingenuity with Tobbles Neo. Six uniquely weighted pieces balance, neatly nest, and incessantly spin beyond your expectations.
Little hands can't get enough of the stacking, toppling, spinning, balancing, wobbling, tilting, and wiggling! Another welcome invitation to timeless play.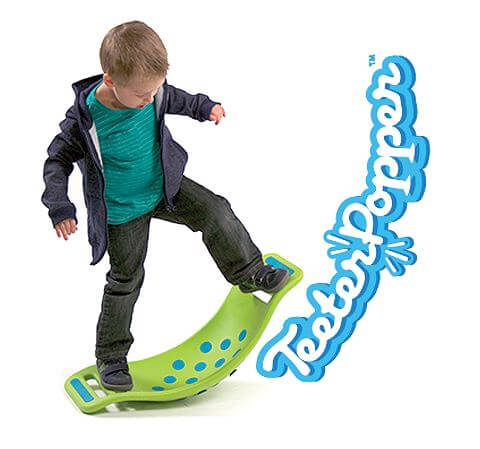 Whether they rock it, roll it, sit in it or stand… kids want to move with Teeter Popper! How wildly fun it is!  "POP-POP-POP… POP-POP-POP!" Senses go for a ride every time they play.
A cinch to maneuver – stand, sit, rock, tilt, wobble, wiggle, spin. How children play is however they choose. Hand kids a Teeter Popper and walk away… but don't look away. Seeing the curiosity, the surprise, the concentration on their faces as they attempt new movements is something you don't want to miss. Teeter-popping excitement is catching, (so are their giggles). Curiosity wakes up, senses come alive, imagination engages, and creativity gets moving!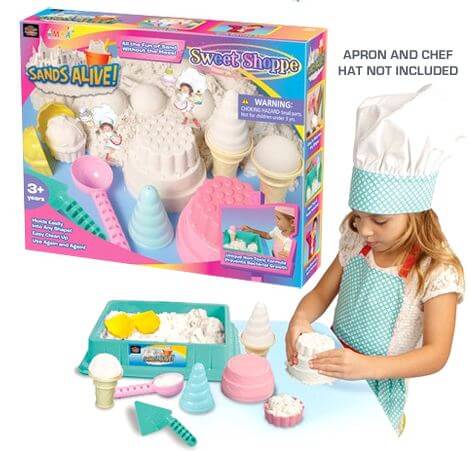 Cupcakes, ice cream, cake, swirled yogurt – They all come to life in all their tasty galore when you start molding with Sands Alive. Press, pack, and feel – This strange substance is similar to sand only much, much better. It sticks together firmly, yet flows freely. It feels soft like flour, yet never sticks to your hands. Just one touch and immediately you're amazed, yet strangely relaxed. Your first thought: "How could this experience get any better?"
There's even a sand tray that keeps everything contained and clean. And even if some sand were to fall out, it all sticks together strong for a super-easy cleanup!Oh, and did we mention its unique non-toxic formula prevents bacterial growth and NEVER dries out? (AMAZING!)
Surprise your senses, strengthen your mind, and satisfy your creative sweet tooth with the Sands Alive Sweet Shoppe set.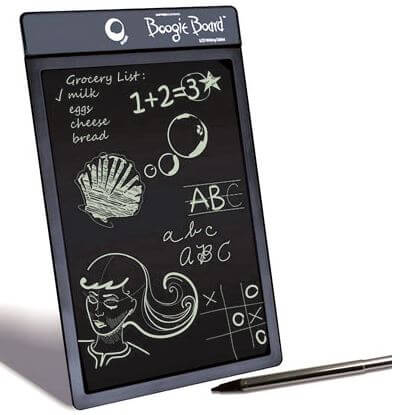 Say Goodbye to Paper, And Hello to A Greener World! Boogie Board Paperless LCD Writing Tablets are an environmentally-friendly, cost-effective paper replacement.
With each button push of the Boogie Board tablet, a piece of paper is saved – More paper saved means less trees need to be cut down! It's great for almost anywhere you'd keep memo pads, sticky notes, or scrap paper.
Begin your revolution with the Boogie Board LCD Writing Tablets.