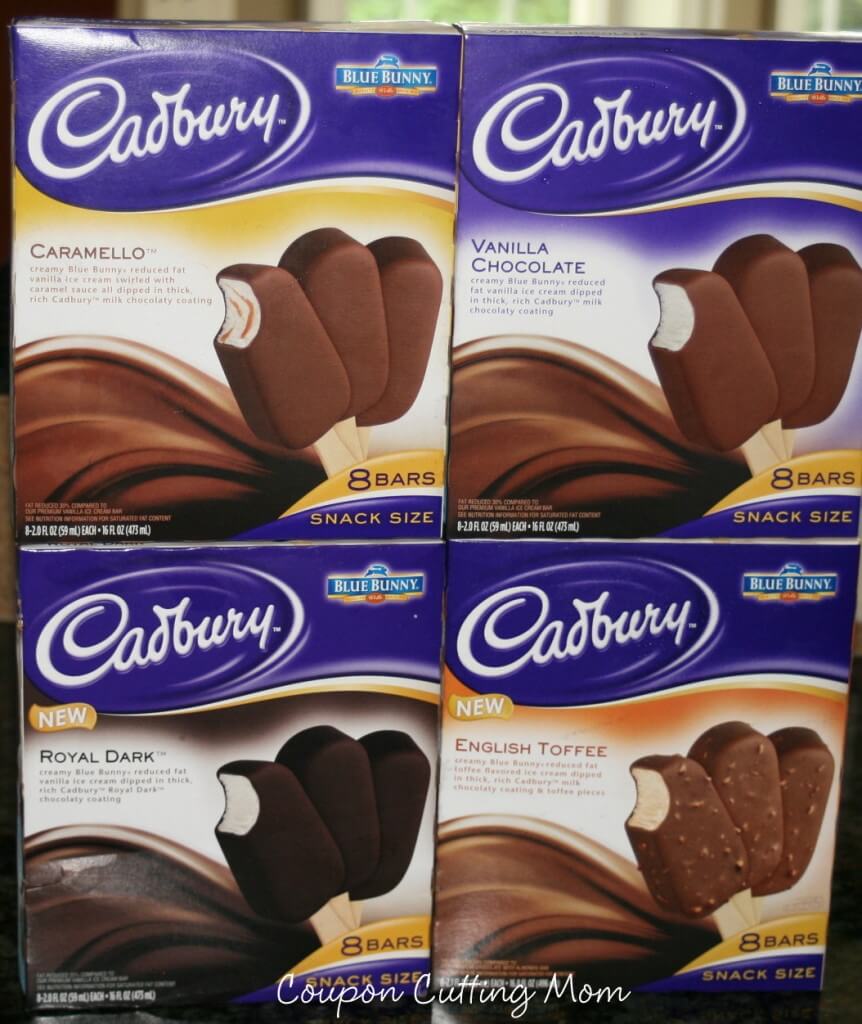 My daughters recently got to host a Cadbury Tea Party. From the minute they found out they were hosting this party they began making a guest list of girlfriends and their moms and talking about the food they wanted to serve. And of course being typical girls, they also needed to find the perfect tea party dress. The friends were invited and then began the fun of waiting for the party package to arrive.
The excitement level was high on the day we received our Cadbury Ice Cream Bars. The bars were delivered on dry ice and looked so very tempting. How can you say no to chocolate, carmel, toffee and ice cream? Were we really going to be able to keep from tasting these bars until our party date that was several weeks away? Don't worry the boxes did stay sealed and untouched until the party. Then we also received a party box complete with a tea pot, cups, saucers, fancy hats and fascinators for the guests.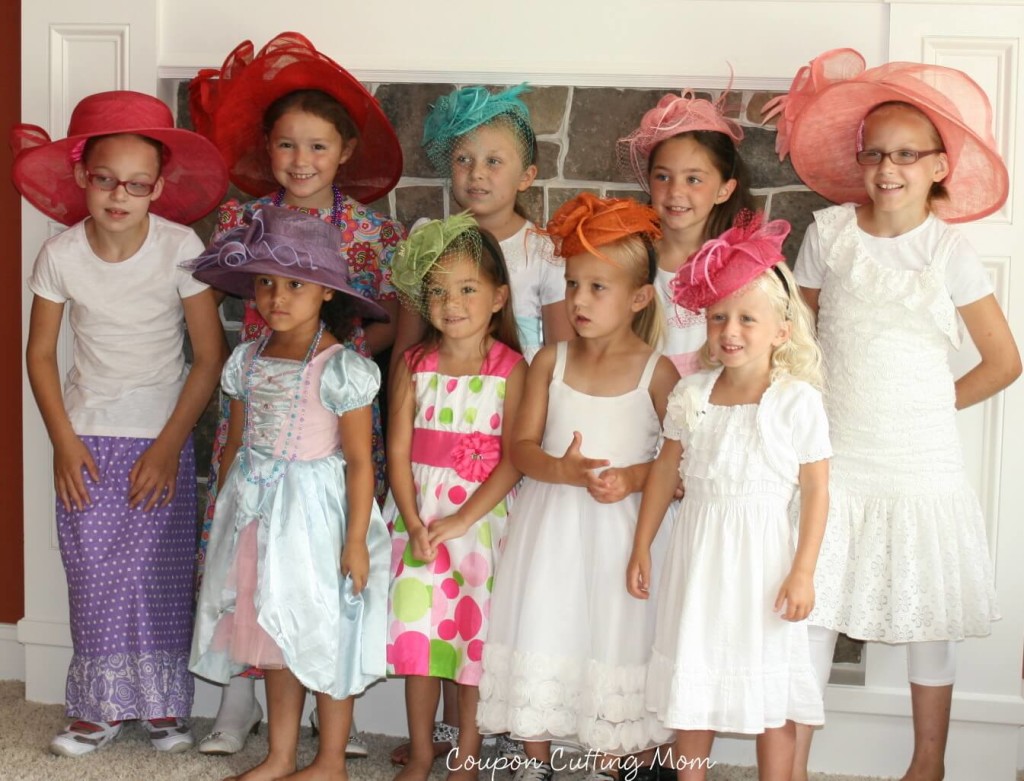 The day of the party finally arrived and lots of beautifully dressed little ladies began showing up ready to enjoy the Cadbury Tea Party. Each of the guest got to choose a hat or fascinator to complete her party outfit. Use your imagination and picture a room full of 9 beautiful little girls all dressed up and ready to party. Let's just say there were lots of smiles, squeals and chatter going on.
Then it was time for the eating part of the party. The guests all got to enjoy drinking their tea or lemonade from the cute tea cups that were included in the party box. Our tableful of little ladies then enjoyed sandwiches, veggies and dip, fresh fruit, cookies and finally it was time to taste the item that was the star of the party…Cadbury Ice Cream Bars.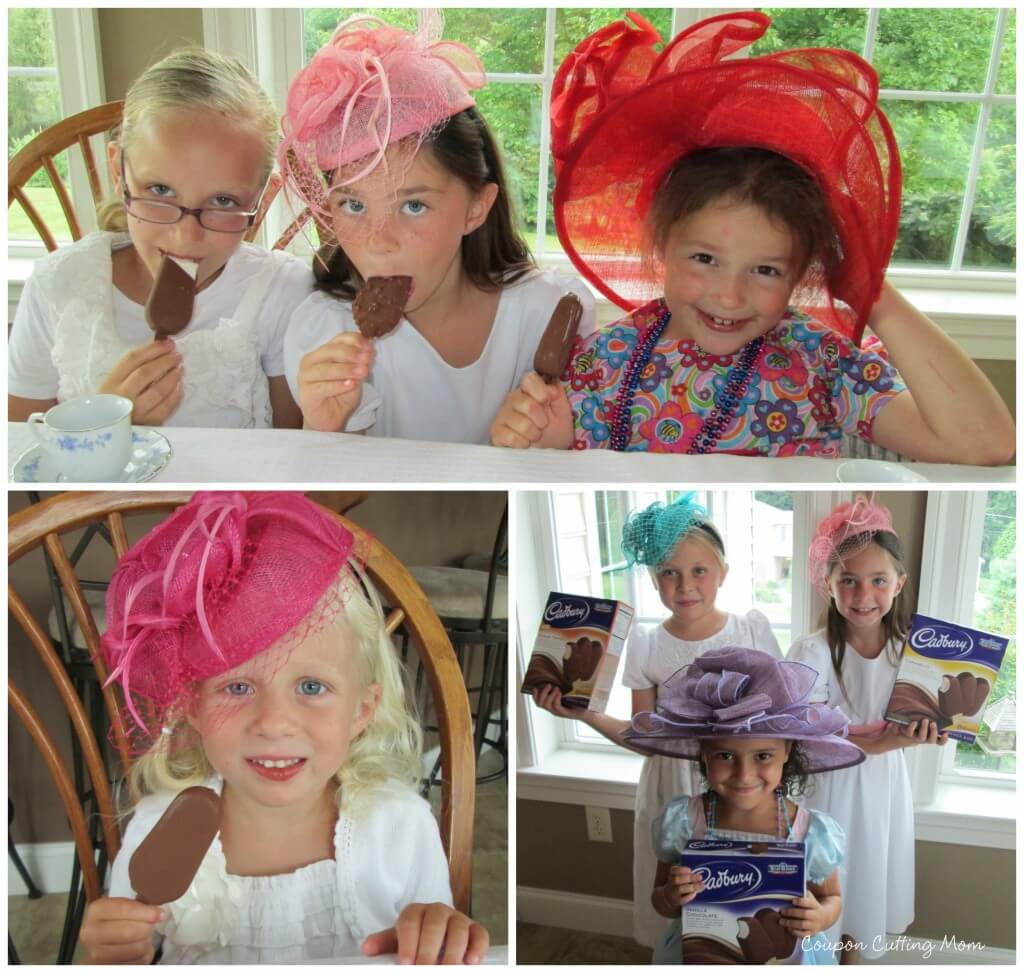 We were sent 4 flavor varieties including:
Premium Cadbury Royal Dark – Creamy Blue Bunny reduced fat vanilla ice cream dipped in thick, rich Cadbury Royal Dark chocolaty coating.
Premium Cadbury English Toffee – Creamy Blue Bunny reduced fat toffee ice cream dipped in thick, rich Cadbury milk chocolaty coating with toffee pieces.
Classic Cadbury Vanilla Chocolate – Creamy Blue Bunny reduced fat vanilla ice cream dipped in thick, rich Cadbury milk chocolaty coating.
Classic Cadbury Caramello- Creamy Blue Bunny Reduced fat vanilla ice cream swirled with caramel sauce all dipped in thick, rich Cadbury milk chocolaty coating.
These bars were amazing with smooth creamy vanilla ice cream and a milk chocolate coating. I really like that these ice cream treats come in snack size which is perfect for little people or anyone who wants to enjoy some yummy ice cream in the perfect sized portion.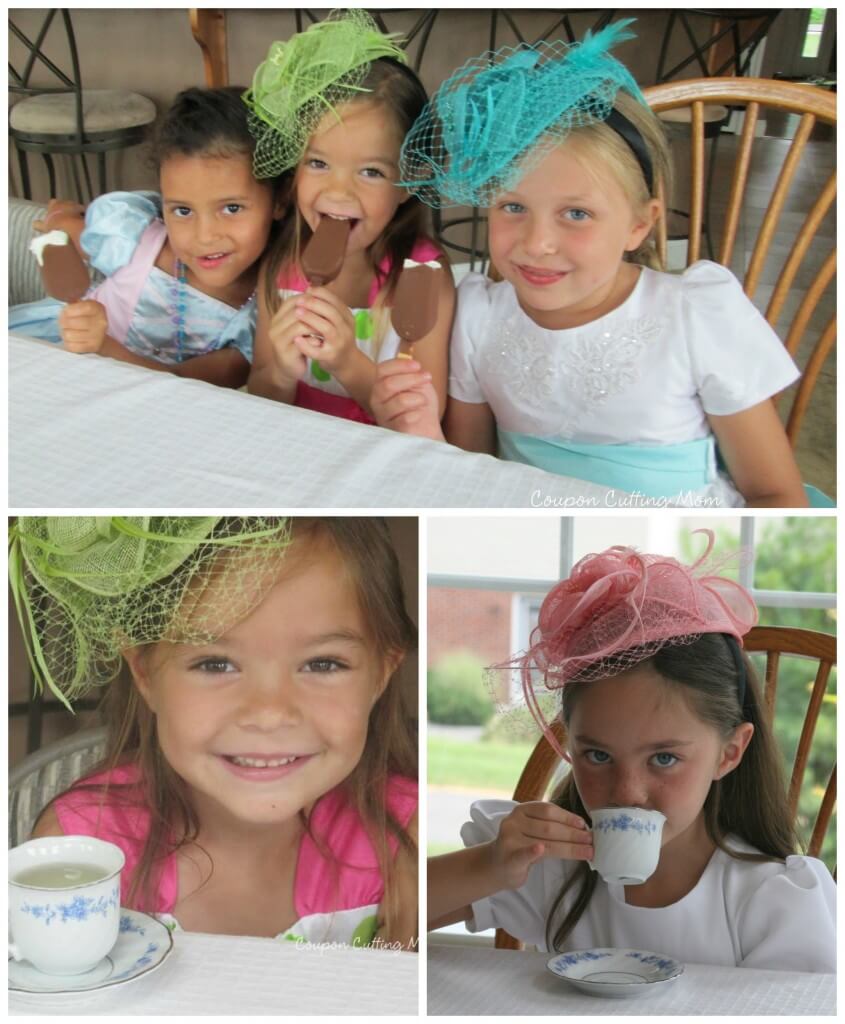 You can purchase Blue Bunny Cadbury Ice Cream Bars at your local grocery store. If you are looking for a yummy ice cream treat may I suggest you give these bars a try?
Thanks to all our lovely guests who came out and made this a fun tea party that my daughters won't soon forget. And a huge thanks also to Mommy Parties and Cadbury for the fabulous party items and ice cream bars.
Coupon Cutting Mom received one or more of the products mentioned above free for evaluation purposes. Regardless, all opinions expressed are still 100% my own.