If you are at all like me, you may find that there are days that just seem like they don't have enough of hours in them to get everything done on your to do list. And then before you know it the afternoon is over and it is time to get dinner on the table. Without proper planning or the right ingredients in the pantry you may find yourself calling for pizza delivery, heating leftovers, or even heading through your local fast food drive through. Not only does that mean you are not eating the healthiest food but also spending extra money. With a little planning you could save that money and eat yummy food at home. This is where eMeals comes in very handy.
eMeals was founded by two wonderful ladies who are sisters and also very busy moms and wives. They developed eMeals to feed their families and preserve their sanity. Not only does this site make moms' lives easier but it brings families together at mealtime and what is better than mealtime with loved ones?
With eMeals you will get an email weekly with your menu plan and shopping list for the next week. You can pick from a wide variety of lifestyle meal plans including Clean Eating, Paleo, Low Fat, Low Carb, Natural & Organic, Portion Control, Gluten Free, Classic, Slow Cooker and Vegetarian meal plans. Your plan can be changed once a month, so if you picked a plan you are not flipped over the next month you can try a different one. You will also have the option of picking between the For 2 (1-2 servings) or the Family (3-6 servings) plan.
The shopping list makes getting the ingredients you need super easy as it is broken down by grocery store sections such as produce, meat and refrigerated. I also love that it gives the approximate price for each item plus a grand total at the bottom for all the items on the list. Granted you most likely won't be buying everything on the list each week as some of the items are staple pantry items but it gives you a very good idea of what your meals will cost. You can also get your shopping list tailored to the following choices:
ALDI
Kroger
Publix
Ralphs
Safeway
Target
Walmart
Whole Foods
Any Other Store
Recently, eMeals added in an iPhone app, which makes eMeals even more user friendly. With this app it is easy to leave a meal out of the shopping list or even check off ingredients you already have.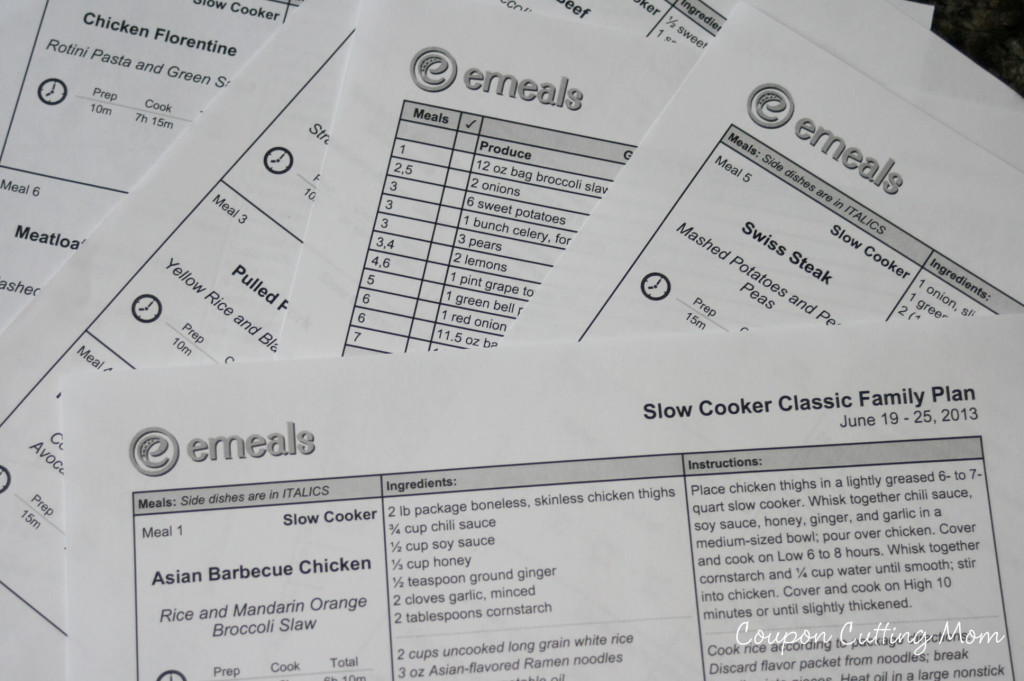 I have been using the Slow Cooker Classic Family Plan which comes with yummy recipes such as Meatloaf with Onion Gravy, Chicken Florentine, Pulled Pork Enchiladas, Swiss Steak and many more. With eMeals and these great recipes there is no more getting to 4 PM in the afternoon and struggling to figure out what to quickly make for dinner, no last minute shopping trips to grab an ingredient we need but rather we can enjoy our menu being planned for the next week and also a shopping list of all the ingredients we need for that weeks meals.
With the Slow Cooker plan I also like how you will prepare plenty of meat for one meal and then a meal or so later the recipe will ask for the already prepared extra meat from the previous meal making that meal super easy to assemble thanks to the work from the day before.
Would you like to spend less time trying to figure out what to make for dinner, less money spent on eating out and more time with yummy family meals made at home? eMeals offers 3 different payment plans to best suit your needs: 3 months: $21, 6 months: $35, or 12 months: $58. This means you will be paying as low as $0.17 a day for a menu plan, shopping list and best of all you will be saving your hard earned money.