Electric Rechargeable Sonic Toothbrush Only $15.76 – Regular Price $25.95
Head over to Amazon where you can score this very highly rated Electric Rechargeable Sonic Toothbrush for just $15.76 (reg. price $25.95) when you clip the $5 and use promo code N6SECQ2X at checkout. My daughter and I both have this toothbrush, and it is by far my favorite one now. I've had this brush for over two years now, and it is still going strong and rarely needs charging! 

When it comes to battling plaque and promoting teeth and gum health, this Electric Toothbrush Is A Game Changer. This brush delivers 40,000 Micro-Brushes Per Minute, giving you over A Month's Worth Of Manual Brush Strokes In Less Than Two Minutes.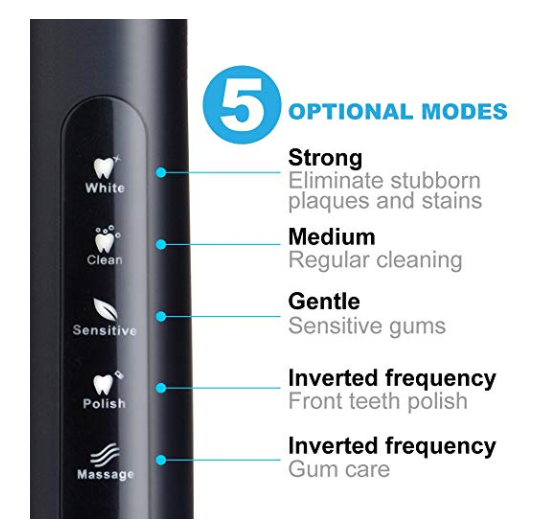 The powerful sonic movements whip up toothpaste into microbubbles, driving them deep between teeth and along the gum line for Gentle, Effective Cleaning. You will Remove Up To 100% More Plaque And Stains on the teeth and along the gum line, compared with a regular manual toothbrush. Enjoy Cleaner And Healthier Teeth In 7 Days and Improve Gum And Oral Health In 14 Days. Overall an upgraded brushing experience than a regular electric toothbrush.
Electric Rechargeable Sonic Toothbrush Product Features:
POWERFUL DENTIST LIKE CLEANING – with 40,000 micro-brushes per minute. Enjoy clean and healthy teeth in 7 days and improve gum and oral health in 14 days. Get a thorough cleaning with reduced noise, an overall upgrade over other regular electric toothbrushes.
ONE 4-HOUR CHARGE LAST 30 DAYS – compatible with any power source with an auto shut off after a full charge and a low battery reminding. The 2 minutes smart timer with interval pausing every 30 seconds encourages a dentist-recommended clean.
5 HIGH-PERFORMANCE BRUSHING MODES to suit different conditions of teeth and gums. 55 gram extra-light weight designed, less than half of regular electric toothbrush. Light in hand but thorough cleaning with reduced noise, upgraded brushing experience than a regular electric toothbrush. 3 brush heads included.
THE LONG BATTERY LIFE is supported by USB charging. This electric toothbrush is convenient to use at home or travel – bring it on any trip with the easy to use adapter and USB cable.
The bristles are made with Dupont nylon, to suit teeth topography for thorough cleaning of gums and hard to reach areas. There is a rounded bristle top for safety and gentleness.

Get your Electric Rechargeable Sonic Toothbrush today while it is at this low price. Please double check the price before purchasing as prices can change quickly on Amazon.