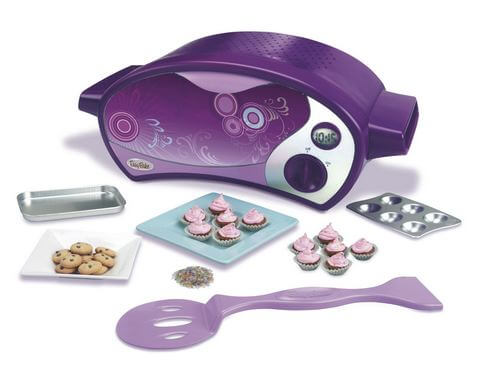 Easy-Bake Ultimate Oven ONLY $29.99
Amazon is offering the Easy-Bake Ultimate Oven for only $29.99 (reg. $59.99). I love that this oven does not use light bulbs so no more worrying about your kid getting accidently burned while they are playing with their Easy Bake.
The all-time favorite toy oven from EASY-BAKE has a stylish look and modern features perfect for today's creative bakers! It's the EASY-BAKE Ultimate Oven! This oven comes with the tools young bakers need to make their own delicious treats! Make bite-size red velvet cupcakes and yummy chocolate chip cookies with the included mixes, and so much more with a sweet and savory variety of kits and refill packs for the EASY-BAKE Ultimate Oven.
Features:
No more light bulbs needed! Use the included mixes, pans and other goodies to whip up cake and cookie batter.
Follow the directions to bake them inside the oven. The included recipe booklet has even more yummy ide
The included recipe booklet has even more yummy ideas and recipes that are just the icing on the cake!
The classic oven has been updated to be light bulb-free and comes with yummy mixes and pans for cooking up all kinds of sweet treats!
Comes with baking pan, cupcake pan, pan pusher, chocolate chip cookie mix, red velvet cake mix, pink frosting mix, rainbow sugar crystals package, paper cupcake wraps and recipe booklet.
Get your Easy-Bake Ultimate Oven here while it is at this low price. Please double check the price before purchasing as prices can change quickly on Amazon. If you are not an Amazon Prime member, be sure to sign up today for your FREE 30-day trial that will get you free 2-day shipping on most orders.