This post is brought to you by HoneyBaked Ham. Coupon Cutting Mom received one or more of the products mentioned free for evaluation purposes. Regardless, all opinions expressed are still 100% my own.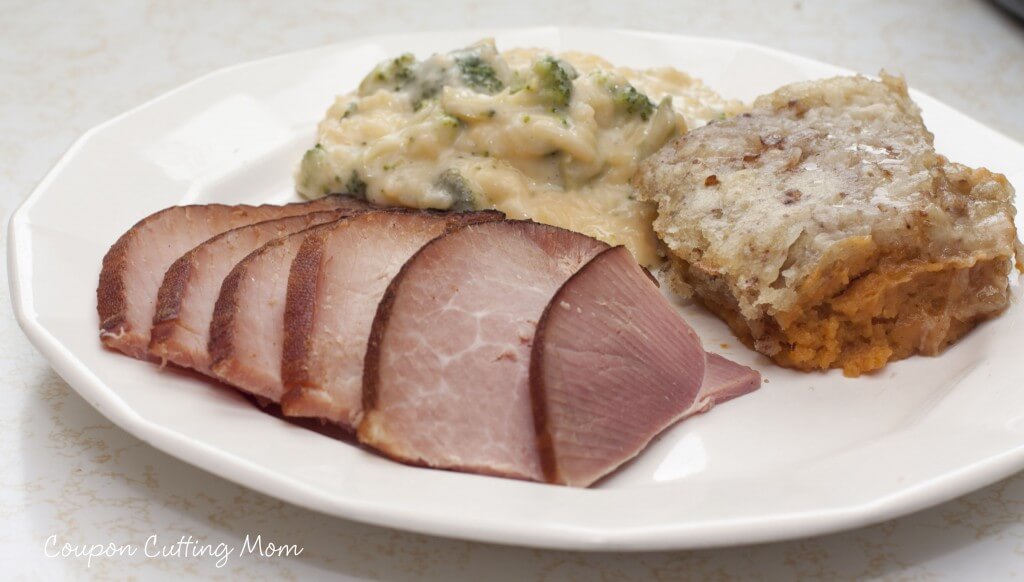 One of my favorite things about holidays is getting to spend time with family. And when we are together on a holiday this also meant getting to eating lots of yummy food. There is just something very special about going to mom and dad's house for a holiday meal and sitting around the table with my brother and sister and their families. My mom always makes sure we have a huge meal and no one leaves the table hungry but of course if you know anything about big meals made from scratch you know that means lots of prep work and cooking ahead of time which leaves the kitchen in a mess and lots of dirty dishes to wash. This is where HoneyBaked comes to the rescue and provides a tasty meal without any mess or stress.
Very recently I was introduced to HoneyBaked Ham and let me start out by saying we now have a new favorite ham. This is hands down the best ham we have ever eaten. Even my brother in law said this ham passed the taste test and for him this is saying a lot as his dad has done custom ham curing for years.
HoneyBaked has been handcrafting fine foods for family dinners and events since 1957. They are best known for their signature fire-glazed, spiral-sliced Hams. Over the years their quality products have become a tradition at many holiday meals.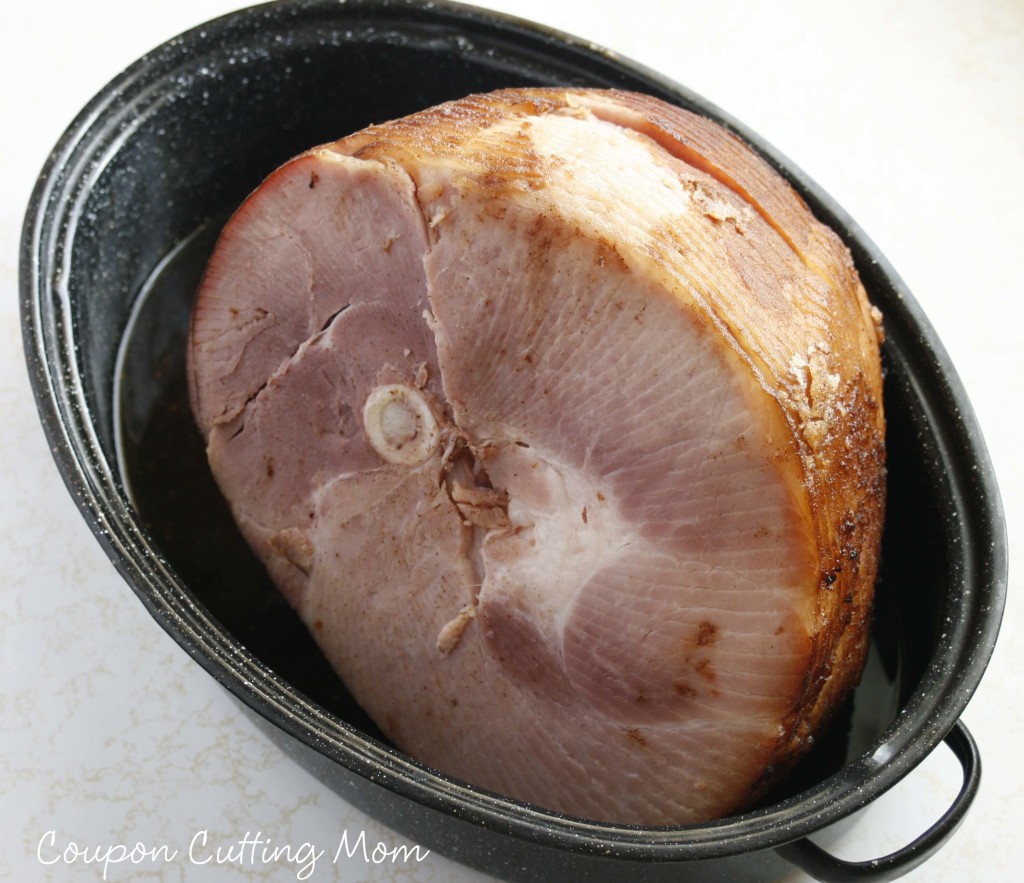 We visited the Mechanicsburg, PA store to pick out our ham and side dishes. Every one of the over 400 HoneyBaked locations throughout the US has a great selection of hams, turkey, beef, shredded BBQ beef and more. In addition to the large selection of meats, they also carry everything you need to complete a delicious Easter dinner. This includes a nice selection of side dishes such as Mac & Cheese, Green Bean Casserole, Potatoes au Gratin, Broccoli Rice Casserole, Sweet Potato Soufflé, Garlic Mashed Potatoes, Cinnamon Apples and more. The dessert items include Carrot Cake, Cheesecakes, Pecan Pie and more.
The half ham we served at our family dinner is a HoneyBaked signature product. This slow-roasted smoked tender bone-in ham came fully sliced and ready to serve. All we needed to do was to heat it in the oven for a short time before serving. Our ham was approximately 8 pounds and we fed 9 adults and 3 kids and everyone had plenty to eat and we had also had a nice amount of meat left over. We were all so excited to taste this ham that I think everyone stole pieces of it out of the pan before dinner. Everyone at the table agreed this was the best ham we had ever eaten. It was so super tender and full of flavor and not at all dry like some hams tend to be. You have not fully lived until you have tasted a HoneyBaked ham.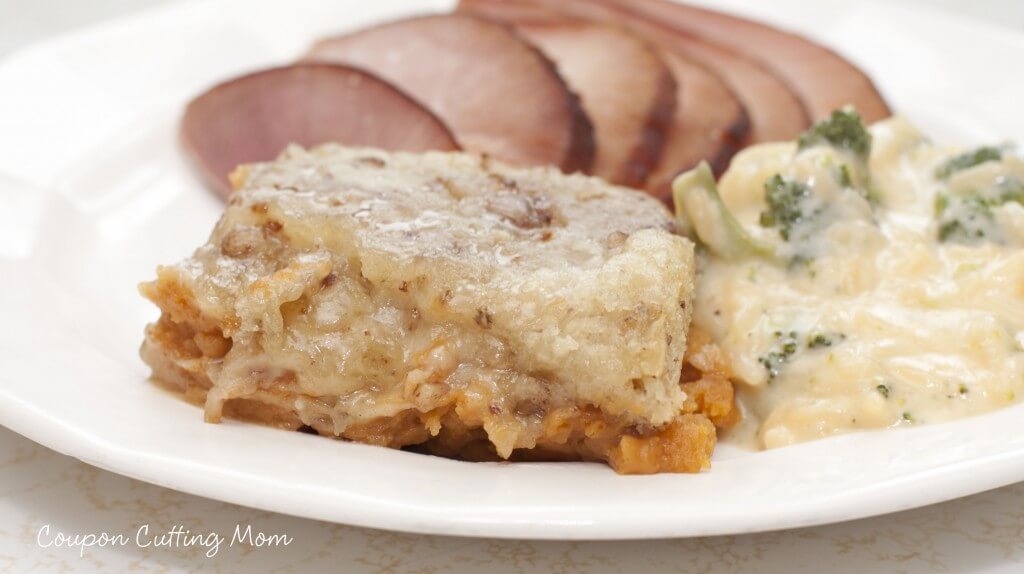 Our sides from HoneyBaked included the Sweet Potato Soufflé and the Broccoli Rice Casserole. These dishes come precooked and all we needed to do was put them in the oven about 30 minutes before dinner. Not only were both of these sides very tasty but I love that the dish they were in went into the oven and then right on to the table. This means less time spent cleaning and washing dishes and more time to spend with family. We also enjoy a yummy HoneyBaked Pecan Pie for dessert.
As you are planning your Easter meal, do yourself a huge favor and head over to your local HoneyBaked store where you can get a complete delicious meal perfect for any Easter celebration. As you are enjoying your stress-free, relaxing family dinner and everyone is raving about the food, you will thank me for suggesting HoneyBaked to you and your holiday meals will never be the same again!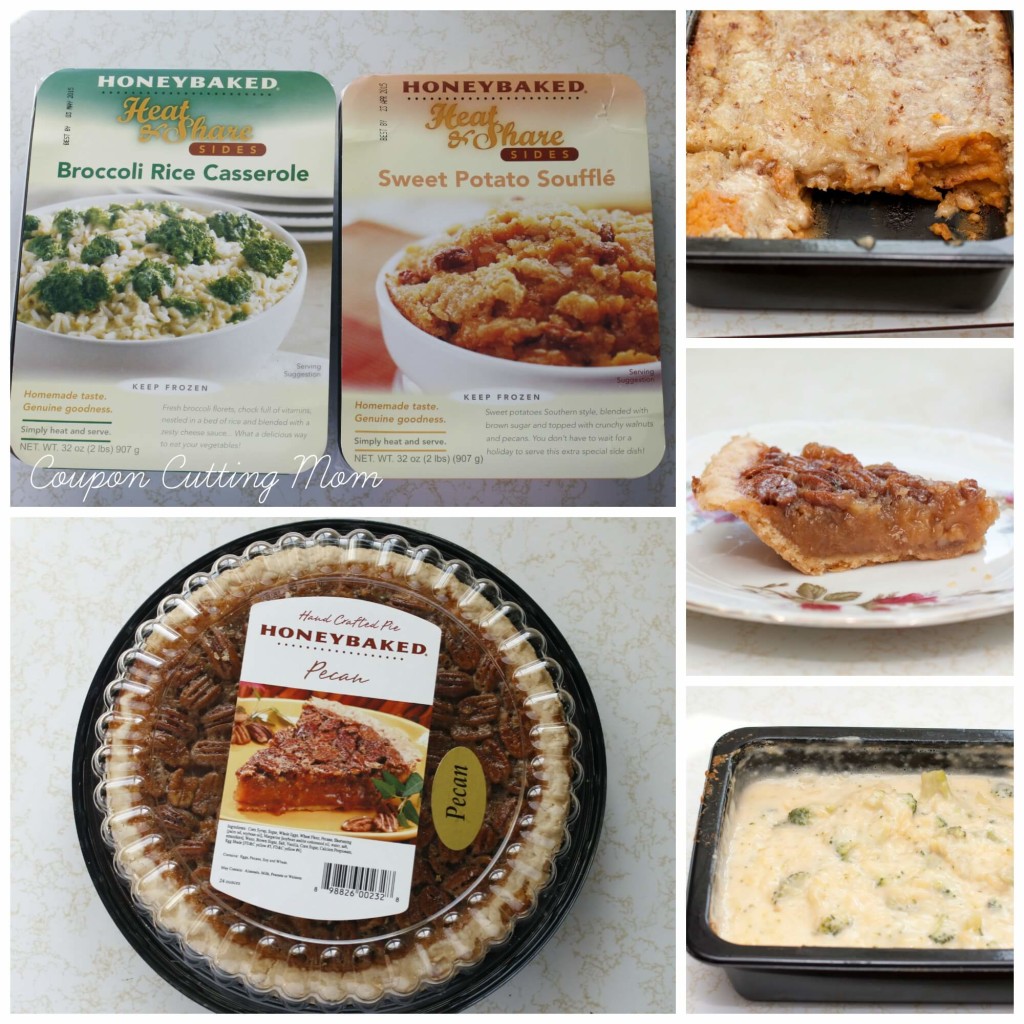 If you are planning to have HoneyBaked ham and other items this year for your Easter dinner, be sure to check out these Honeybaked coupons which include $5 off a ham. There are also some in-store specials which include an Easter Ham & Turkey Combo for only $54.99, 2 Heat & Share Sides for jut $13.99. Also sign up and become a HoneyBaked VIP for additional savings and offers all year long.
Now for some super exciting news! HoneyBaked Ham is giving away (20) TWENTY $50 gift cards. Enter below on the Rafflecopter form for you chance to enjoy a FREE Easter dinner. Giveaway ends April 13 at midnight CT. Good luck!