Ask anyone who knows me well and they will tell you I'm a real stickler for having a spotless floor especially in my kitchen and dining room. My house has a fair amount of windows which makes for lots of light streaming across the floor and of course this shows off any dirt, spots, smudges, streaks etc. and for some reason I just hate anything on my floor that keeps it from shining.
I found that to keep the floor spotless it required frequent cleanings. I tried mops of all kinds but was left with less than a sparkling floor every time. I finally resorted to crawling around on my hands and knees a minimum of one time per week to wash the floor and get streak-free results. The only problem with washing this way is that it adds up to a lot of time spent on my knees. Since my knees are not getting younger, I was super excited when I found out I was getting the chance to try out the e-cloth Deep Clean Mop!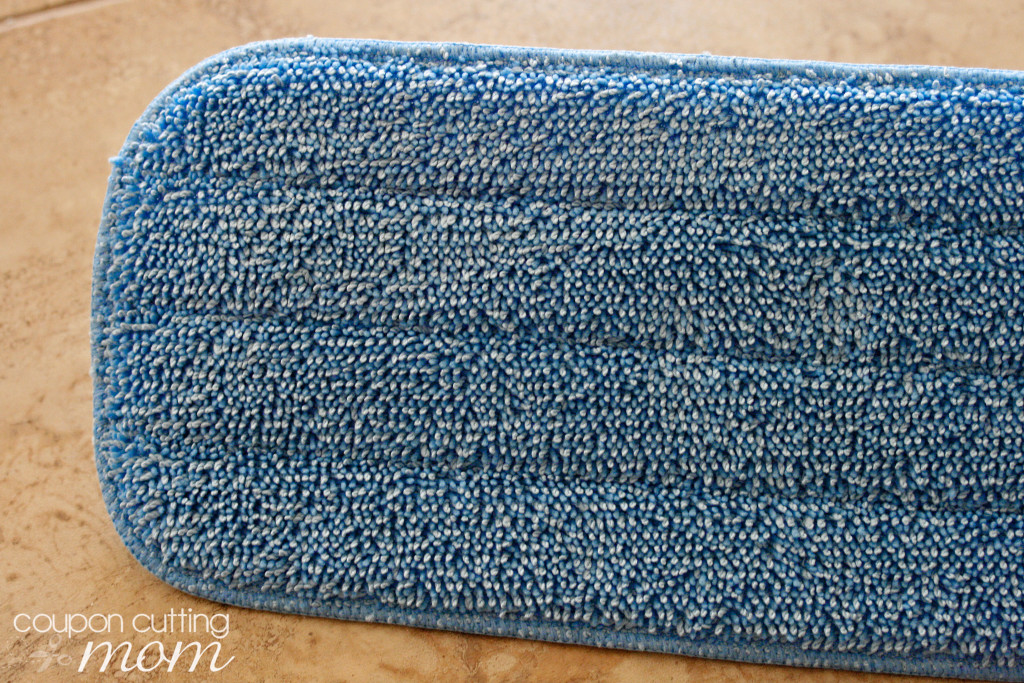 e-cloth
provides products to make cleaning your home easy without any chemically laden cleaners. All you need with e-cloth is WATER! That is right clean your home
WITH ONLY WATER
! Every microfiber cloth from e-cloth has up to 1.6 million fibers per inch! This allows your e-cloth to remove over 99% of bacteria from any hard surface.  Then when the the e-cloth is run under hot water in the sink, all but .01% of that dirt, grease and bacteria is released from the cloth and is washed down the drain.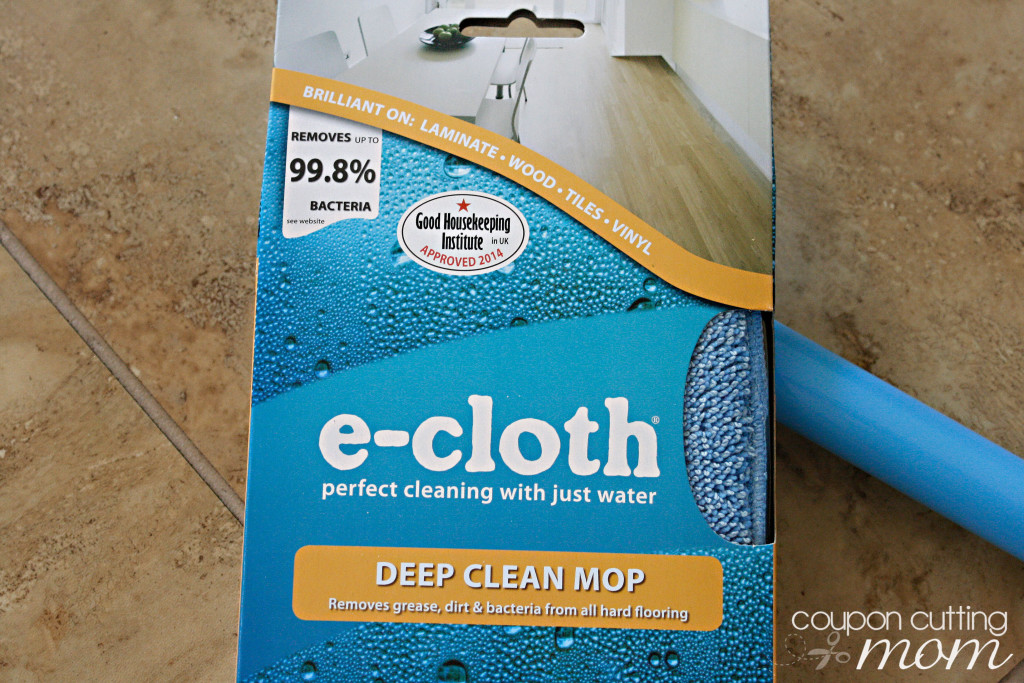 When my e-cloth Deep Clean Mop arrived, I was ready to open the box right away and get to washing the floors. All I needed to do was attach the telescopic mop handle into the mop base and then wet the mop head using warm water. I wrung the excess water out of the head and it was easily attached to the mop base with Velcro.
Right away when I started mopping, I noticed the e-cloth Deep Clean Mop head is almost 18″ wide! This width makes a very easy way to cover a lot of floor in a very short order. The fact that this mop is aluminum makes it super lightweight and very easy to push across the floor. Another great feature of this mop is the super slim base which makes it easy to glide and mop under things like the refrigerator and stove.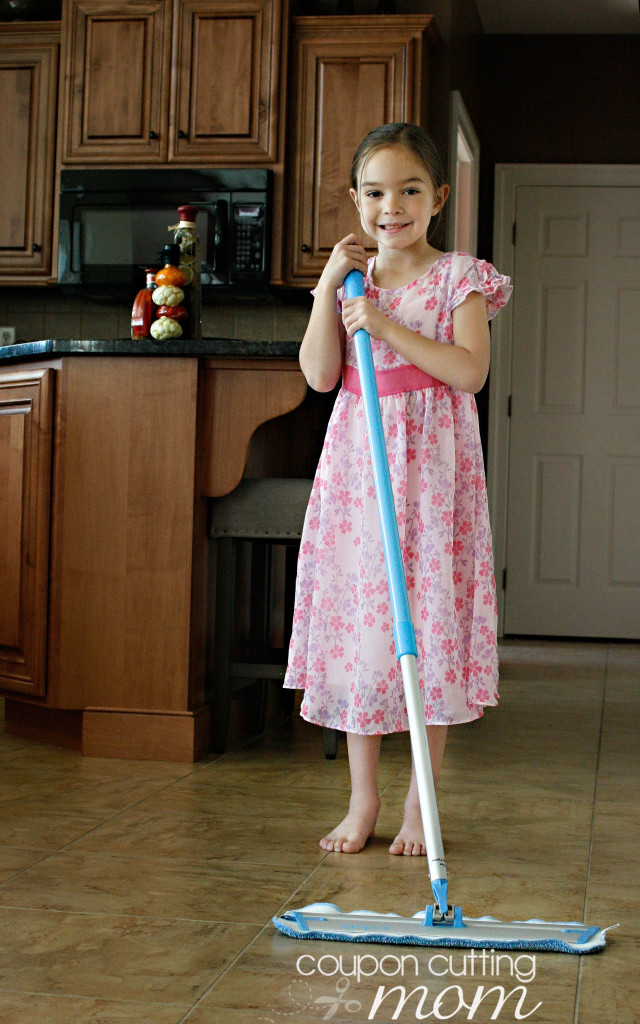 The aluminum telescoping handle on
this mop extends from 39″ all the way up to 59″
. My kids totally love that I can adjust this mop so that is the perfect height for them to use. Not only does the handle telescope but it also swivels a full 360°. Front, back, sideways, and all around this mop will swivel.
If I had to name my very most favorite thing about this mop, it would be the fact about how fast the floor dries. Unlike other mops that leave the floor wet, the e-cloth mop only makes the floor damp which greatly reduces dry time. Even though there isn't sopping amounts of water involved in washing the floor with the Deep Cleaning Mop, I found it to easily remove dried on pieces of dirt and spots right off my floor. I'm so thankful to e-cloth for their great mop that gets me a streak-free floor without all the effort of hand washing.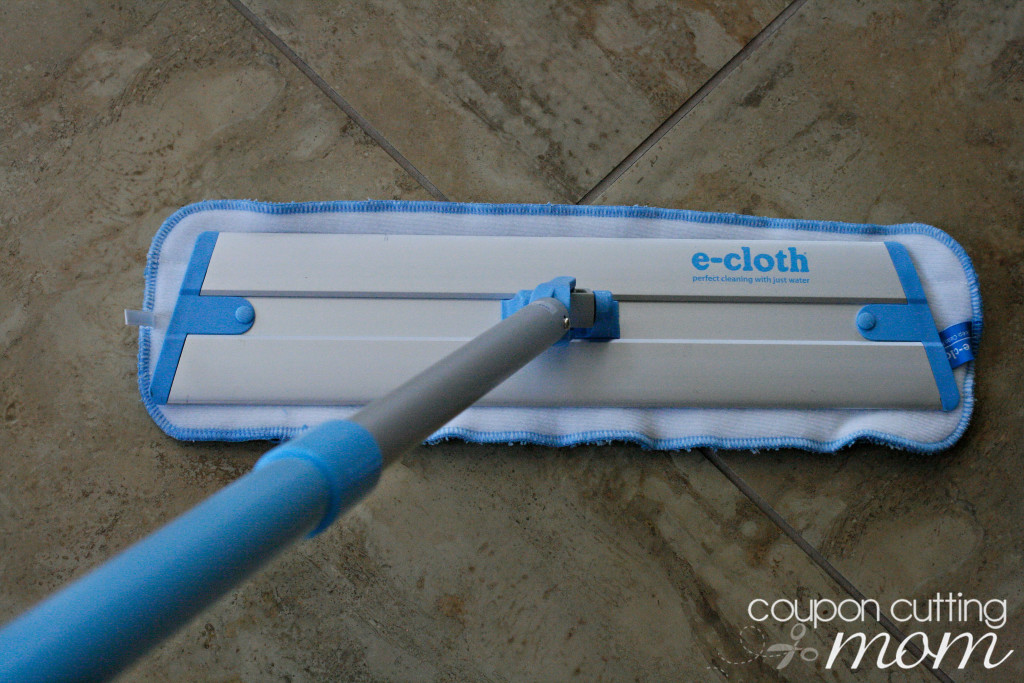 Not only can
an e-cloth can absorb up to 7 times its weight in water
, but it is good for 300 washes! If you wash your cloth just one time per week,
it will last almost 6 years
! It is no wonder at all that Real Simple magazine picked e-cloth as the best washable mop out there.
Watch the following clip for more info about all the great features of any e-cloth product.
If you are ready to rid your floors of dirt without spending money on cleaning supplies and yet have a sparkling wood, laminate, tile, marble or vinyl floors, let me highly recommend the e-cloth Deep Clean Mop to you. Use this handy search tool to find retailers in your local area that carry e-cloth products. e-cloth items can also be purchased on the e-cloth site or at Amazon.
Be sure to sign up for the e-cloth mailing list to receive info about all the latest e-cloth promotions. Also follow e-cloth on Facebook, Twitter, Pinterest and Instagram for the latest news and offers.
Would you like to win your own Deep Clean Mop? Thanks to e-cloth one lucky Coupon Cutting Mom reader is going to be winning an e-cloth mop. This giveaway is open to US residents ages 18+ and ends at 12 midnight ET on May 18, 2015.
Good Luck! 
.
Coupon Cutting Mom received one or more of the products mentioned above free for evaluation purposes. Regardless, all opinions expressed are still 100% my own.