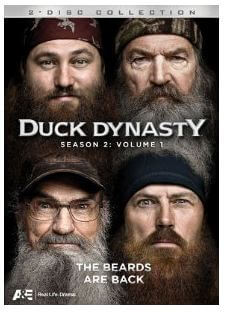 Duck Dynasty fans, here is a deal for you. Duck Dynasty: Season 2 is on sale for only $9.96 (reg. price $19.98). Shipping is free with Prime or Super Saver.
In Season 2, Volume 1, of the hit series "Duck Dynasty" on A&E, Louisiana's bearded, camouflage-clad millionaires continue to live out the American dream while staying true to their rugged outdoorsman lifestyle and Southern roots. Ask anyone in Louisiana and they'll tell you that the bayou state's favorite first family doesn't live in the governor's mansion but in the backwoods, where the Robertsons' rags -to-riches story is still unfolding. A homegrown mom-and-pop operation, Duck Commander has become a sporting empire by fabricating top-of-the- line duck calls and decoys out of salvaged swamp wood. This newly-minted multimillionaire family is kept in line by business-savvy Willie, who runs Duck Commander with the help of his brother Jase, their respective wives Korie and Missy, patriarch and founder of the company, Phil, and uncle Si. Together they run a booming business that employs half their neighborhood, but at the end of the day you can find the whole family around matriarch Miss Kay's dinner table. Each episode brings a new set of challenges, met with a special brand of Southern know-how and a down-home sense of humor.
Place your Duck Dynasty: Season 2 order here. Please double check the price before purchasing, as prices can change quickly on Amazon. Also be sure you are signed up for UPS My Choice so you will know when your packages will be arriving.