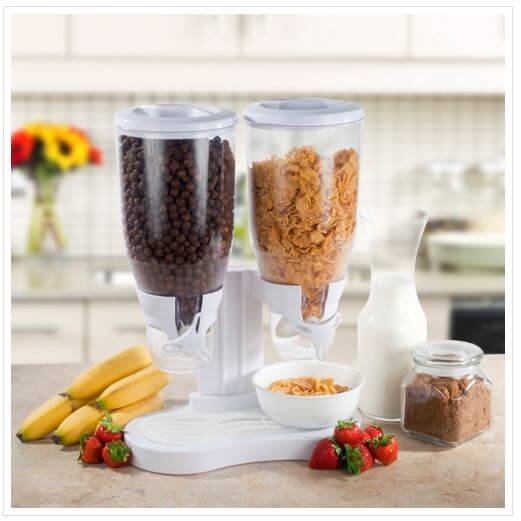 This HUTT Dual-Container Cereal & Dry Food Dispenser is on sale for only $14.99 (reg. price $64.99). Shipping is free. This looks like a great way for kids to get their own cereal.
Store and serve your favorite dry snacks and cereals with ease with this handy dual-container cereal & dry food dispenser. It's perfect for countertop storage of your favorite snacks for easy access, and the dual-container design is perfect for families with different tastes.
The easy dispensing spouts are a cinch to use, and the built-in spill tray will keep your counters tidy and crumb-free. It's available in black or white, so pick the color that matches your kitchen's style, and start conveniently storing and serving your favorite cereals and snacks.
Two separate 14 ounce containers allow you to store multiple foods at once
Ideal for cereal and other dry foods
Perfect for countertop storage
Easy dispensing spouts
Built-in spill tray
Available in black or white
Total capacity: 28 ounces
Get your  Dual-Container Cereal & Dry Food Dispenser here. This sale is good 9/30 only.