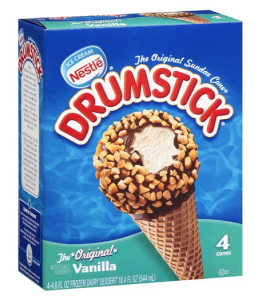 Here are two printable coupons a Drumstick and a Klondike coupon. Both of these items would make good summer treats. Weis has deals on both of these products this week.
$1.00 off when you buy any TWO packages of NESTLÉ DRUMSTICK multipack
$1/1 Klondike Choco Taco printable coupon
Weis:
Buy 4 Nestle Drumstick $3.00 each
Use 2 $1/2 Nestle coupons
Get $3 off instantly
Pay $7.00 or only $1.75 each!
Buy 4 Klondike Choco Taco $4.19 shelf price $3.00 sale price
Use 2 $1/1 Klondike coupons, can only use 2 based on coupon wording
Get $5 off instantly when you spend $15, based on shelf price
Pay $5.00 or $1.25 each!