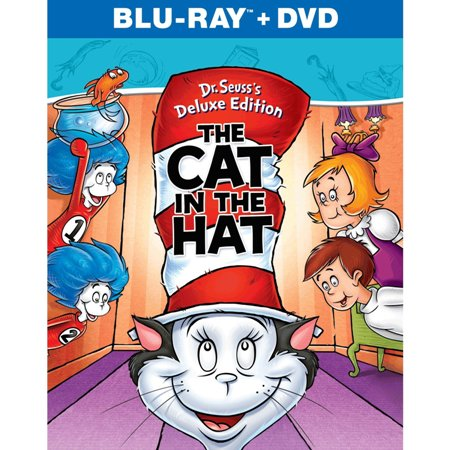 When my kids found out we were getting Dr Seuss's Deluxe Edition The Cat In The Hat movie to review, they were so excited. Around here, Dr Seuss is a much loved person. It seems we read The Cat In The Hat book daily. My 3-year old often begs to have the Hat Cat book read to her.
We enjoyed watching this movie. The kids especially enjoyed it because it follows a book that they know and love. This is a classic and if you have an Cat in the Hat fans, they will be sure to enjoy this movie as well. Thanks, Warner Brothers for this classic that we all enjoyed watching.
Dr. Seuss: The Cat in the Hat Available on DVD & Blu-ray!
Movie Synopsis:
While their mother is out on a shopping errand, Dick and Sally are stuck indoors on a dull, rainy day, with nothing to do. Their dreary afternoon, however takes an unexpected turn when they're paid a visit by a charismatic, six-foot tall, hat-wearing cat, who invites himself in to search for his misplaced "moss-covered, three-handled family gredunza."
Employing the "Calculatus Eliminatus" method, the children help the Cat in the Hat look for his missing keepsake but in the process, leave the house in a mess. Mr. Krinkelbein, the family's wise pet goldfish, who in effort to look out for the kids' best interest, protests the Cat in the Hat's shenanigans and orders him to leave. The Cat in the Hat however, preoccupied with finding his missing "gredunza," enlists the help of his best friends, Thing One and Thing Two, to help with the search but the pair only manage to bring the house into further disarray.
Unfazed by the chaos that's slowly unfolding around them, Dick and Sally are captivated by the Cat in the Hat and his madcap, whimsical ways. They pass the afternoon in sheer delight, singing happy songs and engaging in playful mayhem with their uninvited guest. Even the cynical Mr. Krinkelbein is won over by the Cat's infectious charm. Everyone is having way too much fun to notice the house is a complete mess! That's until Dick and Sally hear their mother coming home. How in the world will they clean up the enormous mess before she walks through the front door?
The deluxe edition of Dr. Seuss's The Cat in the Hat includes two additional Dr. Seuss classics Daisy-Head Mayzie and The Hoober-Bloob Highway.
Coupon Cutting Mom received one or more of the products mentioned above for free for evaluation purposes. Regardless, all opinions expressed are still 100% my own.