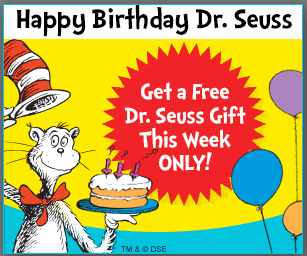 Get 5 Dr. Seuss books for only $5.95 + FREE shipping. At our household Dr. Seuss books are a favorite.
This book deal for $5.95 includes:
The Cat in the Hat
Mr. Brown Can Moo
Ten Apples On Top
Go Dog Go!
 The Tooth Book
FREE Parent Guide
FREE shipping
Why join Dr. Seuss & His Friends book club?
Receive 3 new books each month.
Create lasting memories with the same classic stories you loved as a child.
Wacky and wonderful characters will engage and entertain your child.

Conveniently control your membership online.
Adjust your shipping interval
View account history
Preview upcoming packages Risk free. Cancel anytime.
• No purchase commitment
• High quality, hard covered editions.
• Convenience of home delivery for less than $5 per book.