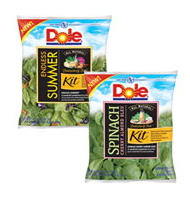 Here is a new printable coupon.
75¢ off when you buy any TWO All-Natural DOLE® Salad Kits
Next week at Gaint the Dole Special Blend Salad or Complete Kits will be Buy 1 Get 1 FREE. They will be priced at $3.69, so after sale and coupon you will pay only $1.35 a bag.