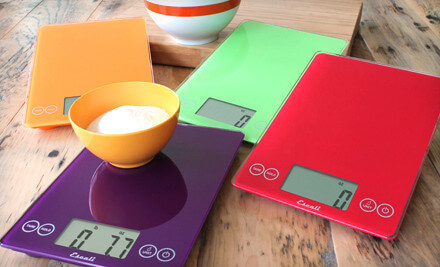 Do you have a kitchen scales? I don't have one and there times when having one would come in so handy. If you are in the market for a scales, here is a deal that is too good to pass up. Pay only $24 + $5 shipping for this Digital Glass Kitchen Scale that has a list price of $49.95. There are 12 Colors available to choose from.
Features
Measures up to 15 pounds in 0.1-ounce increments
Large digital display
Dimensions: 9″x6.5″x.75″
Smooth glass surface makes cleanup simple
Touch-sensitive controls
Measures solids and liquids in pounds, ounces, grams, fluid ounces, or milliliters
Tare feature for weighing ingredients in containers
Display-hold feature maintains weight on screen when measuring larger items
Auto shutoff preserves battery life
Two lithium batteries included
Get your Digital Glass Kitchen Scale today, before they are sold out.