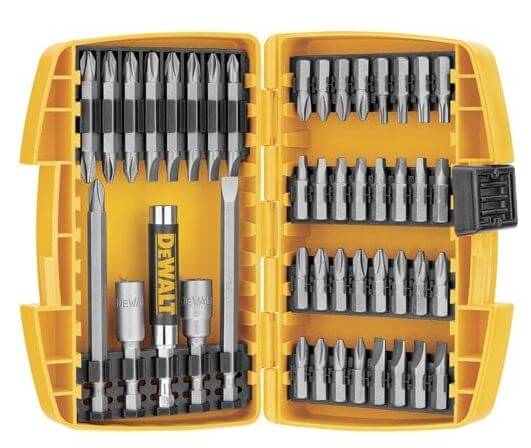 Amazon is offering this DEWALT 45-Piece Screwdriving Set for only $9.98 (reg. $41.80). This item qualifies for free shipping with Super Saver or Amazon Prime.
The DEWALT 45-Piece Screwdriving Set includes the most commonly used screwdriver accessories. The industrial-strength case is strong and durable. The set includes Phillips, square, slotted, and double-ended bits.
Check out these DEWALT 45-piece Screwdriving Set reviews:
I purchased this Dewalt screw driving bit set for working around the house for different projects that crop up from time to time. I've been working with this set off and on for about 4 months now and the bits are still as good as the day the were purchased, I use them about 3 to 4 times per week for various things. The bits hold up to some serious driving from a power drill, from a ratchet driver and a ratchet screw driver.
This product is made by Dewalt, I think that would be enough said….
I have used this countless times and have never had a problem finding a the correct shape for my needs around the house. I would recommend this sleek compact kit which fits with the drill set in the Dewalt screw driver carrying case with ease.
Get your DEWALT 45-Piece Screwdriving Set here while it is at this low price. Please double check the price before purchasing, as prices can change quickly on Amazon.
Thanks, Clip and Follow!