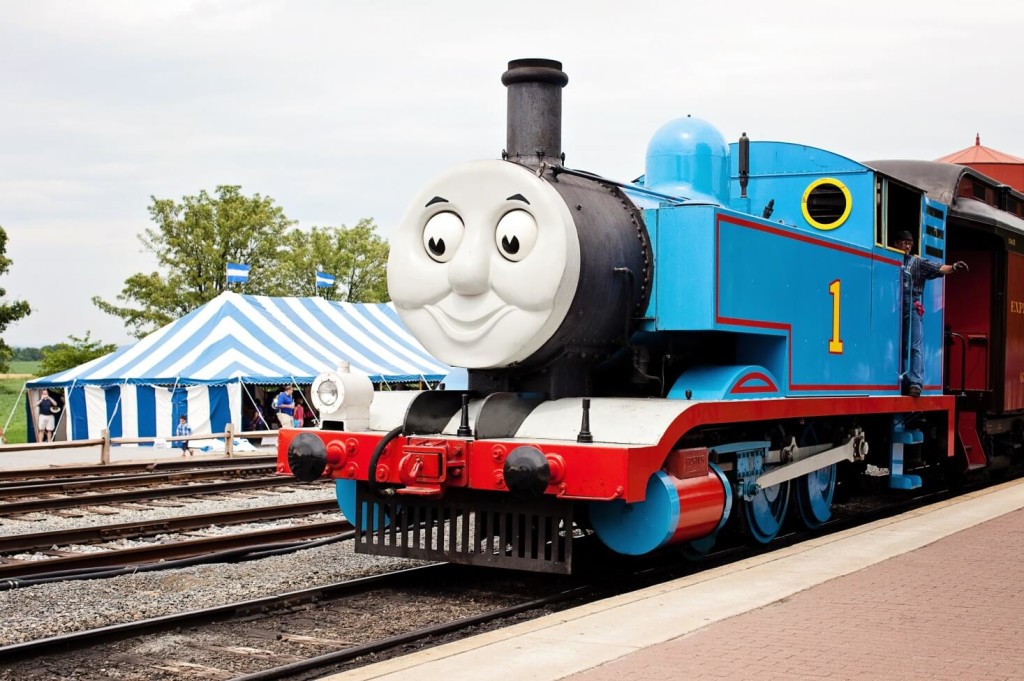 The  GO GO Thomas Tour 2013 is visiting the Strasburg Railroad June 15 – 23. This is the story of our "Day out with Thomas".
This was an event held at the infamous local tourist attraction Strasburg Railroad. Several times a year Thomas the Tank Engine comes to visit for a week, and Strasburg Railroads does their best to make it a great event for kids to enjoy. Upon arriving, of course it was exciting to see Thomas hanging out in the station. He is pretty handsome in real life.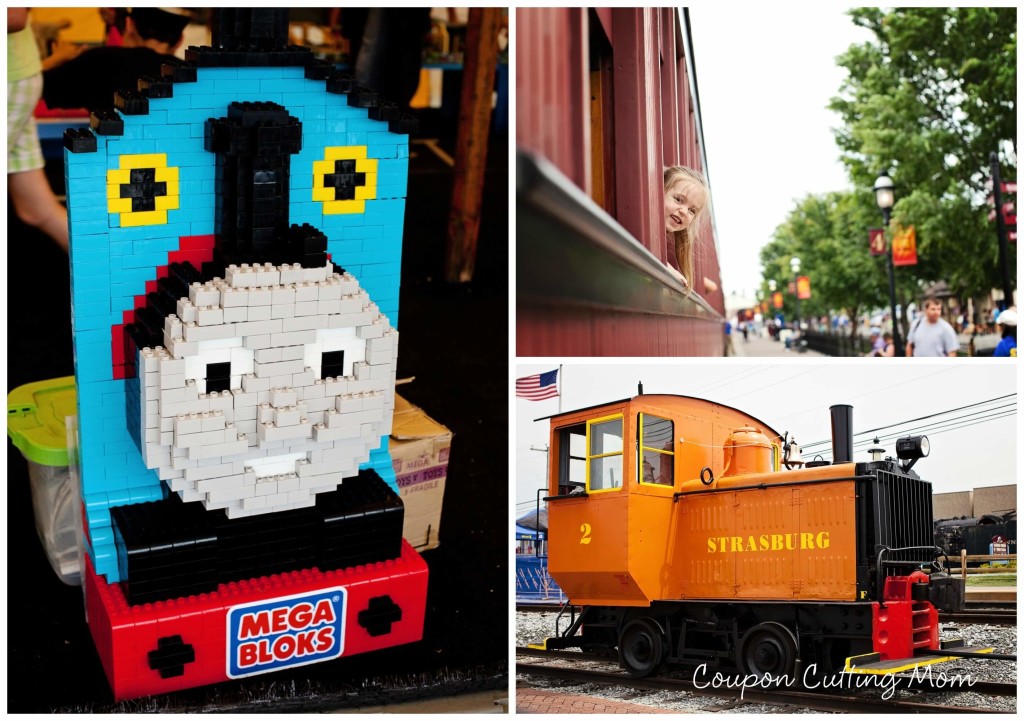 The Strasburg website was very informative as to what to expect during our visit. Upon their recommendation we arrived an hour before our departure time. We used up that hour very quickly, so I was glad to know that tip before we arrived 5 min. before the train left. I was pleased to learn that various other rides were also included in the ticket price.
The list included:
Storytelling
Video Viewing
Temporary Tattoos
Wooden Play Tables
Imagination Station
Photos with Sir Topham Hatt
Cranky Car Rides
Pint-Sized Pufferbelly Rides
LO&S (motor car) RidesIn that hour of time we only had time to do a few of the activities. So you can either arrive even earlier, or stay for awhile after your train ride to enjoy everything. As it was, Schlepping two kids through crowds of other (slightly weary) kids and parents, the amount of time we were there, was 'more then  enough' for those of us who were in charge. We had invited Abbi's little friend along for the day, so we had two energetic, inquisitive 4 year olds to keep track of in the crowd.The cranky cars caught our attention immediately, the girls had fun hand propelling their little carts around the track. Perfect preschool-age activity.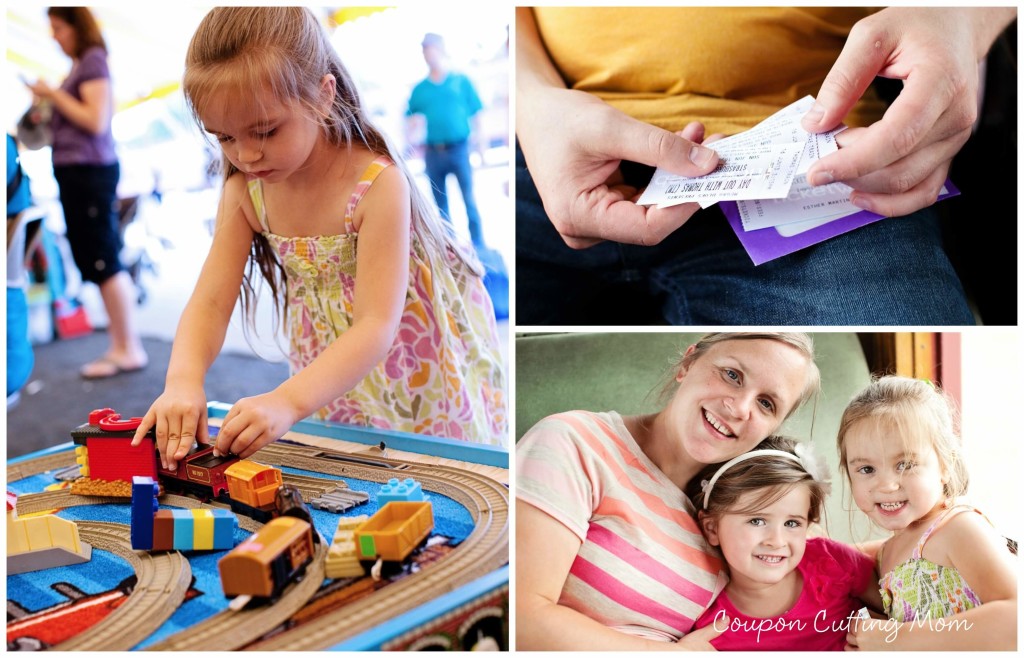 After that we took a ride on the little Mini-steam train thingy. Not sure what the name of this was, but it sure was cute. After waiting in lines for just those two things, it was time for a little break. Props to Strasburg for having whoopie pies that actually taste like bona fide Amish Whoopie Pies. I could almost imagine that they were baked in an Amish kitchen somewhere.
During our visit Thomas left and arrived several times, it was always fun to see him coming and going.  Before we knew it,  it was our turn!! I must hand it to the staff of Strasburg. It seemed like they put much effort into making this a fun event for the kids. Everyone seemed patient, friendly, and helpful.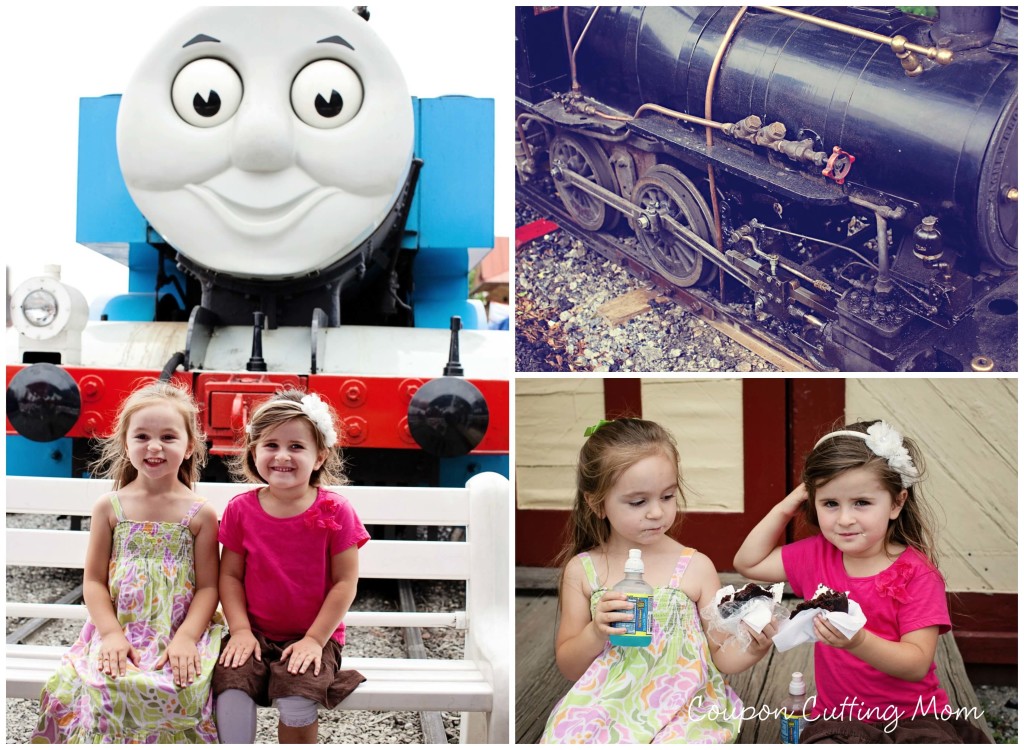 Spoiler alert: The only thing "Thomas" about this experience was the engine, everything else is Strasburg's normal coach cars. That said, a ride  in Strasburg's lovely coach cars is a very pleasant experience.
The beauty of these historic restored cars is an experience all it's own.  And riding through the lovely countryside dotted with Amish farms, horses and cows, with the breeze blowing through the open windows is just a pleasant way to spend an afternoon.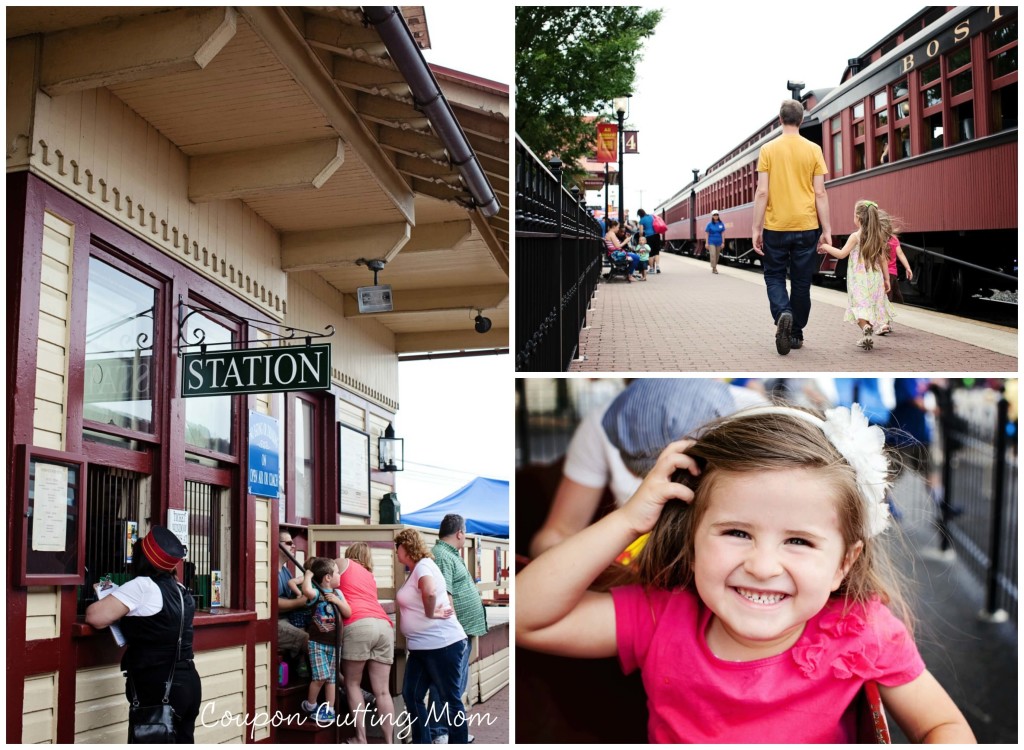 After our 20 min of fun, we enjoyed some time in the Thomas tent before the rain finished our day. Where there was every manner of Thomas Trains that you can imagine.
I thought it was great that they gave an opportunity for a photo in front of Thomas. This was executed quite efficiently, because what kid doesn't want their picture w/ Thomas??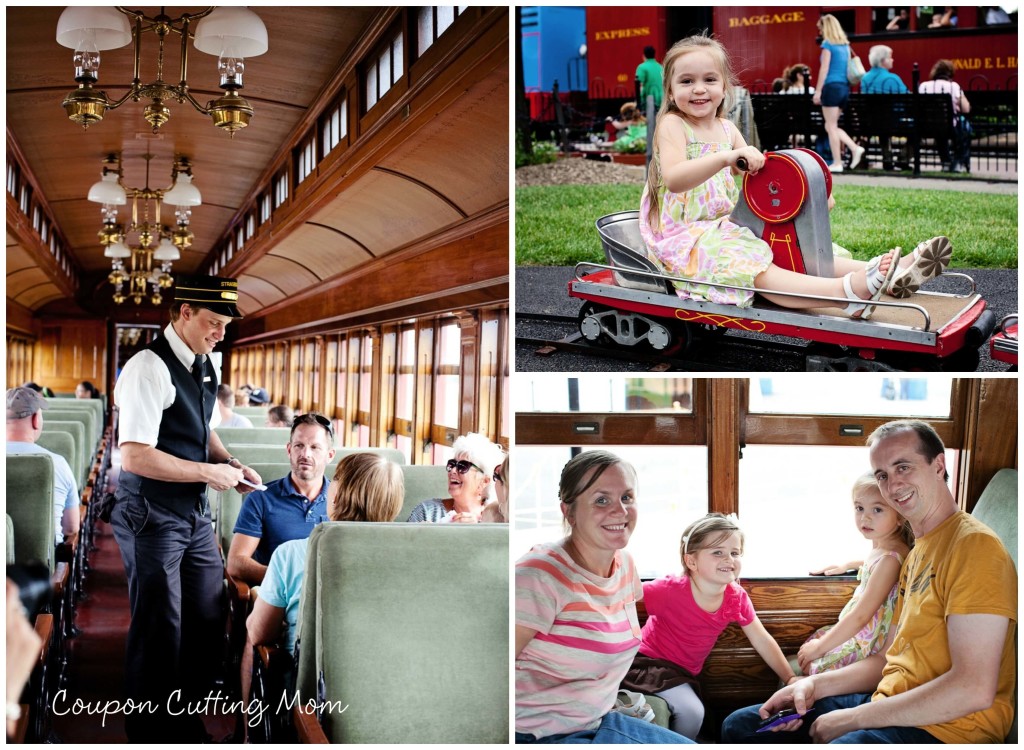 So the pro's and con's of this experience?? Sure, there are some. If your kid has even the slightest interest in Thomas, this will Thomas event will blow their minds. The girls just had a great time. At age 4, the additional  rides and activities were just their speed. Any older and you might have a bored kid on your hands.Plus, the whole Strasburg Train experience is just a fun thing all around.
The cons? The crowds of other over-tired kids/parents. Overpriced food and souvenirs ($5-$10 for a helium balloon?? Seriously?) Over-rated activities–Basically your classic tourist experience. Sorry if that sounds harsh, but after just a  couple of hours of being their, my husband and I were more than ready to leave.  The Strasburg train ride itself was wonderful, but the other parts, although enjoyed by the kids, left us as parents kinda wanting to poke our eyes out. (I'm kidding, I'm kidding about the poking eyes part.)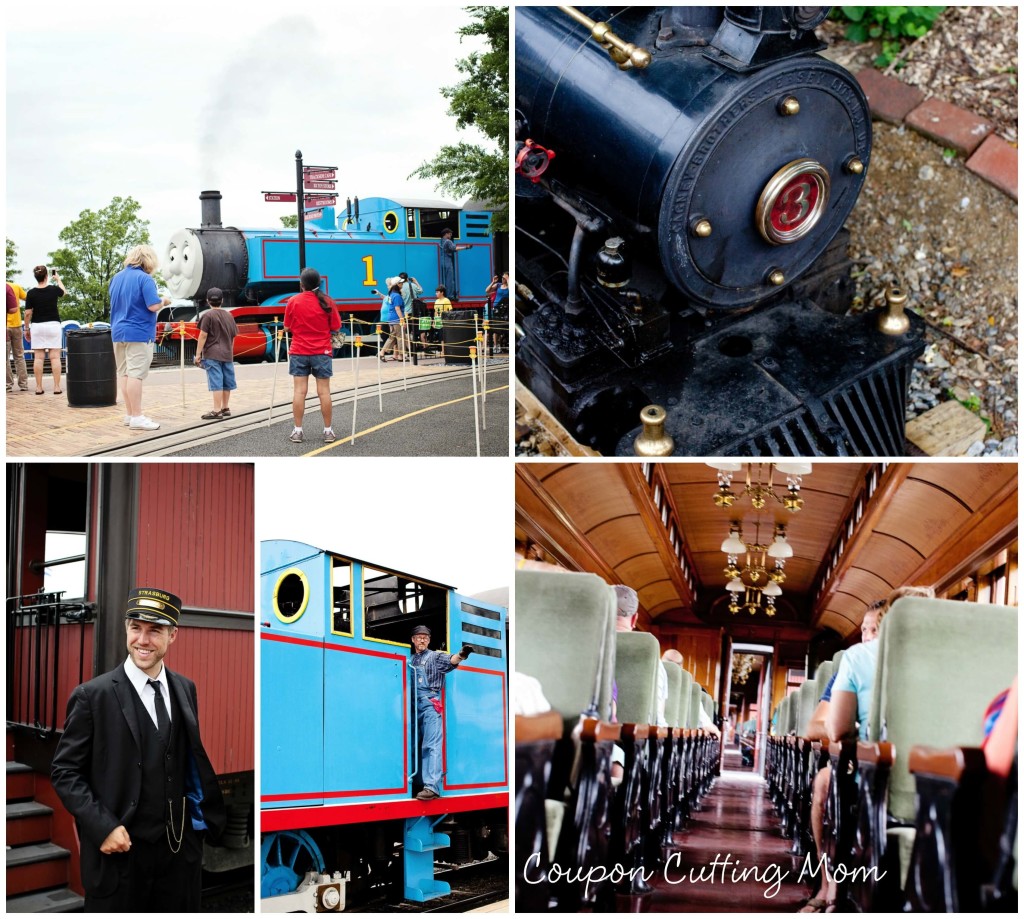 I probably wouldn't pay money to take my kids again, but I won't lie, it  was fun to see what the Thomas fuss was about.
The GO GO Thomas Tour 2013 is visiting the Strasburg Railroad through June 23, 2013. If you are looking for a fun time out with your kiddos, consider visiting this Thomas while he is in town. And you can save $2 off your tickets when you use code GOFAM.