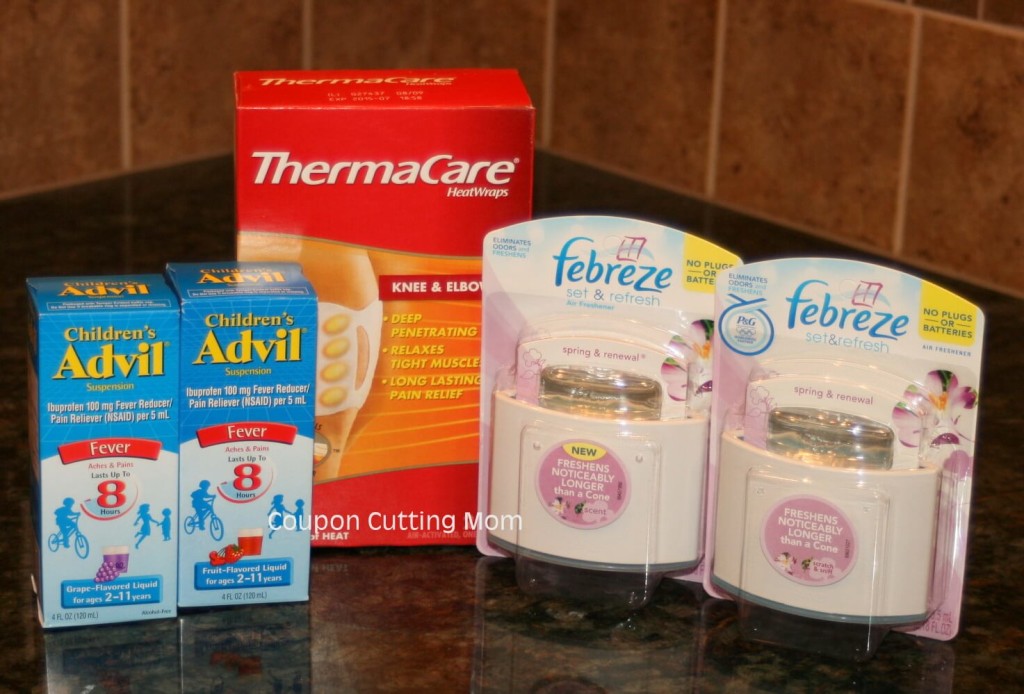 These items are from my CVS shopping trip and have a shelf price of $28.95. After sales, coupons, and Extra Care Bucks this was a moneymaker of $0.75! But the deal gets even sweeter because I will be getting $6 back from a mail in rebate, making this a moneymaker of $6.75!
Would you like to score the same deals? Here are the deals I purchased:
Buy 2 Children's Advil 0.5 or 4 oz. $4.99 each
Buy 1 ThermaCare Heatwraps (excludes 1ct) $4.99
Use BOGO FREE Children's Advil Product, 0.5oz Drops or 4oz Liquid no longer available
Use $1.50/1 Children's Advil printable
Use  $3/1 ThermaCare Product printable
Pay as low as $3.27
My BOGO coupon subtracted $7.20 this may vary from store and cashier.
Receive $4 Extra Care Buck
Submit for the $6 Pfizer mail-in rebate when you buy 3 participating products found in the 1/27 RP insert
Final price FREE + $6.73 moneymaker!
I also found the Febreze Set and Refresh Spring and Renewal sets on clearance for $1.99. Here is the deal you can score if you find them on clearance as well:
Buy 2 Febreze Set and Refresh Spring and Renewal $1.99 each
Use the $2/2 Febreze coupon from the 12/30 PG
Pay $1.98
Receive $2.00 Extra Care Buck
Final price FREE + $0.02 moneymaker!
See all this weeks CVS deals here.