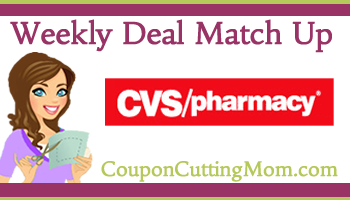 Here is your CVS Matchup February 9 – 15, 2014.
A couple things to note about shopping at CVS:
Use your CVS ExtraCare card to get the best deals. If you don't already have one, a card can be picked up at your local store or online. This card can then be scan at the red in-store coupon machine on every visit to receive additional coupons.
Once you have your card be sure to enroll your card online and opt-in to receive promotional information and offers from CVS Pharmacy via e-mail. This is how you will receive extra coupons and sometimes FREE Extra Care Bucks
Also sign up for the free CVS Beauty Club. Once you're enrolled, you will receive $5 ExtraBucks for every $50 spent on qualifying purchases.
View the official CVS Coupon Policy here.
Use the Coupon Database to find any additional coupons you need. Want your own customizable shopping list? Use the PrintFriendly button at the bottom of the post.
CVS Matchup February 9 – 15, 2014
Got2B Hair Stylers $4.99
Use $2/1 Got2B coupon from the 2/9 RP
Pay $2.99
Receive $2 Extra Care Buck
Final price $0.99!
SoftSoap Liquid Hand Soap 7.5 – 8 oz. $1.88
Use $1/1 SoftSoap coupon from the CVS coupon machine
Use the
Pay $0.88!
Robitussin, Dimetapp, Advil Congestion or Cold & Sinus Get $3 Extra Care Buck wyb 2
Deal Idea:
Buy 2 Dimetapp 4 oz. $4.99 each
Buy 2 Advil Congestion 10 ct. $4.99 each
Use 2 $2/1 Advil Congestion Relief printable
Use 2 $2/1 Dimetapp Product printable
Or use 2 $3/2 Dimetapp or Robitussin, or Advil Congestion Relief from 2/9 RP
Pay $11.96
Receive $6 Extra Care Buck
Submit for $6 Pfizer Rebate from the 1/26 RP
Final price FREE + $0.04 moneymaker!
Mars Valentine's Day Singles .5-4 oz. $0.77 (Limit 6)
Use $1/2 Mars Valentine's Day Products from the 1/26 RP
Pay $0.27 each!
Campbell's Chicken Noodle or Tomato Soup $0.75
Use the $1/5 Campbell's Condensed Soup printable
Pay $0.55 each!
Lindsay Olives $0.99
Use $1/2 Lindsay Products printable
Pay $0.49 each!
Hershey's Kisses or Miniatures 2/$6.00
Use $1/2 Hershey's coupon from the 1/19 SS
Pay $5.00
Receive $2 Extra Care Buck
Final price $1.50 each!
Nivea Lip Care, 2/$5.00
Use $3/2 Nivea coupon from the 2/9 RP
Pay $1.00 each!
Dawn Dishwashing Liquid $0.97
Use 0.5/1 Dawn Hand Renewal Printable coupon (use zip 90210)
Pay $0.49!
Thanks, The Shoppers Apprentice!