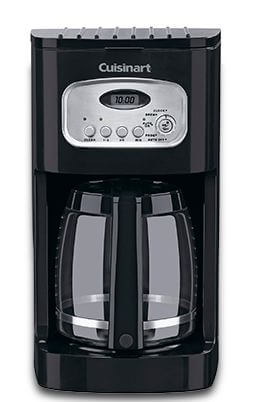 Cuisinart 12-Cup Coffeemaker
Get a Cuisinart 12-Cup Coffeemaker for only $29.99 (reg. $129.99)! Shipping is free! Compare this to the current Amazon Cuisinart Coffeemaker price.
Wake up with a fresh cup of Joe using this Cusinart 12-Cup Coffee Maker. This coffee pot has a 24-hour clock and programmable timer, so it's easy to have a fresh pot of coffee waiting for you every morning.
Cuisinart Coffeemaker Features:
Classic design with stainless accents
12-cup carafe
Ergonomic handle, dripless spout and knuckle guard
Fully automatic with 24-hour programmability, self-clean and 1 to 4-cup settings
Brew Pause feature lets you enjoy a cup of coffee before brewing has finished
60-second reset "remembers" where it was in the brewing process and settings
Charcoal water filter
Gold tone filter
Available in black
Dimensions: 8 x 8.1 x 14.2"
Weight: 9.3 lbs.
Brand: Cuisinart
Model: DCC-1100BK
Condition: Refurbished
Warranty: 30 Day
Packaging: White Box
Package includes: 12-Cup Programmable Coffeemaker
Expected to ship within 1-3 Business Days
Get your Cuisinart 12-Cup Coffeemaker here.