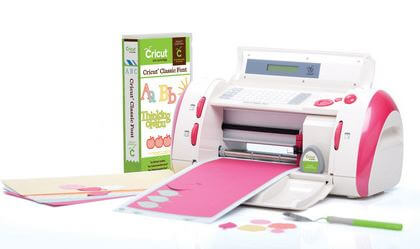 If you have been thinking about purchasing a Cricut, here is a deal for you. Joann Fabric is offering this Cricut V1 Limited Edition for only $79.99. This is an awesome deal as this normally sells for $199.99. Use code AP116 at checkout and score free shipping. This is an online only deal.
The Cricut Electronic Cutting Machine helps you create things you never thought you could. Whether you'd like to make cards with a personal touch, beautify your home with crafted decor, celebrate holidays with custom banners and signs, or add polish to your scrapbook with meaningful elements, this machine can help you create it all.
This limited edition machine has a playful pink trim that is sure to brighten up your crafting area. The stylish machine comes with the versatile Cricut Classic Font cartridge, which includes 3 fonts with shadows, an additional chunky-style font, 13 phrases, 15 basic images, 11 borders, 2 tags, and 26 charm/banner style images. You will love using the Cricut Classic Font cartridge whenever you need letters for your cards, scrapbook layouts, home decor, banners, and other creative projects.
Limited edition machine comes with a playful pink trim
Cuts cardstock, vinyl, vellum, fabric, and even thin foils from 1″ to 5.5″ tall
Perfect for creating cards, scrapbook layouts, home decor, and other projects
Comes with the Cricut Classic Font cartridge
Compatible with Cricut cartridges
No computer required
 Get your Cricut Cutting Machine today at this low price.