Crayola Crayon Melter – 47% Off Regular Price 
Head over to Amazon where you can score this Crayola Crayon Melter for 47% off the regular price. My kids had a chance to test out this Crayon Melter before the holidays and you can read all about it HERE. This is a great "toy" for any kid as it provides lots of creative playtime. Prime members get FREE TWO-day shipping. If you are not a Prime member be sure to get your FREE 30-Day Amazon Prime trial HERE.
Run for the shelves and grab your old box of crayons, because there's a new way to color your world with Crayola crayons! Our Crayon Melter brings renewed life to Crayola crayon sets everywhere with melted crayon artwork that's easier than ever before to create. Now you can make Crayon drip art without a hair dryer. This fun crafting tool is a great way to add detail to your drawings, texture to your sculptures, or doodles to your pencil jar. It has a low-heat tip and dries cool, so it's safe for kids 8 & up to enjoy. Simply use the included wrapper-ripper to remove labels from crayons and insert a crayon into the heated melter unit to get started. If you plan to change colors and wish to avoid color mixing, wait for the Crayon Melter to cool down and clean it between colors. For an even flow, make sure to give crayons the proper time to melt, and use small pieces of broken crayon to switch over colors faster. In addition to the 8 crayons included with this starter set, Pick Your Pack Complementary Colors are sold separately, and you can always use your crayon boxes from home. A great gift idea for holidays and birthdays, this colorful tool is fun for a variety of arts and crafts, school projects, and everyday creative activities.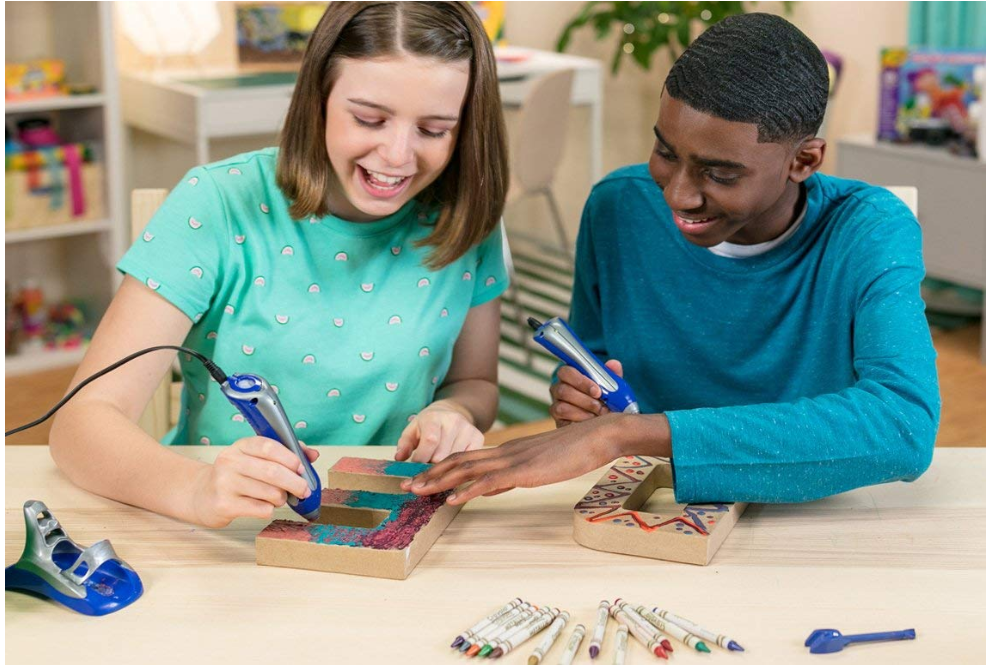 Crayola Crayon Melter Product Features:
Inside the box: Crayon Melter Unit, Storage Base, Power Adapter, 8 Crayons, 3 Cardstock Sheets, 1 Wrapper Ripper & Instructions.
Winner of Parents Best Toy Awards 2018!
Introducing a new way to create with heated melted wax! Now you can color and doodle with melted crayons on a variety of surfaces.
Unique dimensional, textured laydown creates the perfect medium to embellish surfaces.
The low-heat tip and safe quick-dry technology makes the Crayon Melter a great tool for kids, as well as adults.
Great for crayon melted art, gift making, card making, and DIY crafts.
Works best on thicker paper such as thick construction paper, poster board, foam core, and great for decorating on cardboard, glass, wood, ceramics, and art canvases.
Use unwrapped Crayola regular, washable, or metallic crayon pieces, as other Crayon types and brands may affect performance.
Gift for kids, 8 & up.

Get your Crayola Crayon Melter today while it is at this low price. Please double check the price before purchasing as prices can change quickly on Amazon.