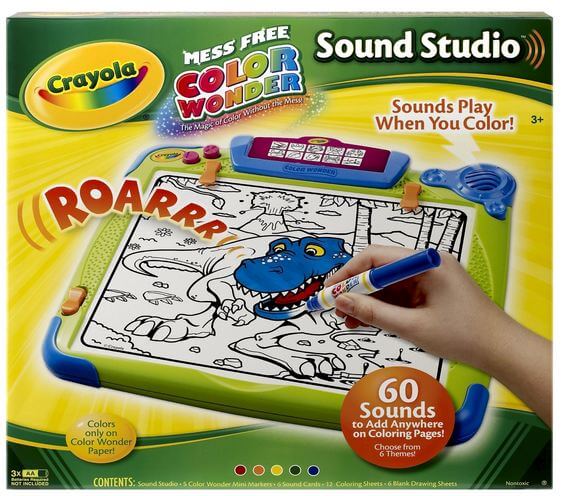 Amazon is offering the Crayola Color Wonder Sound Studio for only $15.74 (reg. $34.99).
Features include:
Playback your picture
Use with any Color Wonder Paper
Add over 50+ sounds to each page!
Endless Combinations
Interactive drawing pad that brings creations to life with sounds!
Love it, hours of fun. 
We've been Color Wonder fans for years and have seen products come and go. This sound studio is a neat twist, and I think we'll be keeping it for a long time. The package includes the sound studio drawing board, 12 color wonder pages with pictures, 6 blank color wonder pages, 5 mini markers and 6 sound cards. Each sound card has 10 different sounds with themes including city, jungle, dinosaur, music, farm, and beach; a nice, basic variety. There is also a storage place in the back for 5 markers (mini or regular sized).
This would be a great item to buy now and save for the next time you need a gift. Get your Crayola Color Wonder Sound Studio here. Please double check the price before purchasing, as prices can change quickly on Amazon.
Thanks, Steals and Deals for Kids!