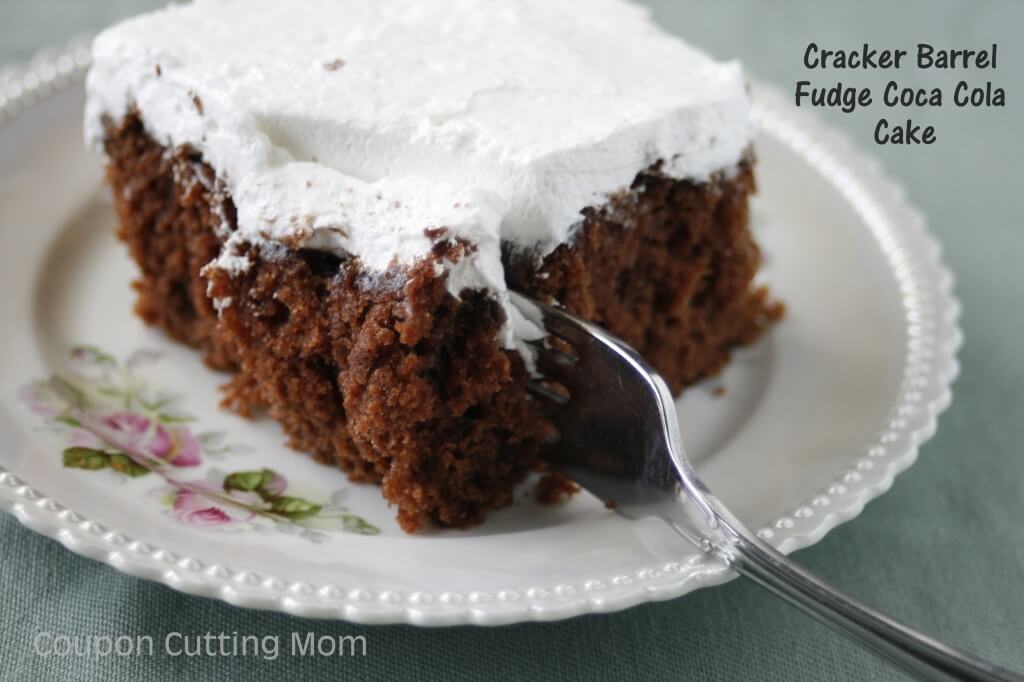 Since today is my husband's birthday, I decided to share with you one of our favorite cake recipes, Cracker Barrel Fudge Coca Cola Cake. This is a recipe I have had in my binder for quite a few years. It's scribbled on a piece of paper, so unfortunately I have no idea where it came from.
All I remember is that one time on vacation, while eating at Cracker Barrel I decided to do something out of the ordinary for me and order desert. I just couldn't help it when I saw the Fudge Coco-Cola cake on the menu, it sounded so good and I needed to taste a piece of it. The cake didn't disappoint, it was super moist and ever so yummy! I even think this cake recipe tastes a lot like that cake I had while eating out.
This recipe takes a few more ingredients and a little more time than just making a cake out of a box but the results will be more than worth the effort.
How to make Cracker Barrel's Fudge Coca Cola-Cake
Ingredients
1 cup Coca-Cola
½ cup oil
1 stick margarine
3 tablespoons cocoa
2 cup sugar
2 cup flour
½ teaspoon salt
2 eggs
½ cup buttermilk
1 teaspoon baking soda
1 teaspoon vanilla
Instructions:
In a saucepan, bring Coca-Cola, oil, margarine, and cocoa to a boil. Meanwhile mix the sugar, flour and salt. Pour the dry flour mixture into the boiling liquid and beat well. Add the eggs, buttermilk, soda, and vanilla and mix well.
Pour into a greased and floured sheet cake pan, and bake at 350° for 20 to 25 minutes.
I spread a can of vanilla frosting on the cooled cake, but you could use any flavor or choice of frosting. Enjoy!