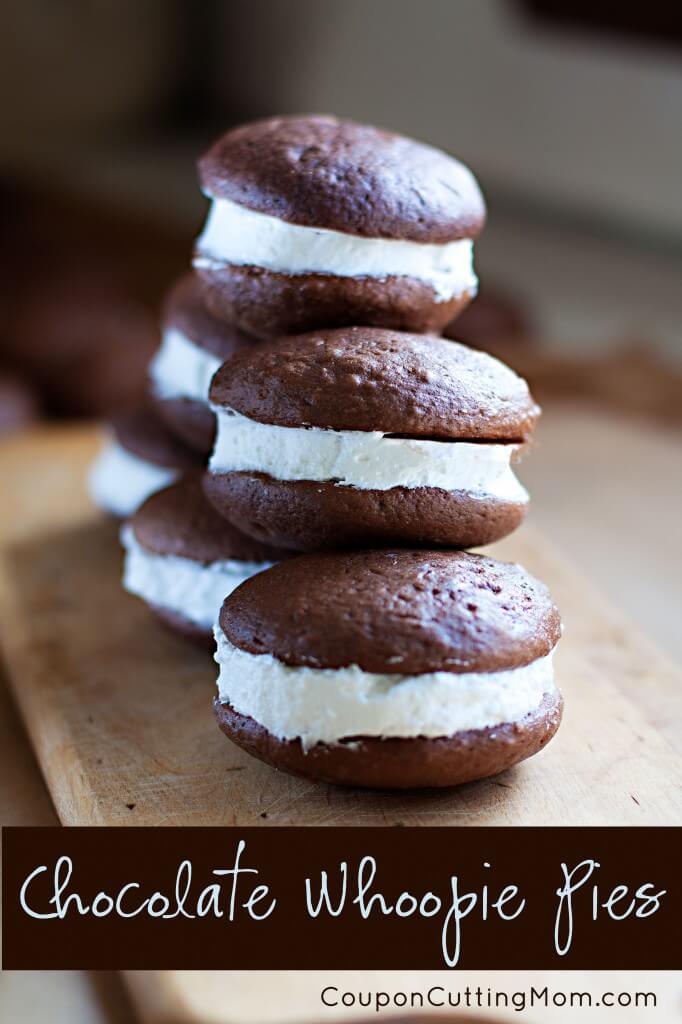 Chocolate Whoopie Pies are the perfect combination of  cocoa-rich cookies and creamy filling. These pies remind me of a cupcake squished into a delicious sandwich. A Whoopie Pie is the perfect sweet snack or fun dessert. In fact, I love to keep these cookies in the freezer and add them to the packed school lunches.
 Chocolate Whoopie Pies
Ingredients:
1 chocolate cake mix
1/4 cup oil
4 eggs
1/2 cup dry instant chocolate pudding
1 1/2 cup milk
1 cup flour
Preheat oven to 350°. In a large, combine all the above ingredients and mix well. Drop dough unto an ungreased cookie sheet. To keep mounds of dough in nicely rounded shapes, use a #40 cookie scoop. Bake for 10-12 minutes. Make sure the cookies are baked very well. If they are under baked they will be hard to assemble in the next step.
Filling:
2 egg whites
2 Tbsp. vanilla
4 tsp. flour
4 tsp. milk
2 cups powdered sugar
1 cup Crisco
Beat egg whites until stiff. Add vanilla, flour milk, and powdered sugar. Beat and cream, then add Crisco. Spread filling on bottom side of one cookie and top with another cookie.
Layer assembled cookies between sheets of waxed paper in an airtight container and store in refrigerator. Or wrap each individual cookie in cling wrap before placing in the refrigerator or freezer. I prefer using cling wrap as this way each cookie is ready to grab and place in lunch boxes.