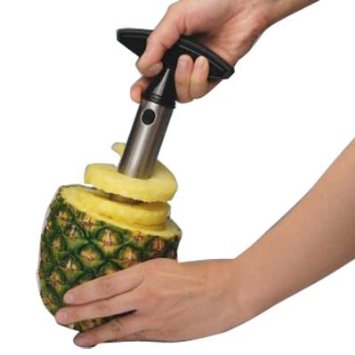 Do you love fresh pineapple? At my household, fresh pineapple is one of our favorite fresh fruits. But if you are like me, the hassle of coring and cutting a pineapple is a pain and not something I like to do. For that I rarely buy pineapples and if I buy one I try to convince my husband to get it ready for us to eat.
I noticed that Aldi has fresh pineapples for $0.99 this week. At that price I would really like buy several for my family to enjoy. And then I remembered that recently my mom bought a pineapple corer that works wonderfully to core, peel and slice fresh pineapples.
This pineapple corer is identical to hers and I can promise you you won't be disappointed in how easy it is to get a fresh pineapple ready to eat.  Get your pineapple corer today and find out how easy it really can be to prepare your pineapple for eating.