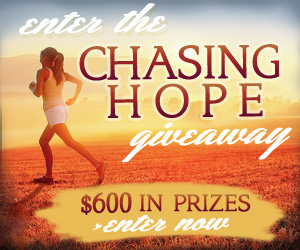 In author Kathryn Cushman's newest novel, Chasing Hope, Sabrina Rice is a gifted runner and Olympic hopeful who's had her dreams shattered by a devastating diagnosis. One forfeited scholarship and several years later, she's focused on building new dreams. Dreams that have nothing to do with running.
Until the day she sees Brandy Philip running across the community college campus, easily outpacing security. Sabrina immediately recognizes world-class speed, and it's all the more painful that it belongs to a teenage graffiti artist.
When a chance encounter brings the two young women together, Sabrina gets the uncomfortable feeling her life plans are about to be toppled…again. And that God may be asking her to help this troubled but talented girl see her dreams past the starting block.
To celebrate the story, author Katie Cushman and Bethany House Publishers are pleased to present the CHASING HOPE Giveaway, and your chance to win one of three fabulous prizes connected with the story! Prizes include a $200 shopping spree to the Nike Online Store, a $175 value Nike + FuelBand accelerometer, and a $50 gift card to Spafinder.com.
How to Enter: Visit the Chasing Hope giveaway page and complete your entries anytime through October 3. Entry is open to US residents only, age 18 and over. Winners will be selected Friday, October 4, 2013, and announced at KatieCushman.com.