At Restaurant.com, the nation's largest dining deals site, we love surprising our diners with fun ways to save. This holiday season, we've handpicked delicious dining experiences and gift ideas for every budget and compiled them into an exclusive Restaurant.com Holiday Gift Guide. Simply pair any Restaurant.com Gift Card with one of these gift bundle ideas below for the ultimate dining experience and holiday treat:
1. The Movie Buff: For the movie-quoting, obsessed friend, surprise them with two tickets to a movie on their must-see "Oscar" list and a $25 Restaurant.com Gift Card. Enjoy a night of appetizers and plot-dissecting debates! Ready to splurge? Stop at the concession stand for some candy, drinks, and a jumbo popcorn to share!
2. The Workaholic: To help someone on your list find much needed tranquility, pair a $100 Restaurant.com Gift Card with soothing bath salts, lavender mist, and a face mask to create an affordable, at-home spa treatment. Ready to splurge? Add a spa gift card and make Dinner reservations for a nice, relaxing evening post-massage.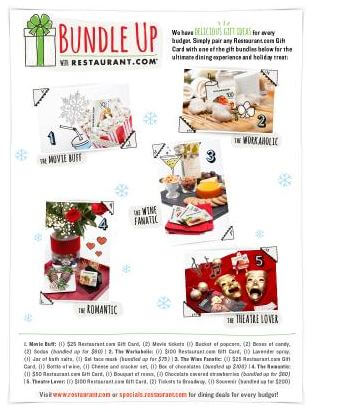 3. The Wine Fanatic: Bring Napa Valley to every wine lover on your list! Pair their favorite wine with decadent cheeses, crackers, and of course chocolate. Then, cleanse their palate with some late night dessert and a $25 Restaurant.com Gift Card. Ready to splurge? Instead of dessert, make it dinner and BYOB at thousands of Restaurants nearby!
4. The Romantic: Add some romance into your holiday with a $50 Restaurant.com Gift Card, bouquet of roses, some irresistible chocolate covered strawberries, and a candlelit dinner for two. Ready to splurge? Pick up some bubbly on the way home for a classy touch.
5. The Theatre Lover: Add some dramatic flair to the holidays with two tickets to their must-see show and end the evening with our $100 Restaurant.com Gift Card – perfect for dinner and dessert. Ready to splurge? Buy them a memento from the show and two drinks during intermission!
Head over to Restaurant.com on Facebook and enter to win one of the gifts they are giving away every Wednesday through December 18, 2013.