Bubzi Co White Noise Sound Machine & Sleep Aid Night Light Only $28.21 – Regular Price $64.97
Head over to Amazon where you can score this Bubzi Co White Noise Sound Machine & Sleep Aid Night Light for just $28.21 (reg. price $64.97) after the sale and the 5% coupon. Prime members get FREE TWO-day shipping. If you are not a Prime member be sure to get your FREE 30-Day Amazon Prime trial HERE.
For new parents, it can be difficult to get your baby in a good sleep routine, which is exhausting for you as well as baby. When your baby sleeps well, you may notice he or she is more patient, calmer, and more engaging. Sometimes providing your baby with soothing lullabies, music, or white noise can lull them to sleep, as it mimics the sounds they were used into inside the womb. That's why we designed our Soothing Sleep Owl to have all the tools you need to relax baby to sleep.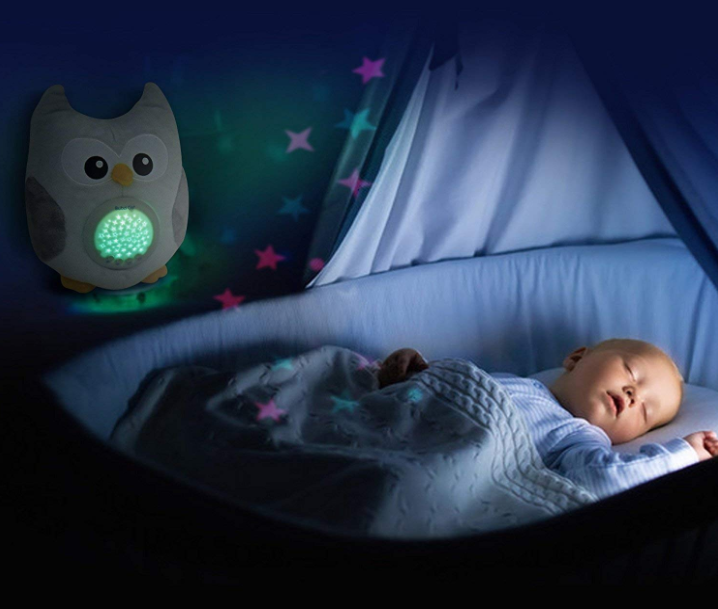 Bubzi Co Product Features:
SWEET SNUGGLY OWL SOOTHES BABY TO SLEEP – GUILT FREE SLEEP TRAINING BEGINS with Bubzi Co soothing sleep owls. Calming lullabies accompany mesmerizing rotating galaxy lights, keeping little one's content, safe and relaxed as they drift off to sleep. PERFECT FOR nurturing healthy sleep habits that help kids stay asleep in their OWN BEDS FOR LIFE (priceless!) – no rocking, walking or pleading required. (Top TechCrunch rated baby gifts EVERY parent appreciates!)
MAMAS HEARTBEAT, BIRD SONG & 10 RELAXING LULLABIES – 30 MINUTE AUTO OFF: Turn on the sound machine, walk away and experience peace of mind knowing your babies' minutes from drifting into dreamland. 10 relaxing songs, mama's heartbeat sound and gentle bird song quickly lull tired eyes to sleep in 30 minutes before automatically stopping
KEEPS BABY CONTENT – GENTLE NIGHT LIGHT HOLDS BABIES attention so you can get things done, projecting an enchanting, fading constellation of star lights colors on dark ceilings or walls – the perfect baby nightlight projector for calming anxious minds, even when it's not bedtime
YOU'LL FIND YOURSELF USING THIS everywhere. Take this baby soother along on car rides, stroller walks, tummy time, trips to family – even use it to hold their attention and get those beautiful outstretched arm grins during your family photo shoot. A great calming distraction for the doctors and dentist's office too!
PRECIOUS BABY SHOWER KEEPSAKE – GIVE THE BEST GIFT! Cute, soft, cuddly, furry friend guarantees big smiles from parents and baby alike – a registry gift they'll cherish for life. So go ahead, Click Add to Cart Now. We guarantee instant gratification and long-lasting satisfaction or we'll refund you or replace it free – whatever makes you happiest.

Get your Bubzi Co White Noise Sound Machine & Sleep Aid Night Light today while it is at this low price. Please double check the price before purchasing as prices can change quickly on Amazon.