Big Apple Circus provided me with complimentary tickets. The opinions I have expressed are my own.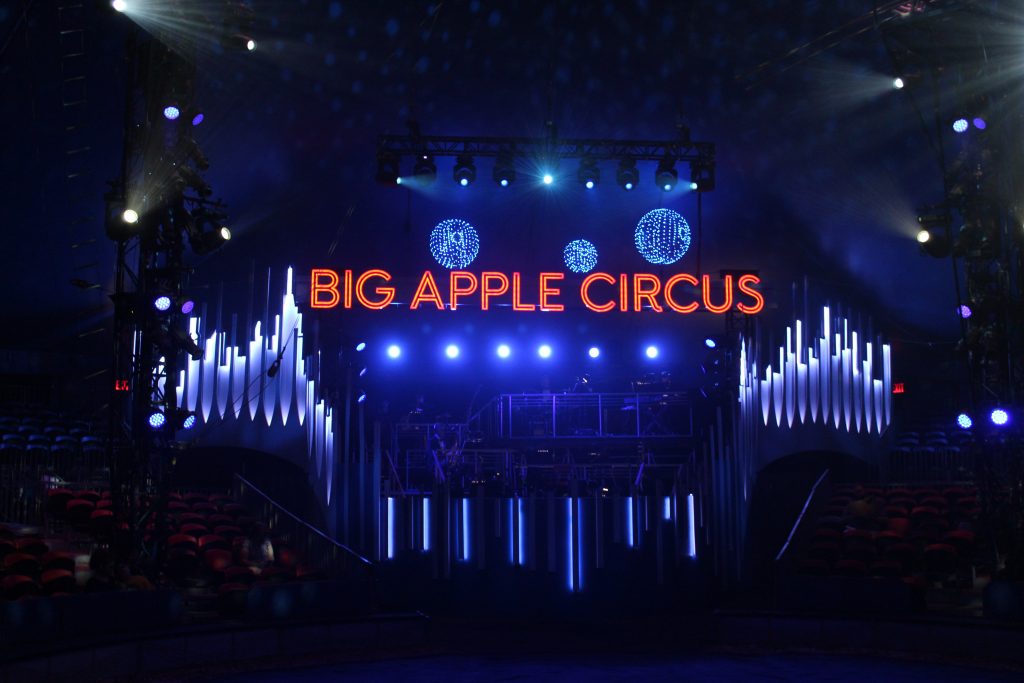 Big Apple Circus Philadelphia, PA Review
The Big Apple Circus is in town! The Big Apple Circus is celebrating its 40th anniversary this season and is including Philadelphia, PA as one of its stops on their national tour this year! I hadn't heard of this circus previous to when the invite to attend this event showed up in my inbox. I realized it was a night my husband was going to have to work and that the event was slightly over an hour drive from my house to the Philadelphia Mill Malls where the circus tent is located through June 24. Let me tell you though I didn't think long before saying yes to the kids and I attending, and it was totally worth the drive!!
I hadn't told the kids where we were heading and when we pulled into the mall parking lot, and they saw the huge blue tent they started squealing, "we are going to a circus!". It didn't take us long to find parking which is free and head in and find our seats. And about the seats – there isn't a bad seat in the house. No seat is more than 50 feet from the action and performers, so everyone has an excellent view. I loved that we were so close to the performers while they were doing their acts. It felt like we could reach out and touch them and while they were performing we could easily see their expressions etc. and I happened to think about how they all were smiling and seemed to love their jobs. During the high wire act, we were close enough we could even watch the sweat rolling off the amazing Nick Wallenda's face!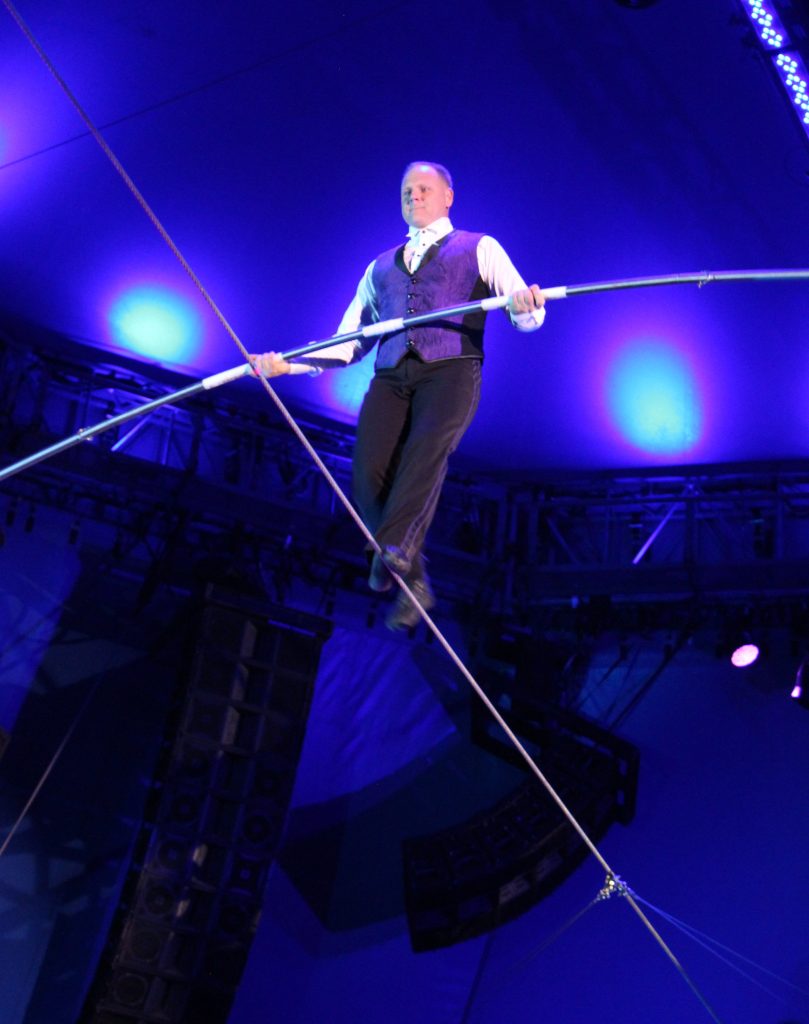 Another thing that I loved about this event is that it is a one-ring circus. This intimate and artistic style allows the attendees not to feel like there is so much action going on that they don't know where to be looking. My kids mentioned they loved having just one thing at a time going on!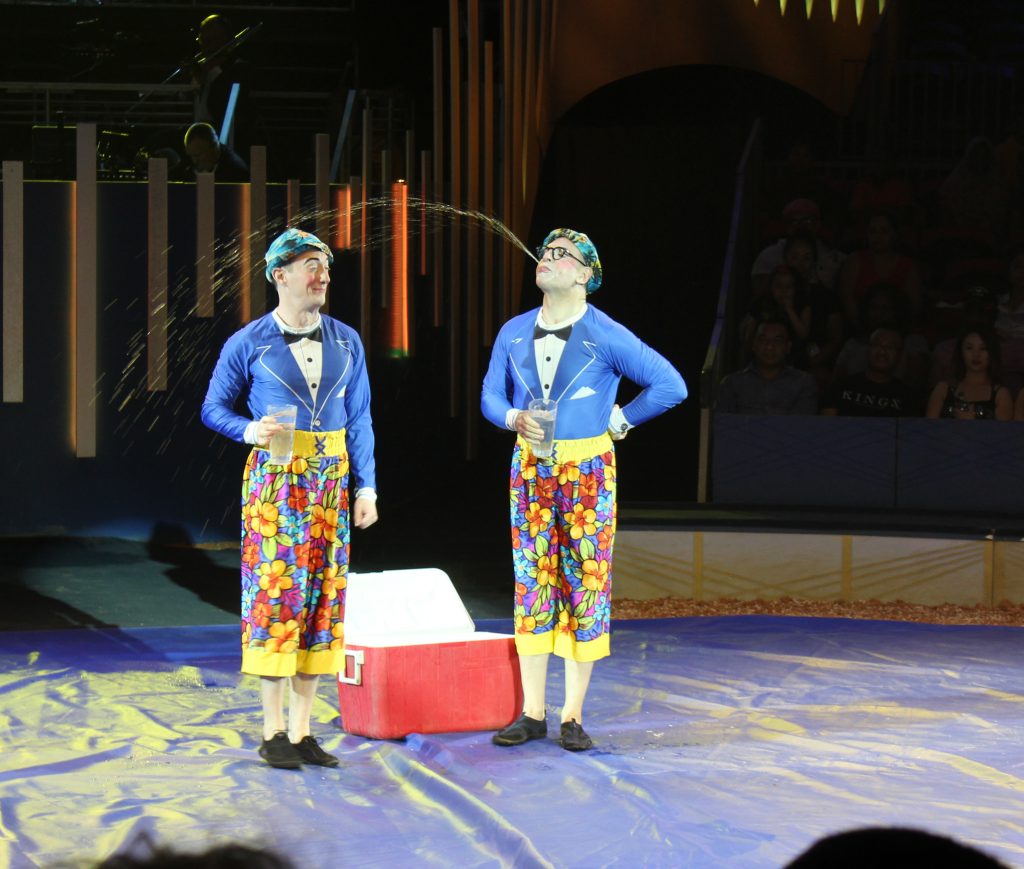 The part of the circus that makes everyone laugh is the clowns, and the Big Apple Circus clowns are the best! Mr. Joel and Skip gave us many laughs throughout the evening during the gaps between acts when props and rigging were being changed. These funny clowns reminded me of silent movie comedians. The scene that had us laughing the hardest was one that involved goofy bathing suits, water and more water and even a garden hose.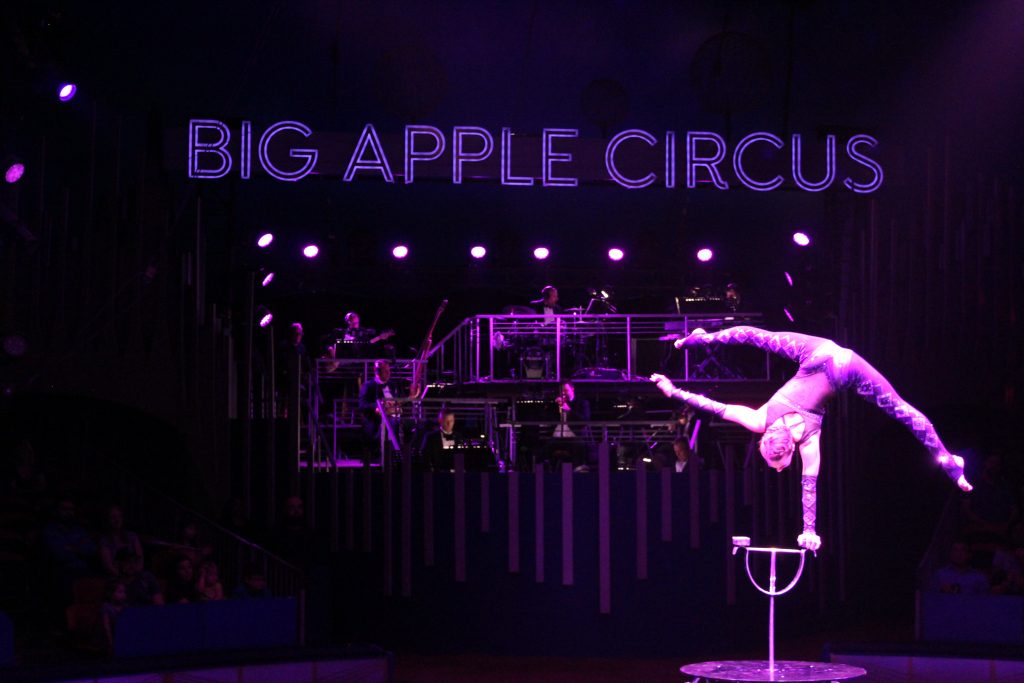 And during this 2-hour event, we got to see everything from an awe-inspiring contortionist who has better aim with her feet even while balancing upside down on her head than most of us have standing upright and using our hands. I would ruin the surprise for you if I told you more about what she does. And then the daredevil rollerskating! Such grace, speed and strength on wheels on a tiny little circle skating area I have never before seen. Dandino & Luciana moved so fast on their skates that all my pictures were a blur of movement – it's something you have to see in real life!
The animals in this show include 16 horses and ponies and six rescue dogs. Jenny Vidbel does a fantastic job of guiding the animals through perfectly synchronized acts including everything from the cutest little dog riding a scooter to getting a beautiful Arabian horse to kneel on its front legs.
Other acts include a trapeze show by the Flying Tunizianis. This team is known for their daring quadruple somersault on a trapeze. We loved seeing the somersault but were disappointed that we didn't get to see the guy caught. He attempted the somersault/catch a few times, but the catcher wasn't able to catch him. Thankfully there was netting below, and all was well.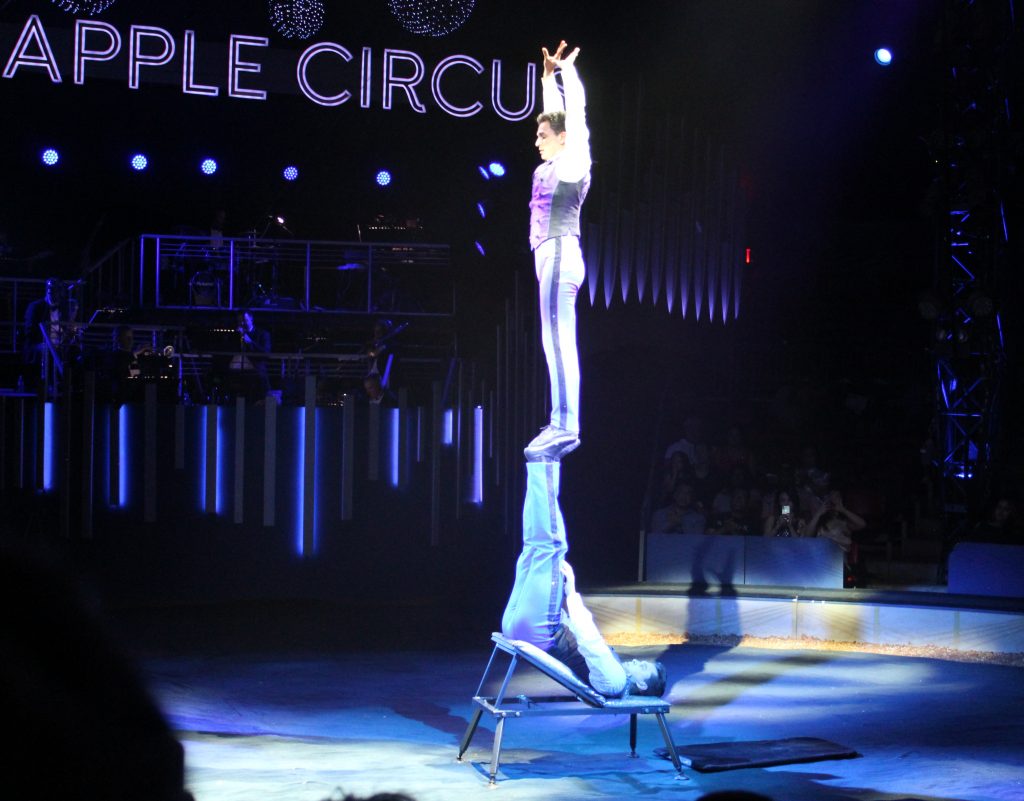 Other acts included some impressive juggling and Risley acrobats performed by the Anastasini Brothers who in 2017 broke the World Record of the most flips ever!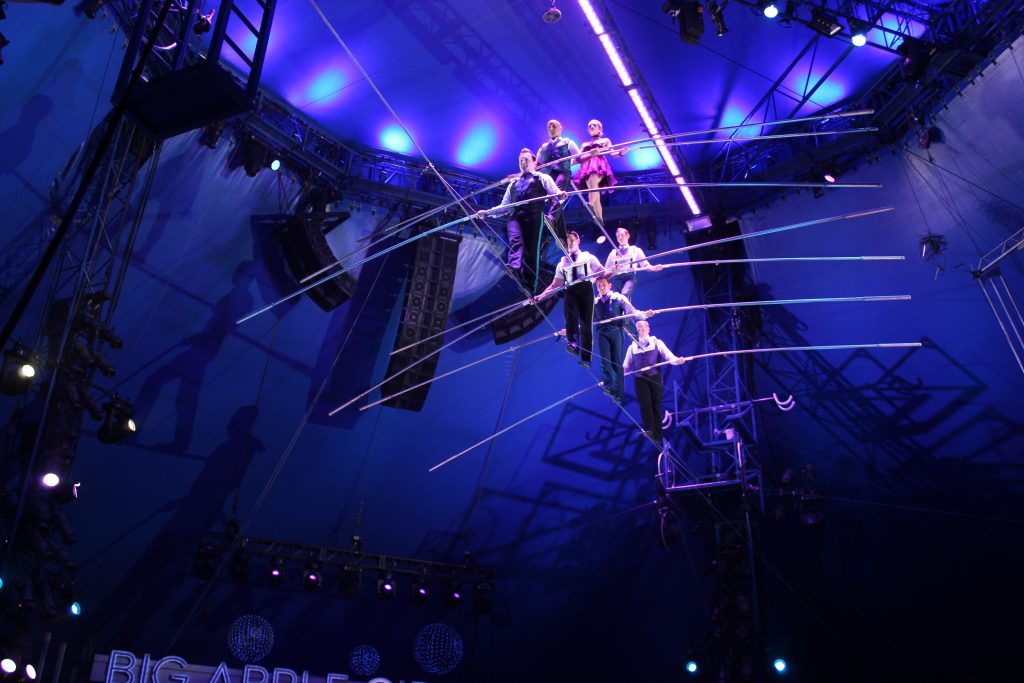 The finale of this amazing circus includes the legendary Flying Wallenda family. Nik Wallenda, who is a 7th generation family member holds ten world records for his high wire skills including walking above the Grand Canyon and over the Niagra Falls on a high wire. At the Big Apple Circus, the Wallenda family does a high wire 7-person pyramid! It was stupendous to see, and the whole tent is totally silent watching in anticipation as they bravely balanced and made their way across the wire. It felt like they were walking right above us and as I mentioned before we could see the sweat rolling off their faces we were that close to them. I think I held my breath the whole time they were making their way across that wire! Such relief when they were safely to the other side!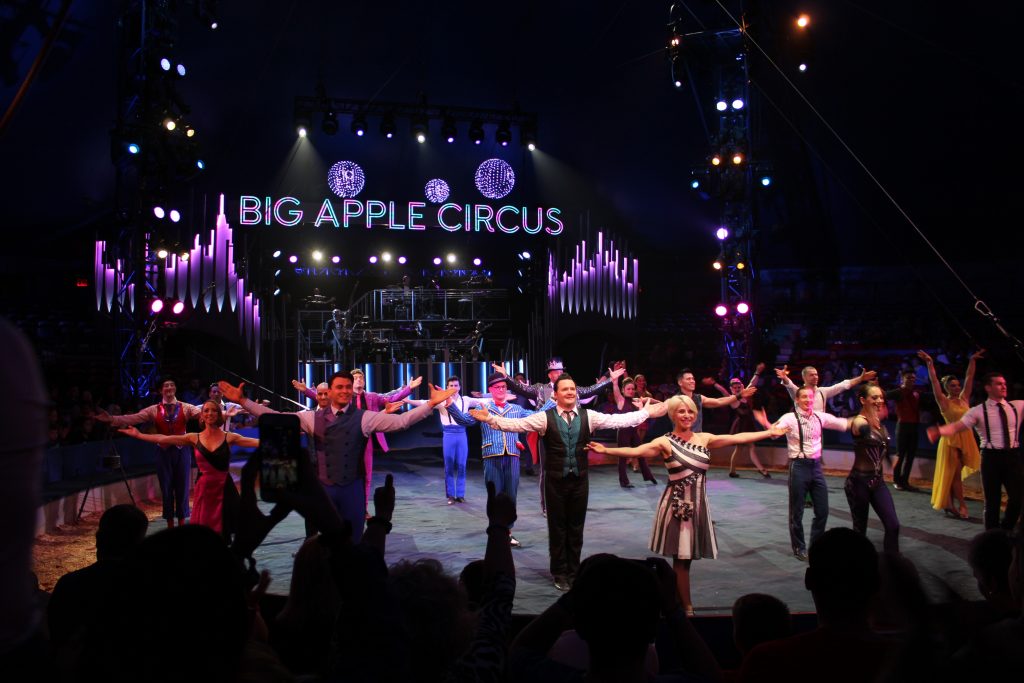 No matter what you are looking for – laughs, agility, strength, suspense, incredible human feats, or amazement – you will find it all at the Big Apple Circus tent located in Philadelphia.
THE DETAILS
What: Big Apple Circus
Where: Philadelphia Mills Mall 1455 Franklin Mills Circle in the Red Parking Lot near Dave & Buster's
When: Playing NOW – June 24, 2018
Tickets start at just $15.00 and can be purchased on the Big Apple Circus site or use this Groupon link to purchase tickets for up to 42% off the regular price.
Find Big Apple Circus on Social Media:
Facebook | Twitter | Instagram
Additional details to note – there is concession-style food available under the big tent including nachos, lemonade, and even a Cinnabon stand. Parking is free. There are also port-a-potties available onsite.