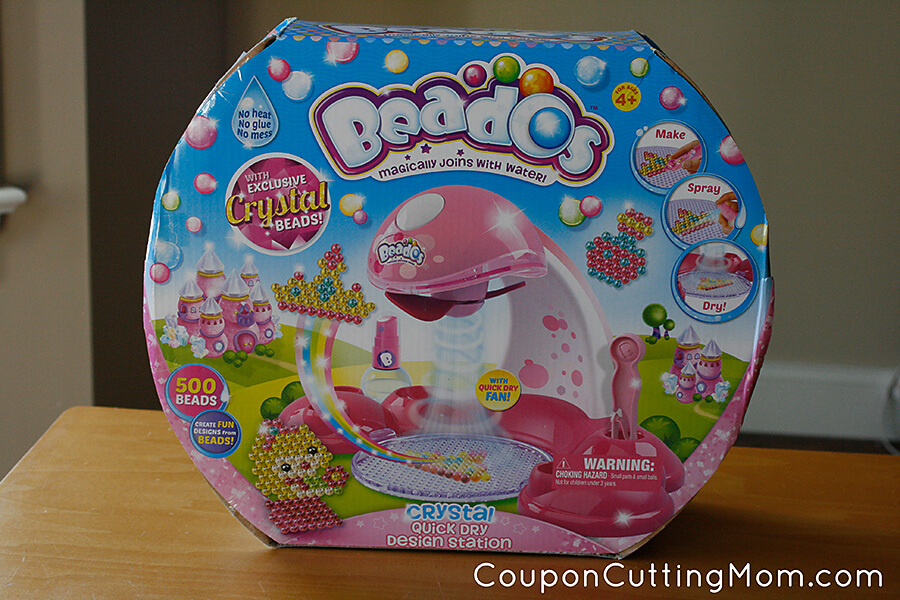 When I was a kid I used to love designing fun shapes and designs with my Perler Beads but they were kind of difficult as the beads were easy to knock off the pegs and then they needed to be fused together with a hot iron. Both of my daughters love crafty type toys and when the
Beados Quick Dry Design Station
arrived at our door, I knew this would be perfect fun for my daughters without the mess and difficulty of the beads I remembered from my childhood.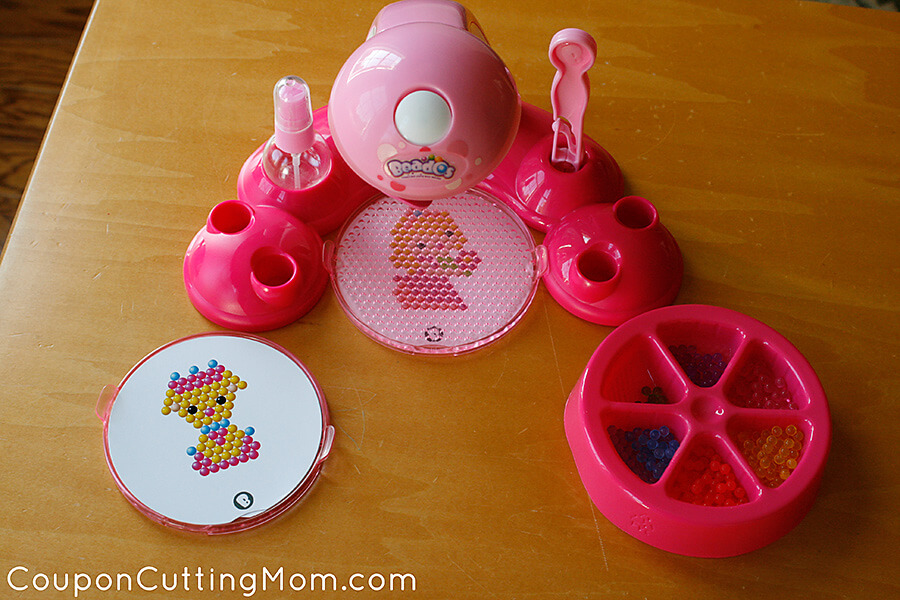 Beados
are small beads that magically join together with water. These beads can be used to create any shape or design you can imagine. When you are done designing, simply spray with water and when the water dries the beads are infused together! With the Quick Dry Design Studio, you can create your designs and then place them under the fan to blow dry them with the handy little fan.
The Beados Quick Dry Studio comes with everything you need to get started:
500 beads, in 8 colors
Quick dry design station
Tweezer pen
2 bead trays
Water sprayer
6 design templates
2 suction cups
1 display stand
1 connector bead
1 bead storage tray
Our Beados set came with easy to use instructions and as soon as I opened the box, my 6-year old daughter was right there ready to check out this
Design Studio
. All we needed to do was dump the beds into the storage tray with divided compartments and she was ready to start on her first Beados masterpiece.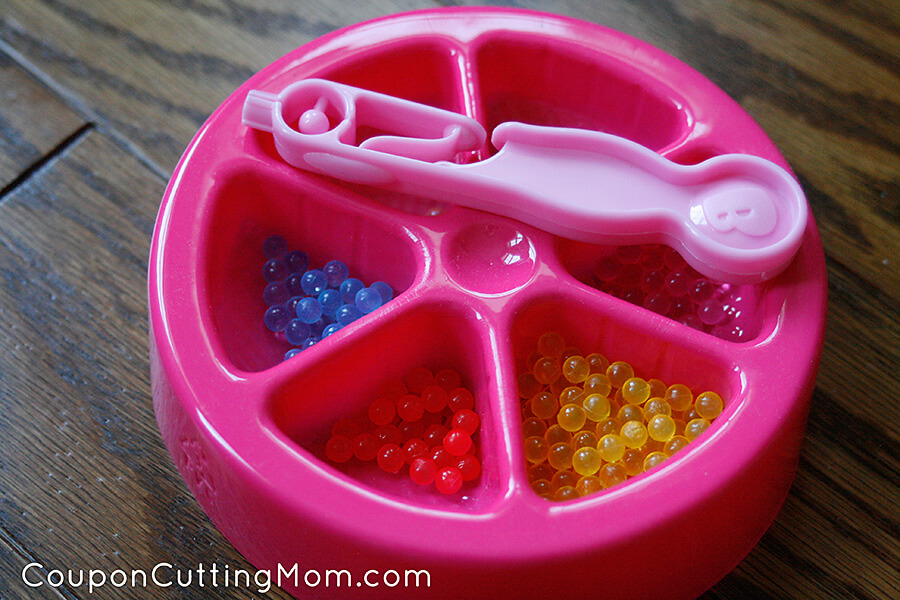 The design templates fit securely under the design tray and this makes it very easy to get the beads into the right spot. The
tweezers type pen
made getting the beads from the storage tray to the correct spot on the design easy for kids ages 4+. I'm glad this pen is included as it really would be a lot more difficult if you needed to use your fingers to get the beads on the tray.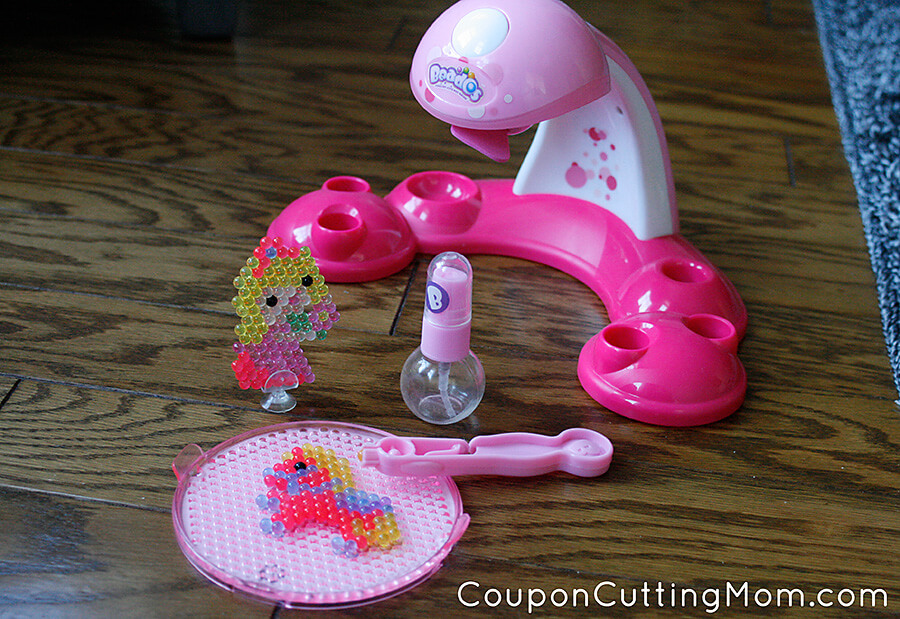 Once my daughter had all the beads on her design, we used the included spray bottle and spritzed it with water. That is right all we needed was water no glue or heat or anything like that to bond the beads together. As soon as we sprayed the water on we could see the beads starting to stick together with the glue type goo that the water activated. We then set the design tray under the fan for about fifteen minutes and what fun my daughter had watching her project dry. I did end up letting the design on the tray for a little while longer just so it could finish drying and harden up a little more. When we removed the design everything was tightly fused together. My daughter loved that a
second tray
is included in the kit as this meant she could start another project while the first one was drying. The display stands that come with the kit make a fun place for kids to display their finished Beado project.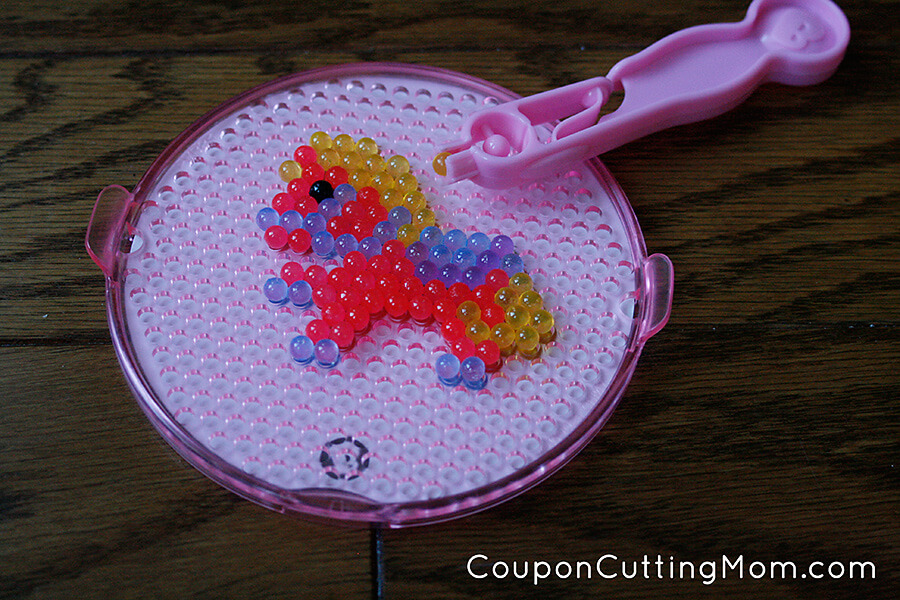 Beados are great fun for kids of all ages as they only take three simple steps: make, spray and display! Be sure to consider a Beados Quick Dry Design Studio when purchasing gifts this holiday season. These products can be found at
Walmart
, ToysRUs, Target and
Amazon
.
Coupon Cutting Mom received a Beados Quick Dry Design Studio free from Moose Toys for evaluation purposes. Regardless, all opinions expressed are still 100% my own.