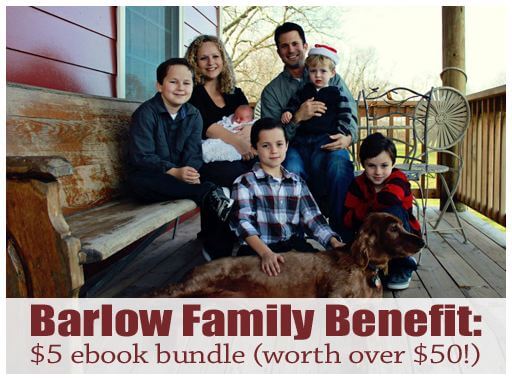 Right now my heart is breaking for this family who I have never even met.
On September 19th, the Barlow family lost their husband and dad to a serious brain infection.  Jenny Barlow is now not only grieving the loss of her husband, but has her 5 young children to take care of, too!
Mandi from Life Your Way is hoping to raise a bunch of support to help this family as they walk through this trial. She and a bunch of other amazing bloggers are offering their e-books (together valued at over $50) for only $5. ALL proceeds go to the Barlow family. This is all just about helping a family living through a tragedy no one is making any money from the sale of these e-books.
I would LOVE for Coupon Cutting Mom readers to rally together and give in an amazing way! I'm ordering my bundle of books now… and really hope you'll take just a minute and just $5 and click on this link to contribute.
With your $5 donation, you'll receive the following collection of ebooks and printables:
Easy Homemade by Mandi @ Life Your Way
One Bite at a Time by Tsh @ Simple Mom
31 Days to Clean by Sarah Mae @ SarahMae.com
Mindset for Moms by Jamie @ Steady Mom
50 Books to Enjoy with Kids by Veronica and Jessica
Fill 'Em Up by Laura @ Heavenly Homemakers
Guide to Freezer Cooking by Crystal @ Money Saving Mom
Tell Your Time by Amy @ Blogging with Amy
How to Have Your Cake and Eat It, Too by Mandi @ Life Your Way