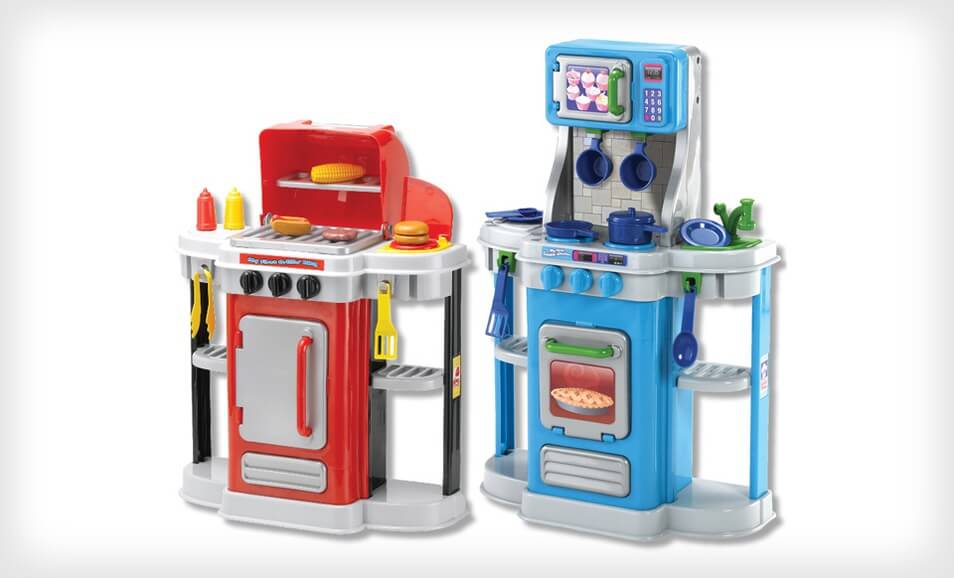 This Barbecue and Kitchen Play Set is on sale for only $24.99 (reg. $43.99). Shipping is free. That means you will be paying only $12.50 a piece for these toys.
Kids kick-start careers in the culinary arts with this play set, which includes usable tools, plastic eats, and shards of Anthony Bourdain's soul. Plastic burgers, corncobs, and condiments accompany the red-and-gray grilling station, which provides plenty of shelves for storage and a grill cover that can be lifted up or down. The kitchen set, cast a robin's-egg blue, comes with multiple pots, pans, and utensils, as well as a tiny sink for thawing hot dogs or unflattering ice sculptures of yourself.
Features
Includes patio-style grill and indoor kitchen sets
Grilling set includes plastic hot dogs, corncobs, and condiments, as well as spatula and tongs; grill lid opens and closes
Blue kitchen set includes several pots, pans, and utensils, as well as a stove, microwave, and tiny sink
Recommended for ages 3 and up
Head over here and check out this Groupon deal on this play set.