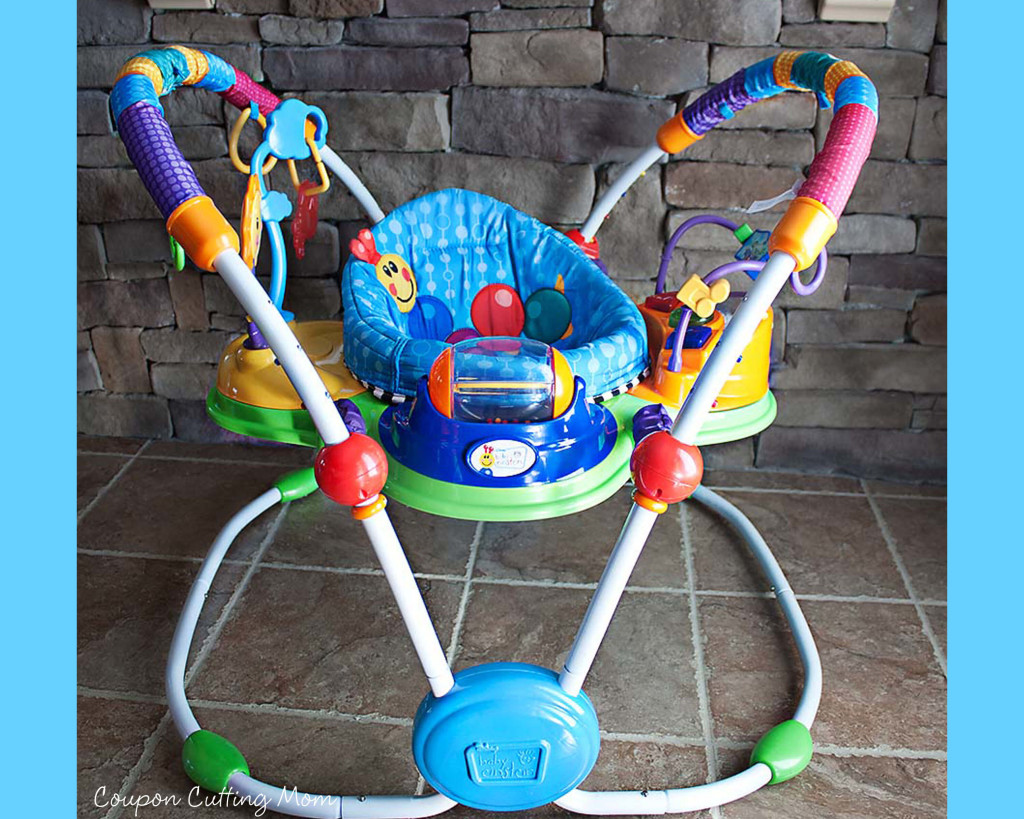 One only needs to step in a baby store to quickly realize the massive amount of items out there all geared towards infants. How many of these items are a real must have? I know for myself, an activity jumper is one of the top five items on my baby list. What other product offers a place for your baby to jump and play while discovering and exploring all while having a ton of fun. Enter the world of the Baby Einstein Musical Motions Activity Jumper.
Kids II has been inventing some of the world's most popular baby products for the last 40+ years. I was excited to be selected to review the Baby Einstein Musical Motions Activity Jumper and find out what makes it the Kids II bestselling product.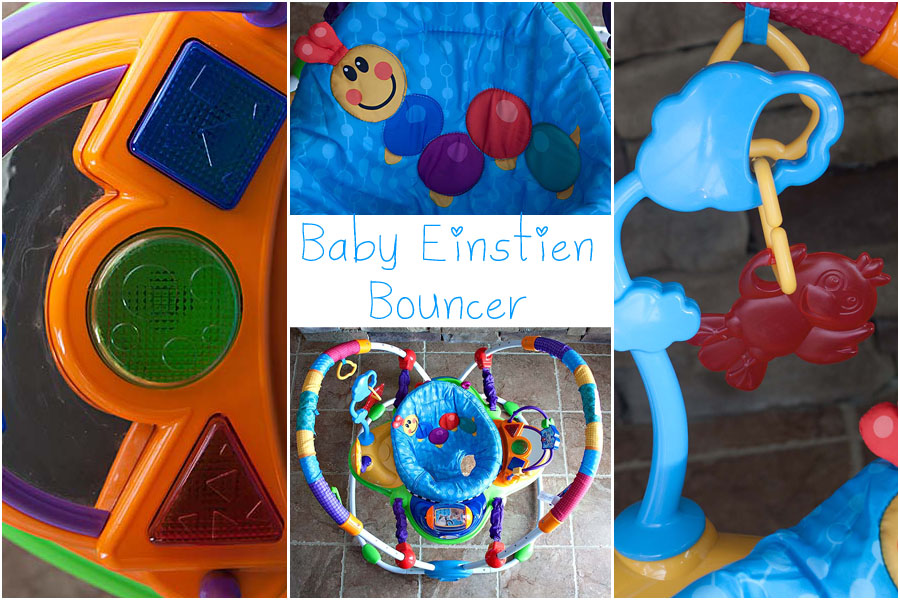 When I received the jumper, I was anxious to get it out of the box and assembled. I often wait for my husband to help assemble things. He likes to read the instructions. I hate instructions. That's why all companies put a large picture on the box- for my benefit. I was surprised at how easy the Baby Einstein Activity Jumper was for me to put together myself while my daughter took her nap. No tools were necessary as it has a simple push pin assembly. I only needed a screwdriver to fasten the back of the battery compartment on the musical piano.
This bouncer comes with a high back seat and provides additional support for baby. My four month old daughter was "just so" in the category of using this product as it is geared towards babie 4-months and up. She was a little unsure of herself at first with the seat being much bigger than she was used to in another name brand jumper she had previously been using. I like that the Baby Einstein Jumper helps her become more confident in balance while still being in a safe environment to learn. And what parent won't love that the seat pad is easily removed for machine washing?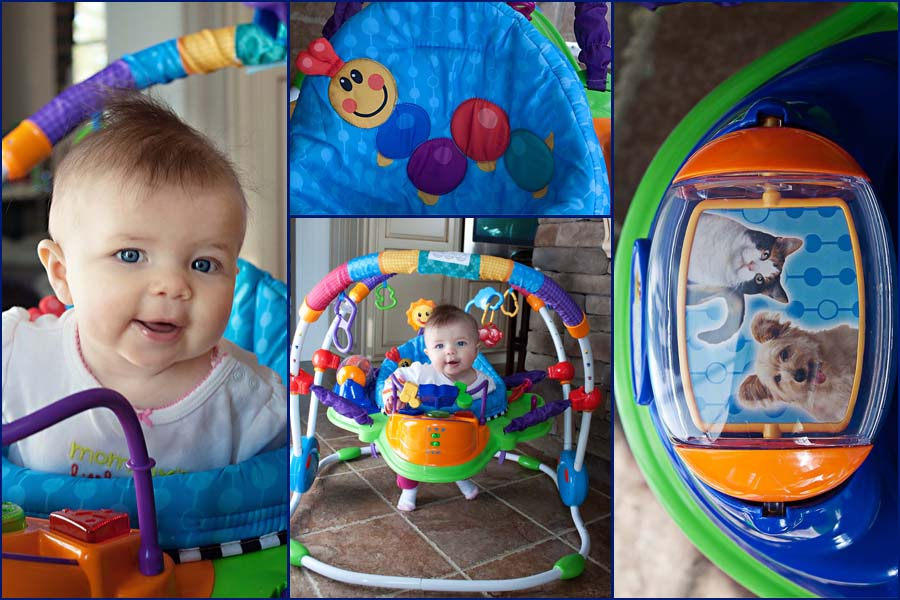 Along with the seat that rotates 360°, the Baby Einstein Jumper also has a very easy to adjust seat height. With five settings this makes it a grow-with-me baby product. Simply find the setting where baby's feet can reach the floor and as they grow all you need to do is adjust the height. While baby is jumping, the nonskid feet keep the jumper firmly in place.
The Baby Einstein Musical Motions Activity Jumper comes with more than 12 activities including a light up piano with volume control and 3 play modes: melodies, piano notes, and language learning in English, French, and Spanish. You will also find a roller ball with real-life imagery and fun, colorful beads along with additional links for adding some of baby's favorite toys. My daughter's favorite activity is the roller ball with the pictures of the cat and dog. I personally like the light-up piano with classical music! One can only handle so many nursery rhyme tunes in a day. My daughter is teething and that means drool everywhere. I find the toys and surfaces of the jumper, very simple to wipe clean.
The arms/bars above the seat not only feel sturdy but are padded and the Velcro holds them firmly together. Like I said before; I feel my daughter is in a safe environment when playing in this jumper.
With all the language, shapes and colors packed into this Baby Einstein Musical Motions Activity Jumper it will keep your growing infant learning for months to come!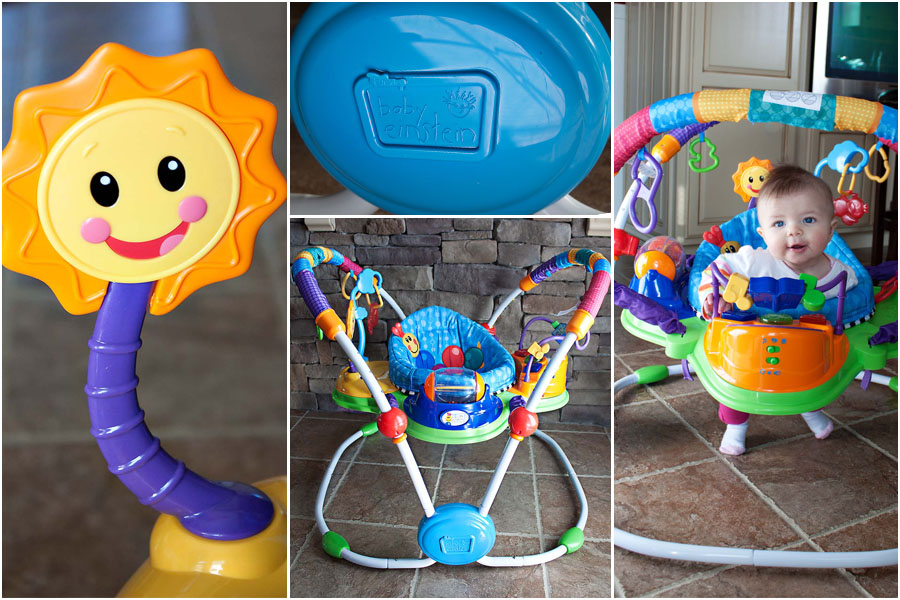 Purchase your Baby Einstein Musical Motions Activity Jumper at Target for only $89.99. Be sure to like Baby Einstein on Facebook or follow them on Twitter to stay up to date on any offers and products.
This review was made possible by Double Duty Divas and Kids II. Coupon Cutting Mom was provided the featured product free of charge to facilitate a review, but all opinions are 100% mine.
About Rachel Ogburn, Coupon Cutting Mom contributor Stay at home mom of a bouncy four month old daughter. Enjoys photography, cooking and being a mom.