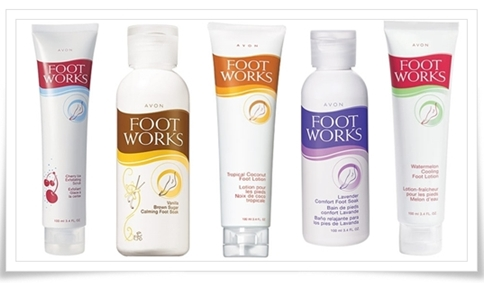 Hey Ladies (and Men!)  Are your feet, tired? dry? cracked? not ready for flip-flop weather?  Sounds like you need some FootWorks, Avon's hottest line for your feet!
Reader and Avon Representative Michelle is offering one lucky Coupon Cutting Mom reader a chance to win a 5 piece Avon FootWorks set valued at $27. Included in the set you will find –
Therapeutic Cracked Heel Relief Cream, "all cracked, dry, grey heel welcome! "
Overnight Renewing Foot Cream, "new feet by morning!" –
Sugar Lime Mojito Spray, 'instantly cools and rejuvenates on a hot  day!
Paraffin Moisture Treatment Mask, for pampering!
Creamy Powder Lotion, Leaves feet feeling dry and cool all day
Please visit Michelle's site for other great, affordable Avon products.  www.youravon.com/michelleseibert.  Any order placed on her site through July 1st will receive 10% off.  (please note this discount will be manually subtracted after you place your order and Michelle will send you a check)  Also, enjoy FREE shipping with your first order of any dollar amount.  Be sure to use the code "FIRSTREP" in the coupon code section. (NOTE: this cannot be refunded if not done at time of order)
Contact Michelle Seibert, Indep. Avon Sales Representative today to buy or sell Avon!
Enter below on the Rafflecopter form for your chance to win this great Avon set.
a Rafflecopter giveaway