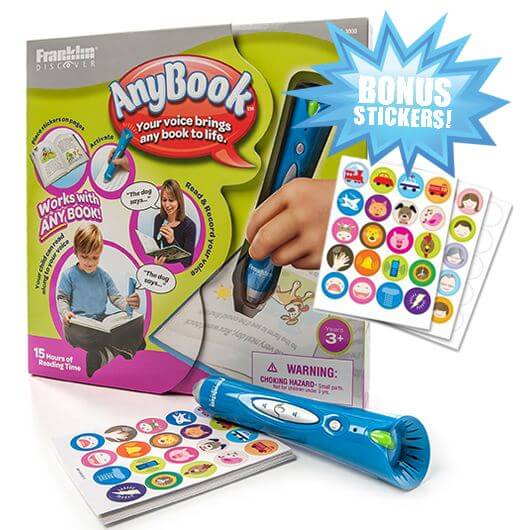 Wow, with this AnyBook Reader you can add your voice to any book and then your child can listen to you reading the story. This looks like a great gift and isn't to soon be stocking up on Christmas gifts. Today htis AnyBook Reader is on sale for only $19.99 (reg. $79.98). Shipping is free
Add a personal touch to your child's reading experience with the AnyBook Reader! This handy, interactive pen allows you to record a story with the click of a button. Simply place stickers on the pages then activate to read and record your voice! Now your child can hear their favorite stories read back to them as often as they like. The stickers are made with special glue that won't damage your book and the AnyBook Reader records up to 15 hours of audio.
Condition: New
Packaging: Retail
Warranty: 1 Year
Manufacturer: Franklin
Model: DRP-3000 & DAS-200R
Features Include:
AnyBook Reader
Record up to 15 hours of audio
Easy to use touch, record, and playback process
Interactive reading experience for children ages 3 and up
Simply choose a book and place a sticker on each page to record your voice
The unique codes on the sticker associate different recordings for each page of the book
Stickers are constructed with a special adhesive that are easy to remove
Includes 200 bonus AnyBook Sticker Sheets
Get your AnyBook Reader here. This offer is good 8/24 only.