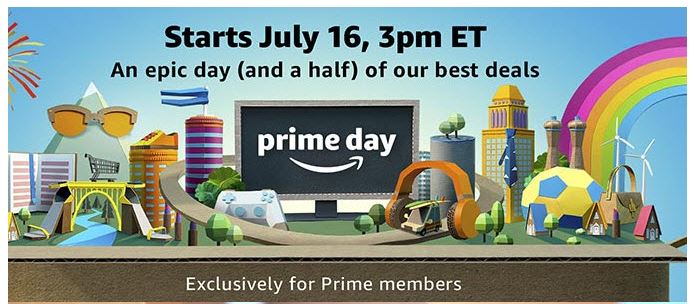 Amazon Prime Day Is July 16 With More Deals Than Black Friday
It is back again! Amazon Prime Day. Mark your calendars because this is a 30-hour mega sale you do not want to miss. Amazon Prime Day is a once-a-year event that takes place in the middle of the summer. Similar to CyberMonday or after-Christmas sales, the goal is to motivate shoppers by offering some of the best prices of the year. I'm hoping to get a head start on some Christmas shopping. How about you?
The 2018 Amazon Prime Day will be on Monday, July 16th at 3 pm and will run through Tuesday the 17th.
These sales will be exclusively for Prime members. If you haven't signed up for Prime yet, you can sign up here for a FREE 30-day trial. You can then cancel your free trial before it ends or pay the per year fee to keep the Prime benefits. I'm a Prime member, and I love the FREE 2-day shipping on almost every Amazon purchase, a Kindle lending library, lots of free instant videos and more.
It is highly suggested that you follow the Coupon Cutting Mom Facebook group to see all of the hottest deals as I post them. I'll be posting numerous deals directly to my Facebook group as most deals only last a short time, and until I have each post written, they likely will be gone. On Amazon Prime day, please don't just watch your Facebook feed, but rather watch the actual Coupon Cutting Mom Facebook group to ensure you see them all.
Click here to sign up for your FREE Amazon Prime account and get ready to shop all the deals on Monday, July 16!