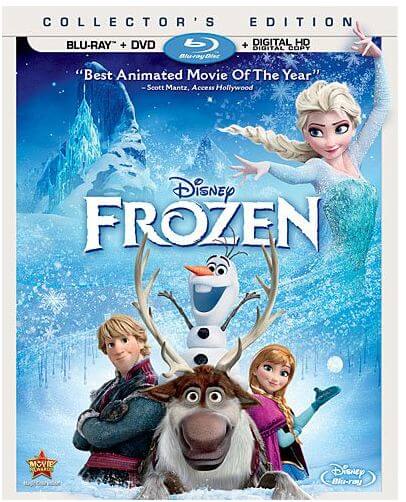 Amazon is offering Frozen DVD for only $13.00 (reg. $29.99). This item qualifies for free shipping with Super Saver or Amazon Prime.
A sweet, magical film filled with great music, likable characters, and striking effects, Frozen is a fairy tale about overcoming obstacles and the power of true love. Princesses Anna and Elsa are sisters and the closest friends until one day Elsa discovers that she can no longer control her power to create ice and snow. Terrified for the safety of her sister and everyone around her, Elsa isolates herself and vows to never feel any sort of passionate emotion again in hopes of suppressing her powers. But when Elsa comes of age and is set to be crowned queen, she must open the gates of the palace and let in the public, not to mention her sister Anna. Things go horribly wrong and Anna pursues her sister into the mountains in an attempt to save Elsa and reverse the deep freeze that Elsa has inadvertently released on the kingdom of Arendelle. Along the way, Anna joins forces with Kristoff (Jonathan Groff), an ice seller with a strangely close relationship with his reindeer Sven, and Olaf (Josh Gad), a goofy snowman whom she suddenly remembers from early childhood. In the end, Anna and Elsa discover that only by embracing their deepest feelings do they have a chance of saving themselves and the kingdom. Inspired by "The Snow Queen" story by Hans Christian Andersen, the film has plenty of quirky, lovable characters along with a nice blend of corny humor, serious sentiment, suspense, and peril.
Get the Frozen DVD here while it is at this low price. Please double check the price before purchasing, as prices can change quickly on Amazon.