All Natural Wool Dryer Balls – 50% Off Regular Price
Head over to Amazon where you can score these All Natural Wool Dryer Balls – 6 Pack for just $8.47 (reg. price $16.99) when you use coupon code 506CFGJC. You will reduce drying time by up to 30 to 40% per laundry load with these balls. Prime members get FREE TWO-day shipping. If you are not a Prime member be sure to get your FREE 30-Day Amazon Prime trial HERE.
Each extra large, reusable, dryer ball will last thousands of loads. Our 100% Natural Sheep Wool Dryer Balls work in any laundry drying appliance including those in laundromats, apartments, dorms, and hotels. Our customers have commented on the remarkable results they've experienced, even months after they started using them. These dryer balls are just as durable as PVC plastic dryer balls or tennis balls but don't release any harmful plastic chemicals when heated. Dryer Balls work by lifting and separating clothes allowing air to circulate and can reduce drying time by 30-40%. They fluff and soften the laundry through gentle friction. Great for towel fluffing.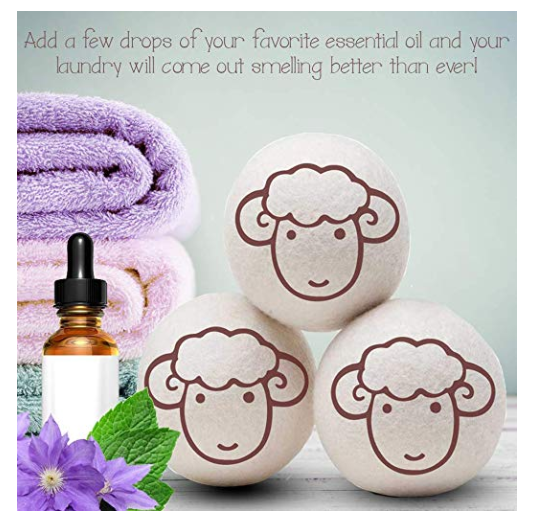 Wool Dryer Balls Product Features:
CHEMICAL FREE DRYING: Animal Cruelty-Free, Vegan 100% New Zealand Wool. Perfect for Babies & Family.
SAVE MONEY: On laundry supplies, lower your electricity bill. Reduce drying time by up to 30 to 40%.
ECO-FRIENDLY: Felted, a gentle alternative to plastic cactus or hedgehog dryer balls as seen on TV.
ODORLESS: If you are allergic to softeners or have sensitive skin; don't panic! They have no scent.
ELIMINATE STATIC: Lifting and fluffing clothes, soak up 30% of their weight in water. Last 2000 loads

Get your All Natural Wool Dryer Balls today while they are at this low price. Please double check the price before purchasing as prices can change quickly on Amazon.